Last week's Montreal snowstorm was quite the disaster. People stranded in cars on Highway 13 for hours, busses just not showing up, sidewalks still not cleared days later. It was a disaster on a political level and an institutional one. Fortunately, it was not a disaster on a human or social level.
That's not how Andrew Potter and Maclean's Magazine see it, though. In a much shared (primarily for the purpose of criticism) editorial, the Director of the McGill Institute for the Study of Canada posited that the real culprits in last week's snowmageddon were restaurants that gave two different bills, one for cash payments and one for "traceable" payments. Um, what?
I have lived in Montreal my entire life and I have never been offered a different fee depending on what payment method I chose for supper or drinks. Not saying there isn't any sketch in Monteal's service industry, just saying that if there is, it's way smarter and nowhere near as obvious.
Regardless, how does this have any relevance to the issue he is discussing? Oh, yeah, it's societal decline that led to what happened last Tuesday. People just not caring about their fellow human. No sense of community.
Clearly, Mr. Potter doesn't have the faintest clue what he's talking about. But I guess that doesn't matter to right-leaning Maclean's readers in the rest of Canada who just had their preconceived notions about Quebec and Montreal justified.
This "editorial" reads like something Potter wrote months ago and saved for an appropriate news item to come along that he could tie it to. Maclean's must have been all too happy to get yet another article blaming Quebec culture for something.
Now don't get me wrong, there is plenty of blame that should go around because of what happened last Tuesday. Blame our political leaders who let over 300 9-1-1 calls slide until 4am. Coderre and Couillard do have a lot to answer for. Blame their nonsensical attempt to pin what happened on a trucker who allegedly refused to be towed (unless he was stalled across all highway lanes, I fail to see how this is even an excuse).
Potter and Maclean's let them off the hook. Instead, like the politicians, they pinned it on the community. My community.
Last Tuesday I remember seeing people helping to push cars stuck in the snow, taking people in who couldn't make it home and stuff like this online: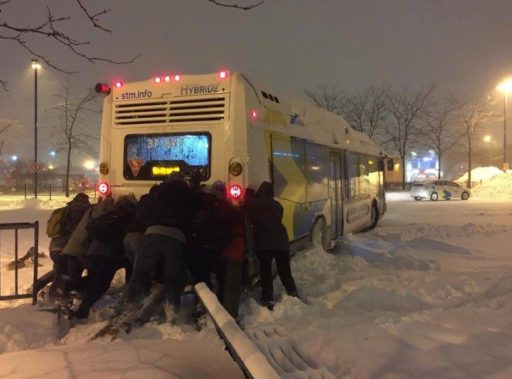 That's right, people getting out and pushing a bus that was stuck in the snow. That's Montreal, that's my community. Sure, we have our problems, but when the shit hits the fan, we pull together.
It's a real shame that Maclean's chose to publish the one guy in town who refused to see it that way, either out of ignorance or a desire to grind his favourite ax.  It truly is amateur hour.