CSS, the band best known for their bratty, don't-give-a-fuck party attitude have changed a lot since they emerged from Brazil's underground club scene nearly 10 years ago. Their fourth album Planta was released last month and is the first since a rift with founding band member Adriano Cintra.
Produced by TV On The Radio's David Sitek, the album features collaborations with Rancid's Tim Armstrong and Gossip's Beth Ditto.
Forget The Box caught up with CSS lead singer Lovefoxxx to talk about their current album and maturing as a band.
FTB: It's been about 10 years since the band started. What comes to mind when you think back to those days?
Lovefoxxx: I wouldn't go back if I could. Just because being 19 is tough, you know? It's complicated and you're insecure and anxious. But we had lots of fun. It was like being in a dream, in a movie. Now this is our lives and we've gotten used to it. The changes aren't as extreme anymore.
Let's talk about your new album, Planta. It's the first album since your bandmate Adriano Cintra left. How has the band dynamic changed since he's been gone?
It changed a lot. It felt as if the band was new. Everything was a collaborative effort. It was a mix of our forces. So it was very refreshing. The focus was not on him; it was really about us.
What has changed in terms of writing music?
The writing process was different because we all used to live together. If someone would come up with a melody, we would immediately get together not to lose the idea. It was more of a jamming atmosphere. We all live in different parts of America now. We only live together during the writing [of the album].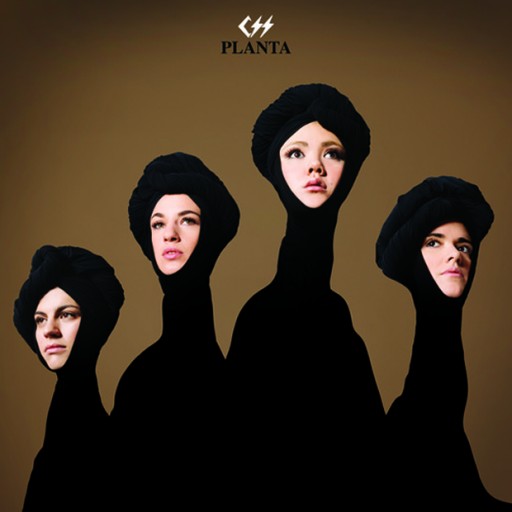 Is there a reason you chose Planta as the title?
No. We came up with it when we were shooting the photo for the cover. There was a plant in the corner of the studio and [bandmate Carolina Parra] said why don't we call it Planta, 'plant' in Portuguese? We had other ideas hanging around for a while but we love Planta.
The meaning of it has been growing since we decided to call it that. It's really meant to represent this moment in our lives, how organic this album was and how, when we went to Los Angeles for the first time, we didn't know what was going to happen.
Is there a unifying idea to the album?
On previous albums I would be really defending a certain idea. But on this album, I was really happy with the sound more than being stuck to something. Later we realized there was a lot about love and our friendships.
I think it's a very optimistic and positive album. We really wanted it to work, we didn't want any complications from what was happening in our personal lives. I think we accomplished that.
There are a few collaborations on this album with other artists. Tim Armstrong co-wrote 'Hangover.' How did you end up working together?
L.A. was a really great place to do this album. Everything came together when we were there. We didn't have a real plan, we were just there to write. Tim Armstrong heard one of our albums and he liked it. With Dave [Sitek], it was sort of by luck as well. He saw us playing in London in 2011 and thought we were cool.
If you had the chance to collaborate with anyone, who would it be?
Missy Elliot. We love her. She's a big influence. I've heard that she's very private. She's been hiding; she needs to come back. She's a dream collaboration for sure.
Watch the video for Hangover: