Lately they're everywhere! From the moans coming off the T.V. show playing in your living room to flash mobs of the undead crawling down the streets of your city to the insatiable hordes tearing each other to pieces outside the plate glass windows of Walmart on Black Friday, Zombies are definitely invading.
Just a few months ago the Canadian parliament discussed the possibility of an imminent zombie epidemic. Pat Martin of the NDP stood on the floor of the house of commons and asked why emergency groups in Quebec were staging exercises. "I would like to salute today the CDC and the government of Quebec and the Center for Disease control [for] putting in place  measures to deal with the possibility of an invasion of zombies. I don't need to tell you, Mr. Speaker, that a zombie invasion could easily turn into a  a continent wide pandemic," he said. To which the foreign affairs minister replied "Canada will never become a safe have for zombies ever!"
I mean c'mon, zombies aren't real…Right? Okay, so they found a fungus out there that is known to take over and eventually kill ants by sending spikes through their bodies. But that doesn't mean anything. Right?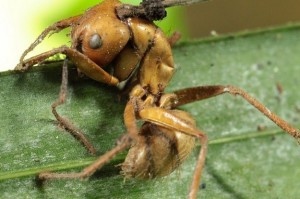 Nonetheless, I figure if I want to learn how to protect myself against Zombies in an apocalyptic situation then knowing how to escape a horde invading my apartment is really pertinent information. I'll just type "zombie" here in the Google search bar and see what I come up with:
The Zed Word Blog
Not my personal favorite Zombie blog but for some reason it comes up on the first page for any walking dead search…so in terms of having excellent search engine optimization, they've obviously got it going on. They put a humorous twist on a terrifying subject and exploit the paranoia of living in constant fear of an impeding Zombie apocalypse.
The national geographic/ Zombie Fungus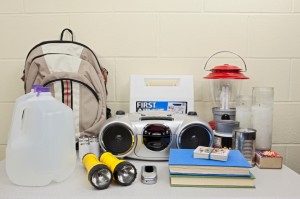 Remember those ants I told you about about earlier? Well, here is a fascinating post from National Geographic that will turn your opinion of mother nature from nurturer to some kind of sick mad scientist.
Center for Disease Control/Zombie Outbreak
How do you get people's attention about a topic they don't really care about? You tell them to imagine they're trying to survive a zombie apocalypse. The Center for Disease Control did just that. It turns out that preparing for a zombie apocalypse is similar to protecting yourself in an state of emergency.
Have an emergency kit in your house. This includes things like water, food, and other supplies to get you through the first couple of days before you can locate a zombie-free refugee camp.
Cracked/6 Sensible Things you Should Never Do in a Zombie Outbreak
Cracked shows that being sensible and logical might not be the correct thing to do during a zombie apocalypse. Sometimes being too nice might mean your downfall. the coming apocalypse, after all, is where the mad men reign.
Blog of the Dead
Prepared to be tested on your zombie knowledge. Blog of the dead is a fascinating little site that will train your mind to mentally prepare for the day of the returning dead.
What sets blog of the dead apart from other blog sites is the necessities poll; it's really interesting reading what other people think is the most necessary thing for survival.
This blog also delves into the philosophical issues that zombie culture has in society. I also found this funny dinosaur comic that explains it all: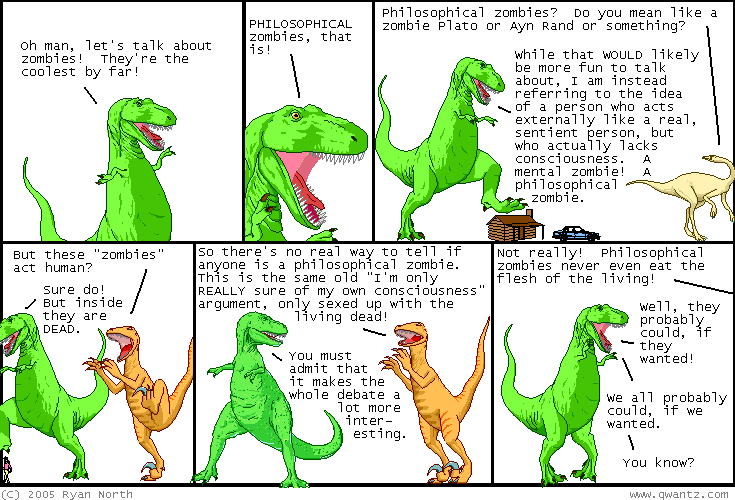 Zombie Research Society
Sometimes, you have really important issues on your mind. Like whether a hatchet is better than a blow torch when having to confront zombies on a daily basis. Knowing how to use weaponry might be the difference of you having steak or becoming a steak.
The Zombie research society confronts the important post-apocalyptic issues that you will have to face, without the insidious optimistic  illusions about your hope for survival. The bleak pessimism of this site is refreshing.