When people fantasize about winning the lottery, they talk about things like world travel, lavish homes, fast, shiny cars. If / when I win it big, I will be filthy with subscription boxes. Enough to keep a courier in business just bringing mystery prezzies to my door, preferably daily, if I plan correctly. In fact, I will probably need a dedicated Subscription Box Manager to deal with things like timing, finding new, fab boxes, and figuring out how much it will cost to get them to Canada (if they'll ship here at all).
Until then, allow me to be your subscription box advisor. Let me just wipe away this silver scratchy stuff…
Please note, that the boxes in this series have been sent to me for free and for the express purpose of review.
Per their website, Kawaii Box (part of Japanese-owned Kawaii Group) wants to spread kawaii culture around the world, and help you "kawaii-fy" your life, with the belief that "even a tiny dose of cuteness can provide a boost of positivity to our life." That's an ethos I can get on board with.
I received the winter / Christmas box, which is an extra perfect time to get fun surprises, and this one was a candy store for my eyeballs!
Oki, what all do we have here?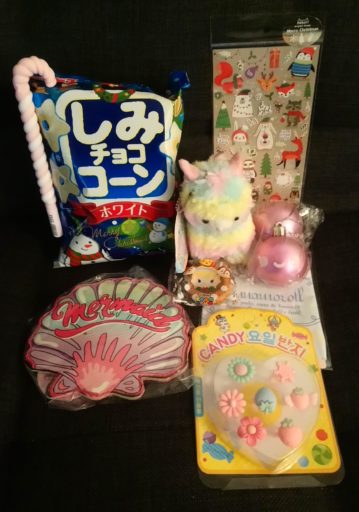 For starters, I received a pair of smiling pink decorative baubles balls. They're absolutely tree decorations, but considering the look of them, these mamma jammas will be hanging around my house all year long making me happy.
There was a pack of Christmas stickers (that made their way into someone else's stocking, where they were properly appreciated), and also Christmassy was the pink and white candy cane pen. Theme be damned, I'm picky discerning about pens, and this one writes really smoothly, and it's soft to the touch, so I intend to use this one long after the thaw.
There was also a mermaid change purse shaped like a shell, and I was glad that it wasn't a unicorn.
Can you have a kawaii box without Sanrio? Probably, but I didn't have to find out, because I got a Cinnamoroll eyeglass / all-these-touch-screens cloth, which naturally doubled as a blanket for the ridiculously cute Amuse Alpacasso pastel rainbow alpaca. Holy smokes, this little dude made my day.
It's impossible to say exactly why, as with any kawaii (or any style group, really), it's all in how it hits, and this one got me in the feels. It made its way into my bag for a road trip to the East Coast, where it made me smile each time I came across it.
When I saw the ring pack, I was ready to wear flowers on my fingers all through the snowy season, but unfortunately, they were the tiny plastic ones made for kiddie party bags. In hindsight, it makes sense, but they really woulda looked so cute on me all at once (they fit my alpaca though).
Munchies on the other hand, fit everyone. There was a duo of cookies, quite like tea biscuits with chocolate, and while they probably would've made another adorable stocking stuffer, I ate them instead, and they were ok.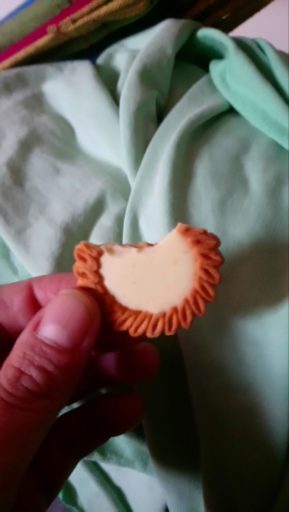 The scene stealer was a bag of tasty, crunchy goodies. While they were akin to oversized cereal bits, they were more than that. The texture was more complex than just cereal, somehow a little velvety before the crunch, and they were perfectly sweet without being too much.
My boyfriend and I ate the bag in no time, and we both agreed that it was probably a good thing that we couldn't run to the dep for more, or we def would have. Often.
And I think that's what this box is best for: those treats that you're unlikely to encounter elsewhere. For instance, Kit-Kat is one of the partner brands, and Kit-Kat Japan has so many intriguing flavors and limited editions going on that you'll never stumble upon here.
For me, the box was something of a sugar rush, brightly coloured and short-lived. I think it would be best suited for a kawaii minded adult with a li'l one on hand so the smaller trinkets get properly appreciated, while the grown-up eats the good candy, because c'mon, don't waste good candy on kids.
Some of the other partner brands include Disney Tsum Tsum, Pocky, Pokémon, and Pusheen, so open the box while the kids sleep, and keep the best bits for yourself.
Shipping is free worldwide (yay!), and the subscription price is def worth the amount of fun:
$26.41CAD/month
$25.09/month with a 6 month subscription
$23.76/month with a 12 month subscription
The fab folks over at Kawaii Box are giving one of our adorable readers a free box to spread the smiles!
Forget The Box Kawaii Box Giveaway
Next Time: MyTeaBox.ca