Trying to keep up with this beast of awesome that is Fantasia has left me breathless. I've fallen into a strangely blissful kind of sleepless stupor. No complaints! Now that I've finally sat down long enough, here is a report on 4 of the 15 films named (by me) as most anticipated in this year's program: Life After Beth, Suburban Gothic, Cybernatural, and The Harvest.
Life After Beth (Baena, 2014)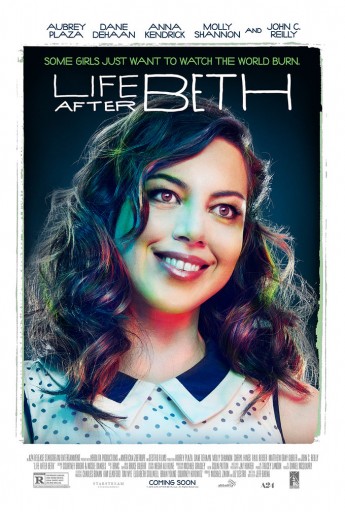 Life After Beth is a refreshing addition to the growing list of zombie coms.  Life After Beth fleshes out the ups and downs of hanging on to a relationship that is over; attempting to revive what should be mourned.
Dane Dehaan (Chronicle, Kill Your Darlings) plays Zach whose girlfriend Beth, played by none other than the fiercely deadpan Aubrey Plaza (Parks and Rec), has recently succumbed to a snake bite. Overcome with grief, Zach finds solace in hanging out with Beth's parents who at first welcome him with open arms and then suddenly shut him out.  For, you see, Beth has come back from the grave and doesn't realize she's died. Zack is overjoyed… but for how long?
Before the screening, I had the opportunity to tag along with Ryan Stick of Season Xero to interview Jeff Baena and Matthew Gray Gubler (Criminal Minds), who plays Zach's bizarre brother Kyle who is the film's absurdist comic relief.
In a way, Life After Beth is itself a filmic zombie having been written by director Jeff Baena years ago, abandoned, and then revived by happenstance into the wonderfully strange creature before us. During the Q & A, Beana mentioned his interest in the work of Jacques Derrida at the time. This perspective opens up a whole new dimension of the film in which Beana engages with ideas of inversions which are sprinkled throughout.
Dehaan's performance as Zach is one of the film's greatest strengths as his emotional roller coaster and brief dances with madness lead the audiences further down(up) the rabbit hole. Along with his performance and those of Plaza and Gubler, the film offers some great scenes that stay with the viewer even after the credits have rolled. Life After Beth is very relatable in a twisted kind of way, boasting delightfully raw comedy.
 Suburban Gothic (Bates Jr., 2014)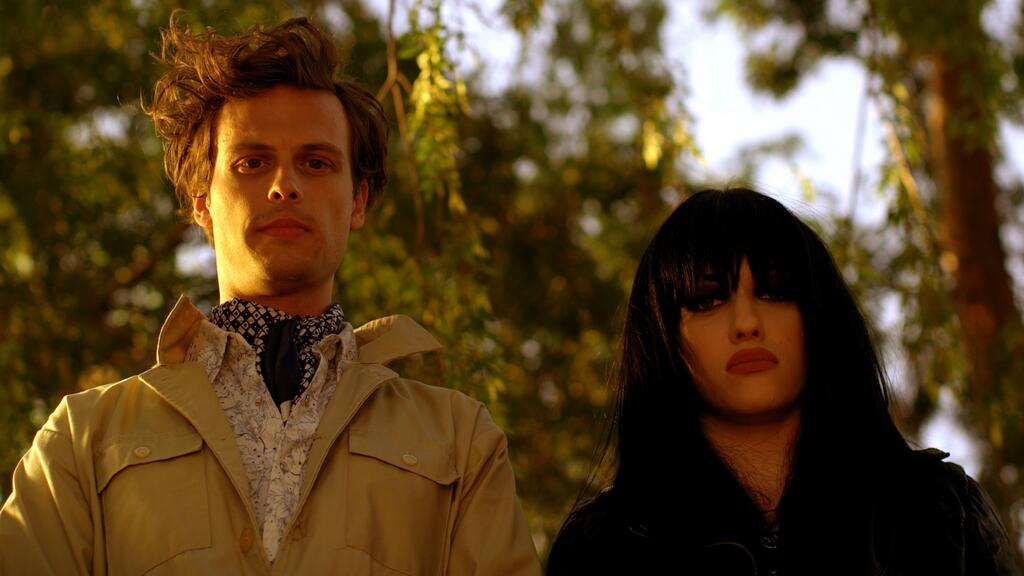 Richard Bates Jr.'s first film Excision raised the bar for genre films and what the initiated expect from genre and horror films whose aim is to cause visceral emotional reactions in their audiences. Bates Jr.'s sophomore film Suburban Gothic, then, was an automatic must see this Fantasia. Although it is a completely different kind of film it's also a great flick proving that this director is more than a one hit wonder and is one to keep an eye on in the next years.
In the vein of childhood mysteries (Scooby Doo, Hardy Boys and Are You Afraid of the Dark) with a hardy splash of profanity and paranormal ejaculate, Suburban Gothic follows recent graduate Raymond (Matthew Gray Gubler) who finds himself having to move back in with his parents (a nightmare in and of itself), a doting mother and an unrelentingly disappointed father (Ray Wise). Soon Raymond finds himselt t(h)aunted by strange visions and soon must face his proclivity for the paranormal.
Bates Jr. spoke of this film as a project made with a bunch of friends, a project of the heart, and this comes through in the film. Those seeing Suburban Gothic should go into it expecting an oddball tale made wonderful by Gubler's strange antics, the strained relationship between Raymond and his bizarre folks, and Ray Wise's great ability to play a total jackass.
Cybernatural (Gabriadze, 2014) **Best of the Fest**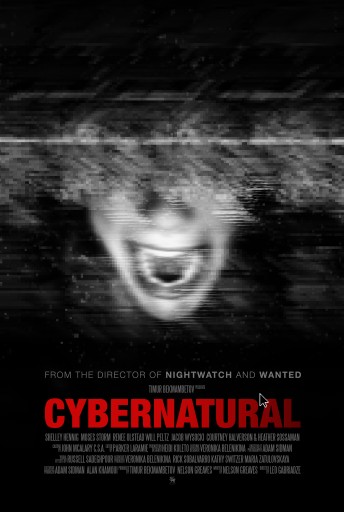 Cybernatural is hands down one of the best films of Fantasia. Furthermore, I'd add that it is one of the most innovative films screened at the fest in the last few years.
Told completely from the perspective of a fixed computer screen, Cybernatural is a thriller that follows, in real time, six friends who on the eve of the suicide of a fellow classmate, meet up on Skype. Unexpectedly, a seventh uninvited guest shows up and soon the teenagers are faced with the horrors of their social media ways.
Cybernatural is storytelling adapted to the age of social media. It breaks new ground and marks the beginning of a branching off of found footage, which is itself is the descendant of the epistolary novel in the advent of new media (from letters to film, from film to video, from video to phone cameras, and from these to digital media).
McLuhan's "the medium is the message" might be, would be apropos here. Throw in some Donna Harraway. Cultural studies scholars will surely be speaking of this film in years to come: "From Bram Stoker's Dracula to Gabriadze's Cybernatural: The Medium is the Murder."
Truly, what makes Cybernatural remarkable is that its finger is right on the pulse of the ways in which we currently produce the stories of our lives. Cybernatural explores with its narrative methods how our lives unfold and the ways in which stories, told and untold, have the power to shape our lives in a myriad of sordid ways.
Along with this, Cybernatural features a talented cast, a mix of fresh faces and seasoned actors: Shelley Henning (Blaire), Renee Olstead (Jess), Jacob Wysocki (Ken), William Peltz (Adam), Courtney Halverson (Val) and Moses Jacob Storm (Mitch). These six actors deliver performances so realistic that it's easy to forget that they are acting at all. Often for this kind of spooky thriller, characters are undeveloped dispensable walking body parts. Cybernatural however succeeds in grabbing the viewer into the screen by delivering chemistry between the cast that is remarkable.
Director Levan Gabriadze, writer Nelson Greaves, and producer Timur Bekmambetov not only crafted an immensely enjoyable (read: thrilling) film but one that has developed new methods for filmmaking that will no doubt change the landscape of many movie genres.
The Harvest (McNaughton, 2013)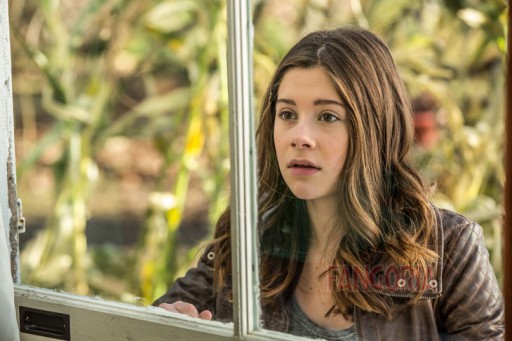 After hearing whispers of how dark and negative John McNaughton's The Harvest would be, seeing the film was a disappointing experience. Perhaps I am jaded by having seen so many dark and twisted films (i.e. Excision) that something like The Harvest leaves me unmoved. Perhaps not.
The Harvest follows a nurse/doctor couple, Richard (Michael Shannon) and Katherine (Samantha Morton), who take great pains to take care of  and shelter their sick son Andy (Charlie Tahan). When Maryann (Natasha Calis), a young girl who just lost her parents, moves in next door and tries to befriend the mostly bedridden Andy, his parents' reaction is beyond bizarre.
Although I am not inclined to hail it a total loss, The Harvest just didn't work. To begin with, the title is too straightforward and unimaginative. Although Morton's performance was interesting as was Shannon's emasculated broken father, most of the film felt forced.
The Harvest felt uncomfortably off beat. There were pleasant touches of fairy tale-like elements in the film, but performances and music choices were at odds. The few thrills the film had were early on and the climax was at its height at the first reveal with the second twist being so obvious that it was painful. The resolution was just okay, slightly on the boring side.
Perhaps this was the wrong audience for a film like The Harvest and it might appeal to non genre audiences who are looking for a bit of a strange dip into the dark basement of suburbia. Perhaps not.