I realized from the moment they walked on stage with white marks like war paint on their faces that seeing Phèdre perform is not just a show, it's an experience. An oftentimes psychedelic experience; it was almost like a rave on stage. There were coloured lights, costumes, a DJ who was working the electronic backbone of the songs while songwriters Daniel Lee and April Aliermo sang and danced around up front. Founded by Hooded Fang's frontman Lee and bassist Aliermo, the estranged cousins also call on friends to help enhance live shows, as they did at Wrongbar in Toronto last weekend.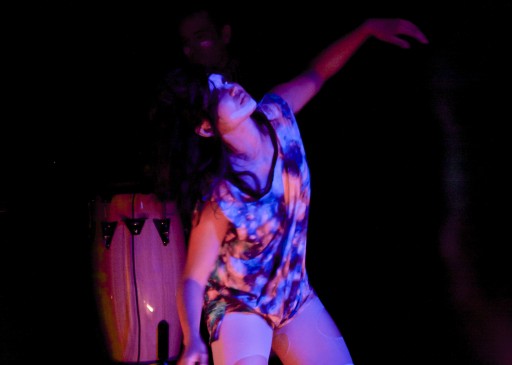 For this show, the band also featured (for the first time) a conga player who added some tribal beats to the hip hop rhythmic foundation. Add in the electronic element I mentioned and you have an eclectic and interesting blend of genres influencing the music made. What also added to the impact of the performance were the two dancers, in matching colourful tops, who were like dolls that came to life on stage for many of the songs. When they weren't dancing their choreographed, yet seemingly improvised, dances they were frozen in position as if waiting for some unseen cue to spring to life once again.
Phèdre are releasing their next album Golden Age on October 1st. The album was recorded this past winter in Berlin. I was able to sit down with the creative pair after their show at Wrongbar to find out why and pick their brain about their music a little.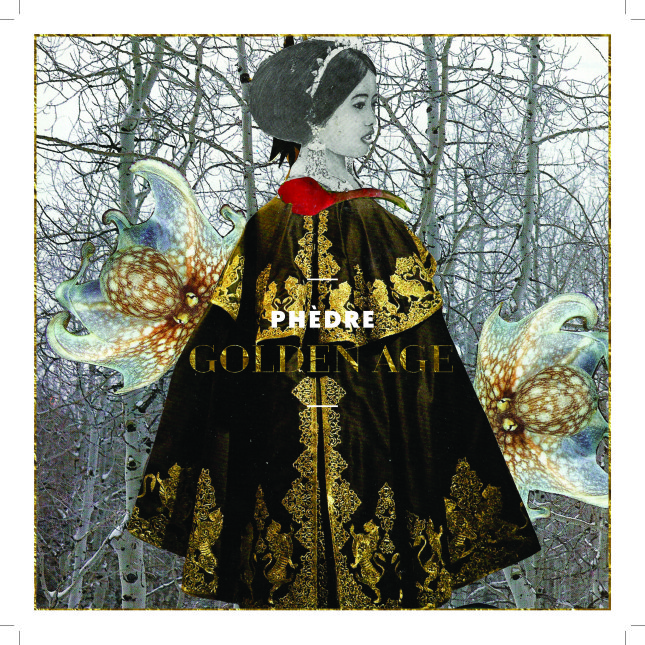 FTB: Your music is very visual and very colourful. This is reflected with the number of music videos you have featured on your website and on YouTube. How much do you rely on the visual aspect during your live performance?
April Aliermo: I don't think it's about relying on it but I think we're kind of like ADD and we're into putting all kinds of media together.  We write music, we make videos, we also draw and we like to dance.  We're into mixing them all together.  We're also super into having community work together so we'll get people that spend most of their time on a particular art to contribute.  We see it as a big art project.
Daniel Lee:  We have a lot of respect for visual artists out there and it's good to incorporate that into projects.  Not every one, but we like to explore it, especially with this one.  It's the same headspace we put into our music.
Tell me about your writing process.
DL: We try and work really quickly on this stuff. We'll try anything and then just add more on top of it, and try to finish a song right away.
AA: I think more than anything we try to be super open to possibilities and ideas instead of getting stuck into some pattern or routine. It's like, "this is the feeling of the song," or what we want to write about. We go with the feeling without any restraints. Our new record, Daniel plays some bongos on it. Which is not the first thing you'd think of to put on a record like ours, I think, but bongos were around and we were like, "let's try it!" The great thing about us working together is that we are comfortable and can just try anything and experiment. One of our songs on the new record has a metal cylinder filled with forks and knives. We recorded that sound. It sounds great.
So it is very experimental.
AA: Spontaneous and open is our thing and whatever sounds good. If it doesn't, we'll try something else.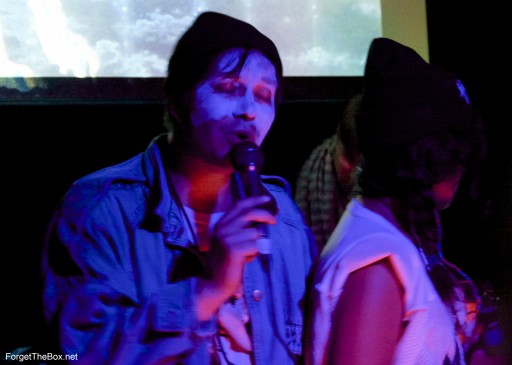 I understand you recorded Golden Age in Berlin. What were the reasons behind that decision? 
DL: We just happened to be there, actually. We were on tour with another band (Hooded Fang, another project of theirs) and my sister lives there so we wanted to hang out with her and her babies, and we also wanted to record a record.
AA: We were locked in an apartment for two and a half months so it didn't really matter where we were. But being in Berlin definitely inspired us in a certain way, the way any place we would have ended up in would inspire us. It's dark and drab in the winter. I feel like anywhere you're at would work its way into the music, for sure. We were in a Turkish neighbourhood and I'm sure that worked its way in.
The name Phèdre is inspired by Greek mythology, but what are some of your musical or artistic influences?
AA: I feel like we should just name bands and artists that we love to answer that question. Kent Monkman, Wu-Tang Clan… A lot of hip hop and 90s R&B for sure. Like TLC. Daniel listened to a lot of alternative rock. Nirvana was alternative rock when we were growing up. I wasn't into it.
DL: It's got a hip hop bass on the bottom. As far as the beats go, how the songs start, it's there but then we pull in whatever. A lot of different stuff. If you're a music fan, you're into a wide variety of things and we try and bring all our favourite things into it.
AA: Naughty by Nature. We're into artists like Patrick Kyle.
How much do you rely on social media?  What do you find is the most effective way for you to get your music out there?
DL: We don't have a record label. Well, we have our own record label, it's a small independent label. DAPS Records. The internet is great because you can have people in Russia be like "Hey, what up? We love you. Your band, your music." It's great. Connection. You can do it today lots of ways, but for independent bands, it's a great way to connect with people all over the world.
AL: In this day and age most bands rely on social media a lot. Beyond putting your shit up on Facebook, twitter and blogs or whatever, you kind of have to rely on major blogs that people turn to to see what's up. How do you find out about the bands you think are awesome? You go to blogs to see what's happening. Or your friends are putting your shit up.
DL: It's the difference between being local and being able to reach a global audience.
What's next for Phèdre?  What are your plans after your upcoming European tour?
DL: We're just playing more shows.
AA: On top of putting our record out here, we're putting it out with Discos Tormento in Mexico and South America which we're super excited about because we can play Mexico. We're working out the dates, but maybe some time in the late fall or winter.
DL: We love writing and recording so we'll be doing that as well. We have some stuff in mind with live instruments. Bass and drums and stuff.
Any last thoughts?
DL:  Check out Toronto music. It's fucking great. Check out Buzz Records.
Until Golden Age comes out, you can check out a video from their 2012 self-titled debut album:
Photos by Stephanie Beatson.