Here's a little behind-the-scenes secret about how media accreditation works. You usually ask to get as many tickets as possible to review as many shows as possible. And if you're a relatively smaller blog like FTB, you don't expect to get into the big shows. That's just showbiz, as they say. So you can imagine my surprise at seeing that I was able to get tickets for BOTH Jeff Goldblum's and David Cross' galas on Wednesday night.
That's a lot of comedy!
Jeff Goldblum Gala
Let's start with Jeff Goldblum – he's a delight on the stage. He is well dressed, well-spoken, and very self-aware. He knows what it means to be Jeff Goldblum, and he knows that impressionists love to do him. That's probably why he had an entire segment dedicated to him teaching the audience how to do the "Jeff Goldblum." You touch your face, go on …uhm… really long, run-on paragraphs, and …uhm… get REALLY EASILY EXCITED about …you know… things. Eh, it doesn't work when I'm writing the impression I guess. But you get the gist.
I never thought of Goldblum as a stand-up comedian, and I will stand by that statement. He was magnificent as a host, but some of the jokes were – well, they could have been better delivered by an actual stand-up comedian. I also could tell that he was reading his jokes from a teleprompter, so that kinda broke the magic for me as well. Still, he's a funny guy and no one can take that away from him. I highly doubt anyone is trying to do so, anyway.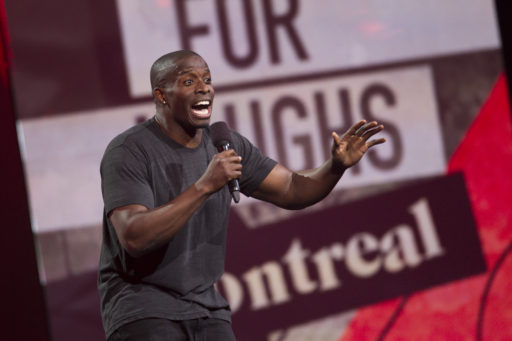 At Goldblum's gala, the audience was able to see Darrin Rose, Godfrey, Patrick Haye, Russell Howard, Elon Gold, Charlie Pickering, Lynne Koplitz, and Adam Ferrara. Out of these 8 (omg) comedians, I can confidently say that my favourites were Russell Howard, Godfrey, and Charlie Pickering. But don't get me wrong, all of them were amazing comedians, and the audience seemed to agree with me.
It's just that I have a very particular style of humour and these three fellas all hit the spot. Howard is from the UK and – obviously – delivers his jokes in that classic British style. His delivery is not as dry as some other Brits, which is admittedly a nice change of pace. I don't exactly remember how the conversation got there, but at some point he started talking about same-sex marriages. He said that some people in the UK are afraid that they could lead to a lesbian queen. He than started miming the queen getting a blowjob and screamed "Yeah, does it taste like stamps?!" Best queen joke I've heard in a while.
David Cross Gala
David Cross is a gem. He is the master of awkward comedy and I just love that. Once his name was announced, Cross appeared behind the gates on the scene, with his pants down. He pulled them up immediately, and then started doing his spiel. He started telling us about how Americans feel about Canadians and how much trouble they have trying to mock Canadians.
The harshest thing they can think of, apparently, was that Canadians are so polite. He says that it's funny that Canadians are so polite. And that gets me thinking… Most comedians at JFL have a bit about how people in the US think about Canadians. I wonder if that was a collective decision on their part, or is it just an easy – almost cheaty? – way of breaking the ice with the audience. Once they're done with talking about US-Canada relations, they start talking about American politics. They're all collectively afraid of what might happen if a certain giant Oompa Loompa gets elected.
Cross is an infinitely better stand-up comedian than Goldblum. Some heckler guy made him mess up a joke, but even then he was able to keep his cool and make that into a joke that the audience just loved. He is less charismatic than Goldblum, but that's not what he is going for anyway. He'll be awkward on the stage and you will love it. I mean, at least if you're into that kinda thing.
At Cross' gala, we had Maria Bamford, Louie Anderson, Nick Thune, Todd Barry, Scott Thompson, Nish Kumar, and Mark Forward.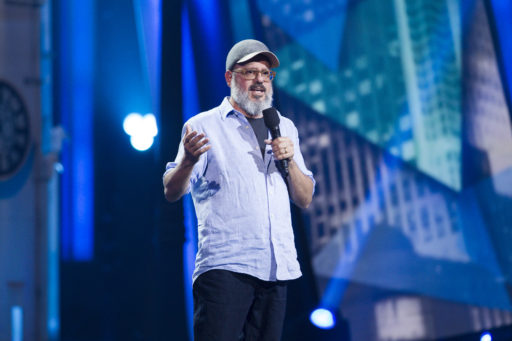 Nish Kumar was by far my favourite among this lineup – and that despite the fact that I was really excited to see Maria Bamford and Louie Anderson. I was expecting Bamford's set to be different than what it was. She kept in character throughout the whole thing, which is to be expected if you're familiar with her style. And with Anderson, I suppose I was still remembering him as the guy who did the mid-90s cartoon series Life with Louie. He wasn't really – but still was pretty funny.
It was my first time seeing Kumar, however, and I was very impressed. Again, he's a comic from the UK, so obviously I liked his style. His humour is very smart and very political. He talked about how almost impossible it is to write right-wing comedy, but also it's difficult to write a left-wing action film. "You'd have no interest in watching the Avengers go to the UN Security Council," as he said. I love politics, and I love comedy – and Kumar was the perfect mixture of both.
Overall, these two galas were both very amazing and funny. If I could spend five hours sitting in the same hall, listening to these comedians again, I would do it without hesitating.
All photos by Eric Myre, courtesy of Just for Laughs festival.