The Tallest Tree are an indie group from Dundas, Ontario and it took me most of their set before I realized that the two young ladies are actually Dawn and Marra, who have performed around the GTA for the past few years including at the Hamilton Music Awards. Joined by a rhythm section in The Tallest Tree, the group is led by the talented Dawn and Marra, whose artsy and creative songwriting is heightened by their sweet voices often singing in harmony. They incorporate interesting instruments into their music, often switching between them when playing live, Barenaked Ladies-style.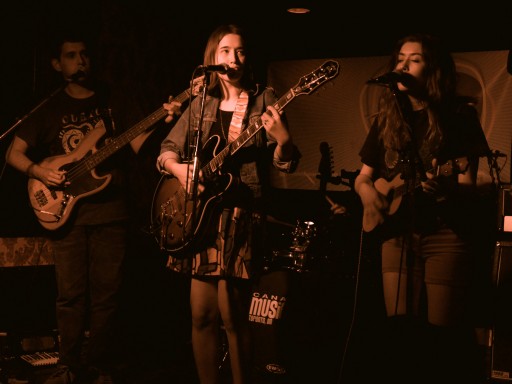 For their CMW set at Cherry Cola's –which was part of the Sonic Unyon showcase — they used an accordion, ukelele, guitars, bass, drums and tambourine. They also did a song using body percussion (see photo below) and another with fake trumpet where the bassist imitated the trumpet sound with his mouth.  Quite an inventive group!
They certainly don't use variety as a crutch; their music is well written, interesting and has a delightful playfulness about it. This might be a strange connection, but at times it reminds me of the movie Juno. It has a certain childhood innocence mixed with quirkiness that just makes me smile.
This video of Dawn and Marra with some friends for 'Not on Top' was shot as part of the Southern Souls collection of videos.
Photos by Stephanie Beatson.