The evening began with a reversal of events. I had gone to the Yellow Door to see Demiel Pepin for a Spring Jams concert but when I arrived a crowd of musicians stood around with seemingly disappointed faces. The show was cancelled. Within ten minutes of discussion and the resulting recoup of group morale, I learned the show would be moved to a new location due to the uncooperative behavior of the staff at the Yellow Door.
The mystery had set in. There I was, following two of Demiel Pepin's backing musicians through the McGill ghetto towards our new destination: a modish loft on rue St. Laurent. While music gear was being set up I sat in anticipation and listened to the soft voice of a female jazz vocalist pouring out of the Eon 24 inch monitors. More and more people began to show up and it became clear the show would go on, despite the evening's prior setback.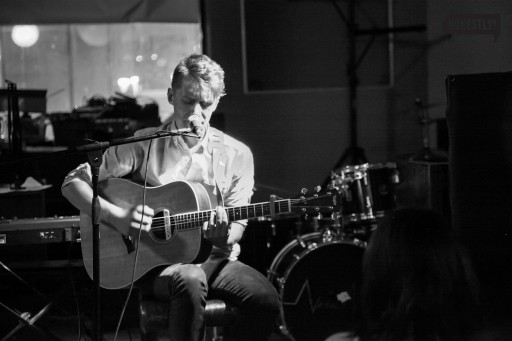 Noah Cebuliak of Ghost Lights kicked things off with a solo acoustic set. The soft subtleties of his clean tenor voice mixed with the occasional vibrato complemented his jazz like chord progressions and picking style. From the moment he began to warm up, he had the audience in awe, as the silence was only broken when he realized he had unintentionally cast a spell upon his viewers. Noah draws much of his inspiration from the wilderness as was particularly evinced in his song entitled "Illecillewaet River."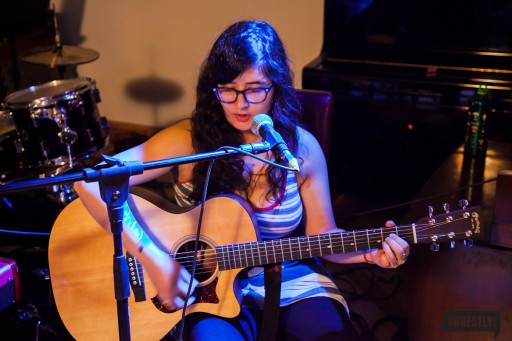 Demiel Pepin and her band the Wayward Pines were next to play. She played two sets: first backed by an electric guitarist, and then another, backed by a violinist and pianist. The innocence and urgency of Demiel Pepin's voice were what most caught my attention, as her vibrato seemed to find its way into most of her music. Matched with a very talented group of backing musicians, the unique sound they had crafted was at times edgy, but most often, flattered the heart-broken folk she sang.
As the night wore on, a small family of musicians had gathered and each began to take their turn in the spotlight at the request of Demiel Pepin.  By this time the lights had dimmed, the drinks and food were fewer, yet the music survived, and as I left I could only think of how wonderful the change in location turned out to be.
Photos by Jamie Klinger