So this is it. Call it the series finale for American Democracy. Call it The Thrilla with Far Too Much Vanilla. It's the 2016 US Presidential Election and it will be resolved tonight (in theory).
I'll never complain about the length of a Canadian campaign again. This site alone has published 21 posts on the subject and spoke about it numerous times on our podcast and most of our readership can't even vote in US elections.
From the spark of revolutionary Bern in the primaries to the threat of a smug orange mushroom cloud in the general, we have been paying attention. Canadians like me, people around the world, Americans living abroad, some right here in Montreal and of course those living in the 50 states have been closely watching, reading and posting about the developments.
Tonight will be no different. The question becomes, will you be taking in the results alone or with others. In both cases, there are plenty of options:
2016 US Election Results Watch Parties in Montreal
If you want to watch the election results pour in and either celebrate or commiserate with a room full of people, there are a bunch of places in Montreal where you can do just that.
Here are a few:
US Election Results Viewing Party @ Chez Boris: Usually, this Parc Avenue breakfast and lunch place isn't open much past 7pm. They made an exception during the recent Presidential Debates and it was a success, so they're doing the same thing for election night.
I like that the place is open specifically for this event, which means those in the room are also only there to watch the election results. They're promising deep fried oreos, Icelandic-style veggie dogs and hot dogs and an election-themed costume contest and bingo. Details and a rather funny description are available on their event page, and also this, one of my favourite event images so far: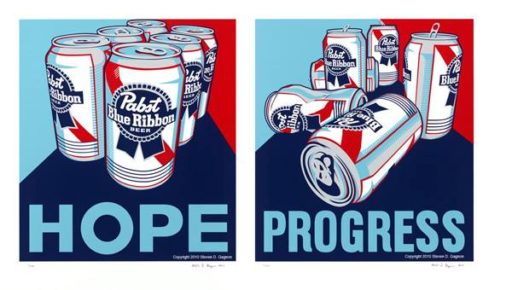 Chez Boris, 5151 Ave du Parc, 7pm – 12:30am
Democrats Abroad Montreal Election Night Party @ Sir Winston Churchill Pub: This is probably not the best place to ironically wear your Make America Great Again hat. Also, probably not the most pro-Jill Stein crowd in town. If, however, you're waiting with anticipation for Hillary to smash that glass ceiling, this group of people watching the results at Sir Winston's are very much "with her" as well.
Democrats Abroad Montreal and Democrats Abroad McGill are hosting an election night party, as they did for the debates. If you happen to be looking away from the screen or even outside having a smoke when a state turns blue, don't worry, the cheers of the crowd will let you know what happened.
Sir Winston Churchill Pub, 1459 Crescent, 6:30pm – midnight
OCSM US Election Pub Night @ Burgundy Lion: The Oxford & Cambridge Society of Montreal has a section of tables reserved at the Burgundy Lion Pub. This is a group that hosts events for Oxford and Cambridge alumni living in Montreal, so it's sure to offer a much more academic perspective on the vote south of the border
Burgundy Lion, 2496 Notre Dame Ouest, 6:30pm – 3am, Ask for the O&C tables or Martine Verdy. Please RSVP with Professor Gerald Ratzer at gerald.ratzer@mcgill.ca
US Election Night Party @ Groove Nation: If groove is in the heart and politics is in the head, then Groove Nation is putting together a package deal for election night. The venue most known for live shows and dancing will be showing live election results on a giant screen.
According to the event page: "Whether you are for, against, or abstaining, you are welcome to join us for drinks and debates. Whatever happens at the end, at least it will finally be over! We think." They've also got a good image: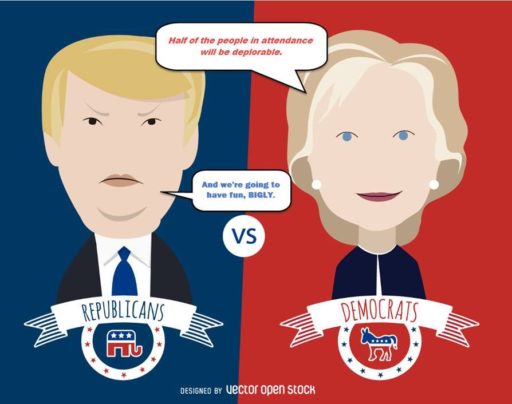 Groove Nation, 410 Rachel Est, 6:30pm – 3am
Election Night at Casa : America's Final Rose Ceremony 2016: Casa del Popolo has probably one of the best names for an election results watching event I've seen. It's also the event which takes into account the psychological effect this election has had on people. They're offering free community support along with $4.50 pints and $3.50 shots.
DJ Christina Bell will be spinning tunes, the results will be shown on a giant screen and there's no cover. There are also "no jerks or Trump supporters allowed".
Casa del Popolo, 4873 Boul St-Laurent, 9pm – 3am
Watch the 2016 US Election Results Online
If you're not so sure if you can contain your reactions in public or would just prefer take the results in at home alone or with friends, there are options other than mainstream news outlets. Here are a couple:
The Young Turks: I love this team. They're biased and don't hold their opinions back. They were pro-Bernie in the primaries, but now their main host and network co-founder Cenk Unger as well as most of the other pundits on the panel plan to vote Hillary, while remaining critical of her. A few are backing Jill Stein. They all hate Trump.
If you're looking for solid analysis from a progressive perspective, they have it. They also will be reporting the results as soon as they come in. Generally once two of the major outlets predict a winner in a state, they announce it as well.
The Young Turks will be streaming live from 1pm to 1am and possibly longer on YouTube and Facebook.
Democracy Now: Amy Goodman is the paragon of independent journalists. She, along with Juan Gonzalez, will be hosting live election night coverage featuring up-to-the-minute results not only on the race to the White House but also for the US Senate and the US House of Representatives as well as ballot initiatives across the country, including California's push to legalize recreational weed.
DN is not op-ed, in fact, it's known for objective journalism. What I love about them, though, is how, through their selection of topics to cover and guests to have on, they present information that rarely gets a hearing outside of progressive circles. I trust them to focus on what's really important this election as well as the the big stories everyone will be covering.
Democracy Now! will be livestreaming on their site election night from 7pm to midnight.
No matter where you're watching, here's hoping you get the results you were looking for. That, and let's also hope it's a lot smoother in four years.
* Donald Trump painting in featured image by Samantha Gold. Buy the original on eBay
* Special thanks to my FB friends for helping me assemble this list