On Friday, January 22nd and Saturday, January 23rd, I attended the Entertainment Management Conference, held at Sid Lee's in Downtown Montreal. Now in its fourth year, the event was designed to allow emerging young professionals in on some of the trade secrets "behind the business that fuels culture."
Run by a talented cast of students from McGill's Desautels Management program, and backed by corporate sponsor Evenko, the event included a series of panels from professionals in Montreal's music, film, nightlife, gaming, arts and media scenes. On top of that, the two day event included a series of workshops, as well as the opportunity for these young-entrepreneurs to network with professionals. The event provided a unique, immersive experience into the multi-faceted world of the entertainment industry.
As a student who is just about to graduate from McGill, I was hoping the event would give me something, anything, to hang onto as I wade into the uncertain world of "finding employment."
Forget the Box's Editor-In-Chief Jason McLean was a panelist during the Media portion of the event, and spoke at length about the challenges that online publications face in not only getting their message across, but also, building a brand and an 'image' in an online world that is over-saturated with content. In other words, how do we distinguish "good content" from "bad content?"
Jason's point was a salient one, and resonated with me for much of the day. Now more than ever, the entertainment industry feels overloaded with "noise." Take, for example, the insane social media buzz over Kanye's new album– initially titled Swish, then Waves and finally, The Life of Pablo — which had most of the internet in a frenzy.
While people today are debating over whether Kanye actually 'dissed' Taylor Swift on his new track Famous, I got to wondering how much of the buzz surrounding the album's internet campaign actually merited my time, or was worthy of my attention. Can we really classify Kanye's latest album release as a solely 'musical' enterprise, when clearly, there are so many social and artistic dimensions at play? And at the end of the day, how am I to decide if Kanye's hyping good content or bad content?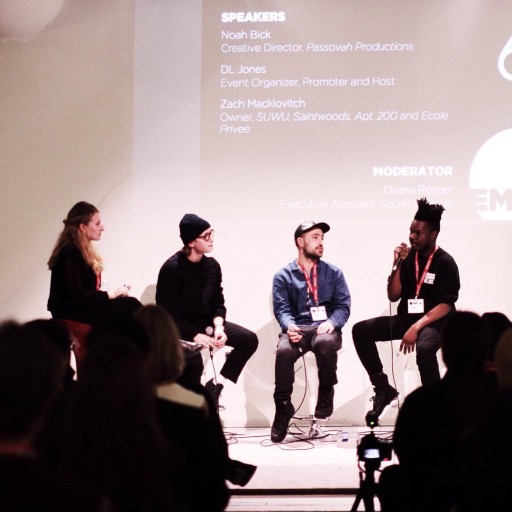 Over and over again, panelists from all corners of the entertainment industry– from Arbutus Records' Sebastian Cowan, to Mad Decent's DL Jones– stressed the importance of the network, that is, the face-to-face connection when promoting a party, an album, or a film. As the panelists spoke throughout the day, they consistently reminded us that nothing in the entertainment industry happens without a direct connection between the fan and the artist.
The event's emphasis on forging personal connections was perhaps the greatest piece of advice that I took away from my time at the EMC 2016. In an age filled with more noise than ever, the panelists urging us to focus on the personal when building a career, of meeting directly with professionals and building relationships, is a crucial thing to note. And of course, their in-person presence at the event really drove that point home.
The professionals speaking at this year's EMC were consistent in their message of how to make sense of a world filled with way-too-much information; of how to distinguish the things we like from the things we don't, so we can learn to build our own careers. The message was simple, keep it personal. I'd like to thank all of the hard-working students and sponsors who made this year's event an enriching experience: the Entertainment Management Conference is undoubtedly good content.
* Featured Image: EMC Media Panel (l-r) moderator Sean Finnell, Jason C. McLean, Editor-in-Chief of Forget the Box, JP Desjardins, CEO of Wallrus and Martin Spalding, VP and GM of local radio and TV for Bell Media. Image via EMC on Instagram