Dita Von Teese, surely you've heard the name before, after all she is the most famous burlesque icon of our day and age. However, Dita wasn't always an icon. She started as a lingerie saleswoman, fetish model and stripper, transforming into the world famous Dita Von Teese, goddess of burlesque. On February 21st this burlesque queen graced Montreal with her presence headlining Le Grand Cabaret amidst some of the top burlesque performers in Montreal.
For those of you that have never been to a burlesque show, you're probably thinking who goes to these shows? Probably a bunch of blokes ready to ogle "naked women." But you would be wrong. The majority that are going to these shows are women.
"A lot of women are finding empowerment out of seeing various kinds of beauty and sensuality and seeing eroticism in a different way than what you normally see," tells Dita Von Teese.
It's no mere coincidence that Dita Von Teese showed up in Montreal to perform for a packed audience this past Sunday. Even though burlesque has long been an underground art form, it's resurgence as of late has been breaking down cultural barriers of what it means to be a burlesque artist in 2016. Dita is just one of the many influences breaking down these barriers.
Burlesque comes from the Italian word "burla" meaning to make a 'mockery of.' So what exactly is burlesque mocking? The male gaze on a woman's body? How our society views sexual freedom? Standards of gender and forms of beauty? It's a little of all of the above and a whole lot more. Dita defines it as " a powerful message of self-creation…showing people another form of beauty."
So what does Burlesque look like on stage? And what did it look like the night of February 21st when Dita Von Teese and a troupe of Montreal's finest performers let loose on stage.
The night began with Les Jumelles (who later turned stage kittens) performed a sassy duo followed by Pinot Noir (host of Le Grand Cabaret) and Lavender May (producer of the show). Lavender May was followed by a number of talented artists most notably Lou Lou la Duchesse de Rière, Shy Shy Schullie, Lady Josephine, The Foxy Lexxi Brown, Rainbow Drag, Cirquantique and Bonbon Bombay.
After a strikingly seductive, classic showgirl number by Lavender May, the night was followed by a number of breathtaking performances, one of which was by Shy Shy Schullie. If you've never heard the name before look this songstress up. Performing on La Voix, this talented beauty has a voice that can be unparalleled by no other. Wearing a strikingly seductive dress and tearing the stage down with her voice Shy Shy was followed by Montreal's "tall glass of badass" Lady Josephine.
Lady Josephine is a notorious performer in Montreal and most notably founded Arabesque Burlesque, a burlesque school to teach new-comers and experts-alike the art of burlesque. She performed alongside two of her students (Aria Delanoche & Sugar Vixen) who flourished within her school and have now become starlets within the burlesque scene.
Her piece of the night was Miss Sheath, a badass sword-fighting femme fatale supported onstage by her accomplices. The three of them danced a prayer to the warrior goddess before Lady Josephine prepared for battle. Removing her clothes with her sword, Lady Josephine stole the stage and the hearts of the crowd for one of the top acts of the evening.
The finale of the first act came when Dita Von Teese took to the stage for a supremely classic burlesque number. Donning a fishtail gown the goddess slowly removed her gloves before twirling them around her head. She then proceed to slowly lift the dress down her shoulders uncovering a sleek, black corset that gave her that famously elegant waist. Teasing the audience like only Dita can, she removed the bottom of her dress showing the audience just a glimpse of her butt. Effortlessly removing the rest of her gown and finally bra she covered herself with a fur boa before anyone in all of the L'Olympia could catch a glimpse of her body.
Once again hiding herself she picked up two feather fans while dropping the boa, showing the world that she is the queen of the tease. Finally she revealed herself for just a brief moment before once again covering herself with the feather fans for the grand finale. Overall a classy and delicate number closing the first half of the show.
The second act was brought to life by the infamous The Foxy Lexxi Brown, who not only has made a huge name for herself in Montreal's community but all over North America. This bodacious bombshell was brought onstage as Cleopatra, the Egyptian Goddess, carried a-top a throne by her backup dancers. The number was a magical one with a super seductive climax when her dancers poured milk all over her body and fanned her giving this queen of the nile an unforgettable milk bath.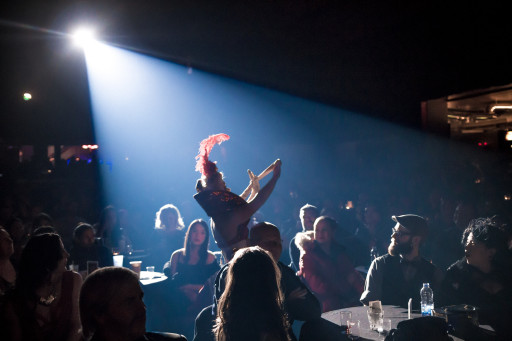 There was another stand-out in the crowd that night who goes by the name of BonBon Bombay. If you've never heard the name you probably have never been to a burlesque show. This whimsical entity has been blowing up the burlesque and circus scene since 2007. She has a huge international reputation and is known for her mix of circus and neo-burlesque characters.
On the night of Le Grand Cabaret BonBon Bombay created an entrance like no other. Blowing open one of the side doors of L'Olympia the little fiery fox stormed through the audience blaring air horns. Dressed like a circus master she pranced through the crowd toying with the audience. Her playful energy was lapped up by the crowd as they were left drooling at her feet. She offered her glove out for one lucky audience member who jumped at the chance to tear off her glove with his teeth like a ravenous dog.
After toying with the audience throughout the whole performance her finale was done on-stage as she raised a toast to the audience. Just as she placed her lips on the glass she wagged her finger before dipping her tassels in the glass. Before anyone knew what was happening she had lit both tassels on fire and was spinning her way into the audience's hearts with her flaming tits.
The evening only continued to get more fiery when Dita Von Teese brought the night to full tilt with a grand finale. She ended the show with her infamous Martini Glass number proving to all of Montreal that her acts will remain iconic throughout time. This icon's presence and performance on February 21st just goes to show how big this underground art form is becoming.
She has carved a path for a lot of burlesque artists that is changing how they're viewed in society. What some view as objectification, others view as liberation, and burlesque is challenging this societal gaze.
"One of the last taboos to be liberated is to revel in being objectified," Dita explains. " you can't decide for someone what is degrading or empowering, because some people could look at my show and say, 'Oh that's so degrading to women,' but then you're thinking, 'How is that degrading to women when there's all the women who are supporting it and they're getting inspiration from it and they're happy to see a different version of sensuality?" Take a note from the diva herself, and let yourself be liberated.
* Featured image of Dita Von Teese and all photos by Coulton Photography. Click on the first image to open gallery

Dita Von Teese in Montreal