We all know Québecers love Florida. But do Miami and Montréal in particular have any kind of bond? A week ago, I would have said no.
But sometimes it pays to rent a car and follow your stomach. The first stop on my namesake quest took me to Schwartz of Miami, a surprising discovery which I discussed last week.
Here's the rest of the rundown.
Copacabana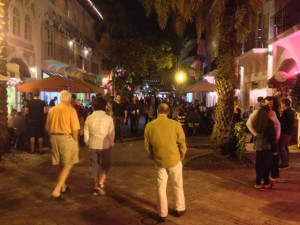 How odd. Here I am in Spring Break Central, a town where 70% of the local population is Spanish-speaking, and a local Google search for Copacabana yields nothing. Meanwhile, I am reminded of the near-legendary status of Montréal's booty-shaking venue de Maisonneuve Blvd.
I persist. And with some effort, I uncover Boteco Copacabana, a newish Brazilian resto with mixed reviews online. I track it down on foot, landing smack in the middle of Miami Beach's less-glamorous, tourist-trappy pedestrian street, Espanola Way.
I approach with caution. Visions of our own flamboyant, booming Copa quickly recede as I spot a lonely man played guitar in a front window—Boteco Copacabana's sole indoor patron.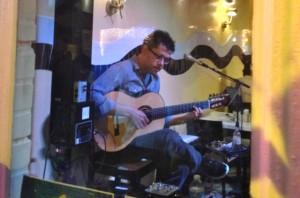 And while the streetside has customers, the food looks sad and the prices outrageous. As much as I'd love to waste $30 of my hard-earned dollars for a lousy plate of chicken, I need to save up for the journey.
Grumpys
Montréal's Grumpys is a cozy and cavernous joint whose vibe—intentional irony?—is so good-natured that I always stay too long. There's no Grumpys in Miami, but there is a long-lost-brother: Gramps.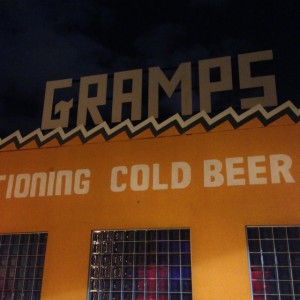 Crusty on the exterior while remaining honest, loveable and addictively fun inside, Gramps is a last remnant of grunge in Miami's quickly-gentrifying Design District. The city's de facto dive bar radiates screeching guitars, is housed in a crumbling warehouse, and is even guarded by ZZ Top's eldest grandson.
Casa del Popolo
It seems like a safe bet: generic Spanish name and all. So imagine my joy when, after a hot thirty minutes on South 22nd Street, I spot Casa Felipe. My joy turnes to disappointment when (instead of a café I could compare with our own) I realize I am approaching a cigar emporium. But then I turn the corner and suddenly, it was all worth it. Thanks, Obama.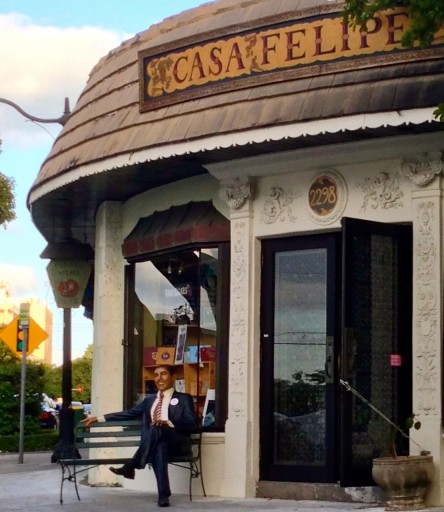 Le Cheese Truck
Just outside Gramps, I stumbled upon a southern sibling of Le Cheese Truck. I almost did a double-take! It was called Ms. Cheezious.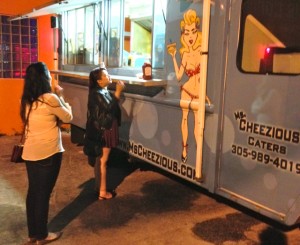 Even the down-to-earth dudes who ran it mirror the sweet, bubbly proprietors of Le Cheese. They are super nice and obviously have a loyal following. Sandwiches such as grilled blue and bacon, apple-pulled pork, all sounded tantalizing—if a bit unoriginal to me. Sadly, they are not up to par with our own boys' endeavour. My "Shaved tavern ham" with spiced apple and sharp cheddar with tomato on sourdough was sloppily satisfying—great for après-bar. But frankly, I was struggling to see why anyone would pay $10 for that when the same price would yield something much more flavourful and original chez Le Truck (such as the chili with cheese curds or their fabulous mac n cheese).
Varadero
In rush-hour-induced moment of contemplation on our two towns, I was struck with the fact that throngs of Montréalers escape to Varadero on a whim while Miamians—whose roots extend far deeper into the country than, uh, Sunwing—have no such luck themselves.
To make up for it, they have places like Varadero II, a run-of-the-mill Cuban bakery somewhere near nowheresville, (I later learn it's called Tamiami).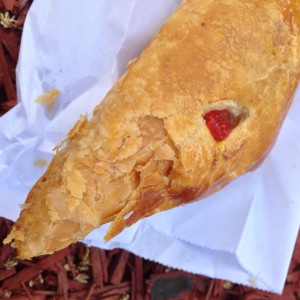 Handing my fate over to the lady behind Varadero's counter, I am summarily presented with a pastellito de guyaba. What a revelation. The flaky, unsweetened exterior gives way to muted, silky cheese. All fine and good. But then: the sweetish aftertaste of that mild queso suddenly bleeds—miraculously—into a gooey, ultra-sweet guava jam. Insane! At 75 cents, my blood sugar will be thankful that I won't be able to find this in Montréal.
But I include this anecdote only to conclude that, subtle bonds aside, Montréal needs more Cuban food. While my stop at this and this Cuban cafeteria were both exceptional, it was that tiny bakery on SW 8th Street that truly tipped the scales.
More Cuban flavours on our frigid streets can only make this a warmer, happier, healthier place.