Last February, I wrote about Don Hertzfeldt's first feature film It's Such a Beautiful Day. Among other things it amazed me how many themes he could explore in such a short amount of time and also do it so in depth and with so much meaning.
As I wrote: "Hetzfeldt is able to make us feel more for a simplistic stick figure than most films can makes us feel for or relate to actual human beings." In World of Tomorrow, he does this again but in a shorter amount of time (18 minutes).
The World of Tomorrow follows Emily, a 4-year old girl (voiced by Hertzfeldt's 4 year old niece, Winona Mae) who discovers a machine and starts to fiddle around with it. While she is pressing buttons, a screen appears and she is contacted by a mysterious figure quickly revealed to be herself (well not necesarily, it's a clone of herself) 227 years into the future.
In The World of Tomorrow, human beings have learnt how to clone themselves and transfer their memories onto their clones, essentially creating a technique to live forever. The Emily clone is revealed to be a third generation of Emily clones (let's call her Emily 3G), who has contacted the original Emily (referred to in the film as Emily Prime) to extract a forgotten memory from her 4-year old self before the world ends.
The future that Hertzfeldt presents is obsessed with legacy and nostalgia. Those who cannot afford to clone themselves either store their memories in digital cubes or grotesquely allow their faces to be stretched onto animatronic machines after their death so they can still "always be with their loved ones" long after they are gone.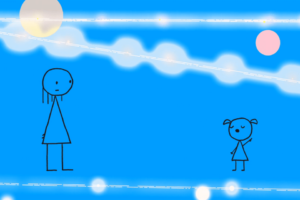 Emily 3G goes on to explain to her young self that in her clone-dominated culture where robots do all the work, the most popular activity is watching memories on screens passed on from their "originals" or primes. As generations go by, the memories start becoming just of their past selves watching screens in an effort to understand what it means to be human. This sad and depressing metaphor is made even more poignant with the vivid background images of people watching screens and watching themselves watching screens.
The film is not only notable for its ideas but also for the colourful and vibrant backdrops throughout. You could almost pause it at any point and be struck with a wonderful, chaotic mess of colour and floating lines.
Emily 3G often gives long, drawn-out, monotonous explanations of her future to which Emily Prime, obviously unable to comprehend the complexity of the words she is being told often responds with a simple: "Okay"or a mix of gibberish. Emily 3G's deadpan delivery and Emily Prime's obliviousness adds a much needed aspect of hilarity to a more or less, gloomy existence.
This dynamic is shown well in the scene when Emily 3G, after tediously explaining the extreme risk of time travel, then proceeds to time travel her prime into her own time without even a second thought (knowing that it could end her existence). Emily Prime arrives unharmed, unaware of what could have happened. In other scenes too, Emily 3G casually drops lines like "We are all doomed Emily" to which Emily Prime laughs at happily.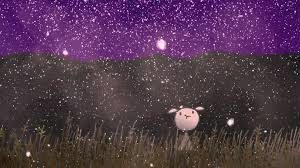 Probably my favourite scene in the film (and arguably the most emotional and heart-wrenching) is when Emily 3G goes through her life experiences with love (or when she thought she was in love). At first she explains how she fell in love with a rock while working on the moon and then a fuel pump and an alien monster she named Simon while working in space until eventually she fell in love with a fellow clone, David.
She feels a sort of familiarity with him as another generation of the same clone was part of an art exhibit when she was younger. As the clone is an older and already deteriorating version, it dies, leaving Emily alone.
Emily Prime asks Emily 3G if she misses David to which her clone replies:
"I do not have the mental or emotional capacity to deal with his loss. But sometimes, I sit in a chair, late at night, and quietly feel very bad. When the night is at its most quiet, I can hear Death. I am very proud of my sadness, because it means that I am more alive. I no longer fall in love with rocks."
There are many quotes to chose from in this film but this one is by far the most memorable. Emily 3G tries so desperately throughout her life to feel some sort of humanity (even going as far as putting her original self at risk of death) but the only way it seems she can is by experiencing loss. To her that is something to be proud of because as she later mentions to Emily Prime, it is important to try and live a life well-lived: "Live well and live broadly. You are alive and living now. Now is the envy of all of the dead."
The World of Tomorrow explores some themes that are tough to deal with at times. Fortunately for us, Hertzfeldt does it with his clever, off-brand style of comedy  and aesthetically-pleasing backdrops and in only 18 minutes. So if you've got some time to spare, maybe you're waiting for the bus or waiting for your laundry to dry off, pop open this film, you won't be disappointed.
WORLD OF TOMORROW from don hertzfeldt on Vimeo.
Images: Bitter Films