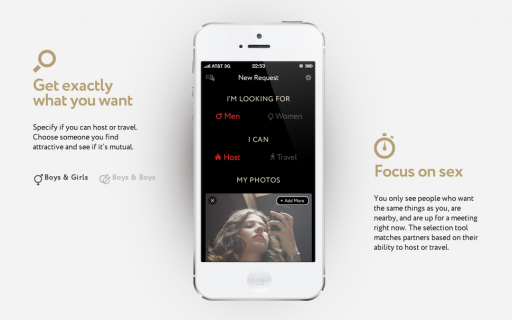 I've often looked to my gay male friends and wished I could have the kind of wild and uninhibited sex lives they do. I'm sure I'm not alone in saying that, as a woman, it seems appealing to be able to use technology to find random hook ups. It used to be that you had put on a pretty dress and makeup, go to some bar that you don't even like and get drunk first before the possibility of casual sex even arose. Thanks to the popularity of apps like Grindr, you don't even have to leave your house anymore…at least not if you're a gay men. Developers across many platforms have attempted to create the so-called Grindr for heterosexuals, but so far no single app has emerged as the dominant one.
For many women, while the fantasy of a hook app may be a salacious turn-on, the reality of it doesn't quite hold that kind of appeal. Not only is there the losing battle against the stigma against the liberated women who just wants to have sex, there are numerous safety risks to be taken into consideration when getting together with strangers, especially strange men. Above all that, I imagine that the kind of man that is trolling an iPhone app for sex partners isn't exactly the kind of man I want to have sex with. But then again that's what I thought about online dating at first too).
Seeing as how men are already overrepresented on dating sites, as well as far more aggressive in their usage of these sites (up to 40% more like to send a message after viewing a profile), it's easy to see where women are dissuaded. So what do women want from a potential online hook up experience? The New Yorker culled the few female-founded dating sites and apps for the answers: authenticity, privacy, control over the environment and easy access to a safe face-to-face meeting.
The latest foray into the so-called feminist friendly hook up app is Pure, whose founders deemed it as "the fastest way to find more frequent and diverse sex". In their manifesto, the founders of the app state that "government, society, and religion have oppressed human sexuality in the past and continue to do so today. It's time to make a radical change and give people back the freedom to enjoy a regular and diverse sex life. We are certain that gender, the type of sexual activity, or the number of participants in sexual relations should not be externally regulated."
After specifying the gender sought and whether the user wishes to host or travel, local matches are delivered and confirmed with a simple "yes" or "no way". One of the main focuses of the app is on temporarily, as all conversation history and photos are automatically deleted within an hour, leaving no pesky trace of the tawdry text or images to resurface at an inopportune moment in the future. And user feedback is mandatory to weed out so-called "Catfish" that post misleading pictures, lending further authenticity to the process.
Like many of its competitors, it sounds like a good idea in theory but it will be an obscenely difficult task to challenge the culture norms in a society where a woman is deemed a slut for engaging in the behaviors the app is trumpeting. Furthermore, for women to want to use the app, they'd have to get resign themselves to the fact that it's not very appealing to be propositioned for casual sex from men they aren't remotely interested in… unless this app is filled with completely drop-dead gorgeous, non-creepy men who are just looking for an honest connection before some casual fun (even as I type this sentence, I realize how ridiculous it truly sounds).
If meeting up with random strangers is still a bit too daunting, you might want to get your feet wet in the dating app scene by seeing which people you know might be thinking about you in a more than friendly way. Billing itself as "the anonymous, simple, fun way to find friends who are down for the night," the popular Bang with Friends app is the best method of determining which of your friends would be, you know, Down to Bang, thereby avoiding any of those awkward rejection conversations and morning after regrets.
It boasts some big numbers – over 800,000 users without a single dollar spent on advertising. Of those users, nearly three-quarters were in the coveted 18-34 age bracket, and there were approximately 200,000 couples that actually agreed to meet in person after finding each with the app.
However, the controversial app only lasted 10 days in the Apple App Store before being banned for content, even under the abbreviated moniker "BWF". Three months later, it finally returned with changes to its suggestive home screen and vernacular. The name of the app itself was shortened to a mere "Down" and the titular "Down to Bang" button was replaced with the demure "I'm Down", as well as the less carnal "Down to Hang" buttons.
Local-based HookMeApp is attempting to make the same connections as the Bang with Friends app with their new foray into the online dating/meet-up scene.  With a philosophy revolving around the notion that successful relationships are usually facilitated by the people we already know, they offer a platform for Montreal singles to make connections with friends and friends. They are launching the beta version of the app this month, and have begun a blog featuring "Dating Misadventures", because all of us in the dating world have so many of them, as well as a "Dreamboat of the Month". This is a chance to play matchmakers for your friends who are funny, sweet, attractive and best of all, totally date-worthy. Furthermore, they are giving away free dinner & movie dates to 1 out of every 100 people who sign up.