Perched atop Anatolia, a purveyor of Nutella pizza on rue St-Mathieu is the de facto hidden gem.
It's got all the required attributes: nonexistent street presence, unpretetentious dining room and a wealth of unexplored flavours. What's more, it's very rare, if not unheard of, to find an Egyptian restaurant in the heart of downtown Montreal.
Once you make it up the stairs and through an awkward apartment-style entrance, you stumble into La Folie du Koshary. It's a bit of a misnomer. From the quiet, simple dining room to the sweet, subdued staff, La Folie is just about anything but  crazy.
Yet it's in the sum of the plates that Folies offers up the real adventure. These simple, authentic and carefully-spiced plates get better when shared—the culmination of a table full of salads, dips, eggs, meat and sandwiches being a newfound set of flavours and some very cost effective downtown fun.
For appetizers, don't miss koshary. The restaurant's namesake and possibly Egypt's most famous dish combines things you'd never expect to be addictive. In this case, the long-stewed, clove-inflected tomato sauce lies like an unobtrusive blanket over rice, rameny noodles and macaroni. The whole is topped with chickpeas, herbs and crispy fried onions. Have I at least piqued your interest?
Then there's another Egyptian staple: ful. At La Folie du Koshary, the latter comes in many forms.
We tried the base just to test its essence. Made with crushed fava beans, this is sort of like a wetter, heavier version of humus, but to me, much more subtle and enjoyable.
The bright salad and onion on top brought home some nice acidity and I did not tire of dipping the pita into it all evening long. I hesitate to sum up ful so simply (it's as old as the Pyramids, and prepared in dozens of countries), so keep in mind there are many versions. La Folie offers six. For example, you can add eggs or chili oil or butter.
Finally, dry scambled eggs strung with roumi, a pecorino-like cheese, were a bit too subtle (I wish there'd been more of that sharp cheese),  and the hawawshy was delicious! In what is possibly the simplest yet most flavourful dish on the menu, dry ground meats and spices are flattened in between a pita that is really more akin to a gritty naan bread.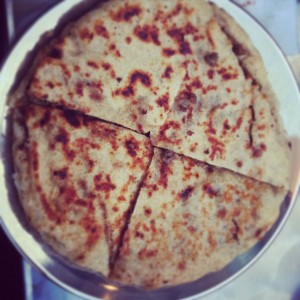 The sum here, once again, is so much more than the parts. Coriander and cardamom in this sandwich lifted a variety of peppers to the next level for a memorable bite to which I would certainly rerun: spicy, to be sure, but very  flavourful.
Service is honest and friendly. We found that a few bewildered looks were just enough for them to sort out a perfect, compassionate menu for us. Try it. Furthermore, there's a terrasse. So for those who like an even more spicy dinner, you can enjoy an unobstructed view into the firemen's lounge across the street.
Folie du Koshary is at 1444 St Mathieu, upstairs from Anatolia Pizzeria