Korean food seems to fly under the radar in Montréal. That's why I enjoy eating at certain downtown Korean spots so much. You sit down, you order, you go out on a limb–and you can almost dodge that nasty critic mind creeping in, the one so intent on spoiling pleasure, insiduously benchmarking all dishes against the 100 other similar varietals in town (I'm looking at you, French and Italian restos).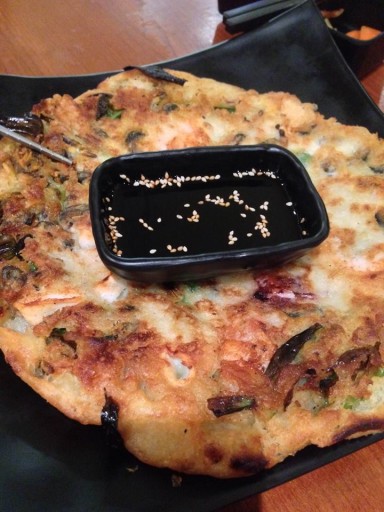 Though bibimbap has not (and likely never will) enjoy the big-bang explosion of other recent culinary phenomena (ramen, poutine, tacos, etc.) its variations have nonetheless multiplied tenfold in the past decade. The Montréal Korean food scene may be modest, but its offeringsare steadily diversifying.
Consider your options. You could hit up some fantastic pork bone soup at Bulgogi House, gorge at the requisite all-you-can-eat Seoul Chako BBQ, or even grace a table of Mi Kyom-Kim's slightly-more-upscale Omma–a delectable resto depicted by Sarah Musgrave as "gentler, softer and, dare I say, more feminine than most of its counterparts."
Gentle and soft are okay, but if you want comfy, quick, salty Korean fare (and fast), there's really only one option: GaNaDaRa, the tiny, jam-packed, feel-good eatery on de Maisonneuve at St-Mathieu. If Omma is the gentlest Korean fare in town, GaNaDaRa is certainly the cuddliest.
The small, simple room is labeled after the "first four letters of the Korean language" according to my menu/catalogue/scrapbook and is constantly packed with warm chatter and smiley servers (no matter how chaotic the line gathering out front). Oh yeah, it's also plastered with Hello-Kitty-derived illustrations and unsettlingly bucolic quotes like this one. (It's hard to know if GaNaDaRa is trying to be ironic or just maddeningly positive about the future.)
I'll tell you one thing: you can come here in any mood you like.
Uninspired? The seafood pancake (paejeon), once dipped in soy-rice vinegar sauce & topped with a side of that addictive housemade kimchi, will stimulate your creative flow.
Angry? The puffy, greasy chicken with Korean sweet sauce (dak tuikim) will put a smile on your face– temporarily, the way KFC popcorn chicken used to cheer you up at 6 pm when you'd had a rough day at school and mom decided to order in.
Downtrodden? The spicy deep-fried tofu or crazy ketchupy-piquant sauce with mochi-like rice blob-cakes (Tteokppoki) will put fire in your belly…and force you to have an opinion one way or another.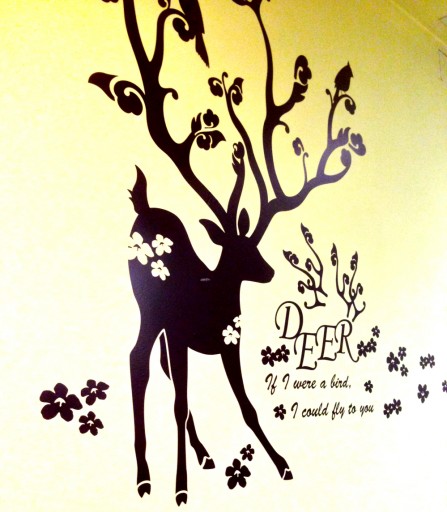 Sure, many of the appetizer dishes at GaNaDaRa are best shared (lest they be too oily to finish off solo), but the prices are so affordable, and the variety so thick, that you'll have no problem ordering three or four.
Buoyed with happy kitty drawings, feel good comfort food and homey fermented veg, visions of a majestic Love Deer on the way to the bathroom suddenly just seems…so right.