On October 13th, 2016, Lou Dobbs, anchor of the Fox Business Network's show Lou Dobbs Tonight, posted a link to the home phone number and address of Jessica Leeds on Twitter. Leeds is one of many women openly accusing Donald Trump of sexual assault shortly after a video surfaced of him bragging about his habit of pawing women without their consent.
The post was eventually deleted, though whether that was done by Twitter, Fox, or Dobbs himself is unclear, and it was already too late. The post was shared at least eight hundred times before it disappeared from Dobbs' Twitter feed. When he was called out on what he did, his apology was nothing short of pathetic, Tweeting simply:
"My Retweet, My Mistake, My Apology to Jessica Leeds," the subtext being that the only thing he is sorry for is that people called him on it.
This article is not about Lou Dobbs.
It is not about the fact that his tactics prove him to be nothing but a poor journalist. If Dobbs is resorting to posting Jessica Leeds' home address and phone number in order to incite Trump followers (who are known for their violent behavior) to attack and threaten her into silence, it is because he is incapable of refuting her claims with researched facts. It is not about the fact that he has helped turn Trump's campaign into the ugliest in history.
This is not about him. He, like the Republicans' offensive excuse for a presidential candidate, has had enough attention.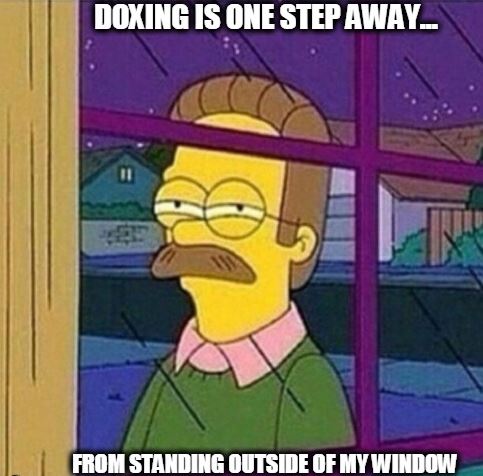 This is about doxing.
Doxing is the publishing of the personal information of an individual on the internet, usually without their consent, in order to cause the victim distress, fear, embarrassment, and shame.
According to Danielle Citron, law professor at the University of Maryland and author of Hate Crimes in Cyberspace, the victims of doxing are primarily young women who are stalked online with threats of rape and sexual humiliation with the intent of silencing them and forcing them offline. It is a tactic commonly employed by Men's Rights' Activists (MRAs) who do it to anyone criticizing their fight to have raping women legalized worldwide.
One MRA who visited Montreal and was publicly shamed for tarnishing our city with his presence has encouraged the practice among his followers in an attempt to scare off his critics. When he himself was doxed, he suddenly became against it, at least for himself.
Though Canada has no specific law criminalizing doxing, our existing laws fill this void just fine when you think about what the act entails.
People post home addresses, phone numbers, credit card information, and private email addresses with the intent that someone other than them will see it and steal, harass, and threaten death, rape, or worse.
Fortunately, in Canada we have section twenty two of the Criminal Code which says that anyone who counsels someone to commit an offense is considered party to said offense. That means that if you encourage someone to commit a crime, you are considered as guilty of the crime as the person who actually did it even if they did it in a way other than the one you recommended. That also means that you are subject to the exact same penalties.
Let's say you post a woman's home address on social media and say that she should be raped. That night someone sees your post and goes and rapes her. If the rapist convinces the authorities that they got the idea from your social media feed, you might be charged with rape and face the same five or fourteen year prison sentence (depending on the degree of violence involved) as the rapist.
If you post a person's private email address and phone number and encourage your followers to make death threats, rape threats, or threats of bodily harm, and they do it, you'll be looking at the same eighteen months to five years as the people making the threats.
In order to get the same penalty, the prosecution would have to prove beyond a reasonable doubt that you actively and willfully sought to encourage people to commit the crime and that you knew or ought to have known that a crime was likely to be committed as a result of your encouragement.
The laws to punish doxers are already in place. The only thing protecting doxers is police indifference. Reddit Moderator Blake Hebb, for example, had a lot of trouble convincing the authorities to investigate when he was doxed and harassed in 2015.
But hope is not lost.
In the June 2015 ruling of the Provincial Court of British Columbia in Regina v. BLA, a seventeen year old received a custodial sentence of sixteen months plus eight months supervision after he doxed, harassed, threatened, and "swatted" (tricking emergency services and police to send responders based on a false report) female gamers who refused his demands to chat with him and show him their butts.
The laws to fight doxing are there and the authorities are slowly beginning to enforce them. It is up to us to make sure they keep listening. That means reporting every incident and making a big stink if the police and RCMP are dismissive.
Contact the press and shout it from the rooftops if you have to. No more letting predators hide behind their computers unpunished while they get others to do their dirty work. If they encouraged and made it easier for someone to hurt you, threaten you, destroy your property, kill your pets, or steal from you, they are just as guilty as the ones who did it and should be punished the full extent of the law.