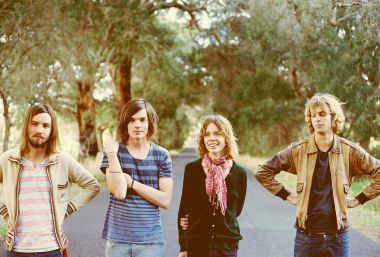 Tame Impala is a dish best-served with a side of hallucinogens. Dreamy and groovy, this Aussie four-piece picks up where Sgt. Pepper left us (lead vocalist, Kevin Parker, sounds exactly like John Lennon). The band has been featured on Pitchfork, talked about in countless indie blogs, and reside on most hipsters' playlists; yet, I ask, is Tame Impala unique enough or are they simply a reheated left-over of Beatles psychedelia and 70s jaminess?
On Sunday night, May 1, Tame Impala will be at the Phoenix Concert Theatre in Toronto with supporting acts get ready for this Yuck and YAWN (what a marquee!) If these bands live up to their names, Tame Impala will have their work cut out for them.
Yuck is an indie quartet from London, England who play in the same vein as nineties acts like Dinosaur Jr. and Sonic Youth. YAWN is a group from Chicago that describe themselves as "neo-soul" (think Yeasayer or Animal Collective). Despite the above quip, both sound worthy of arriving early for.
I will gladly go on record as saying I thoroughly enjoy Tame Impala's debut LP, Innerspeaker (2010). Each track is a multi-layered, Inception-esque daydream with trippy guitar and bass dialogue, highly-effected vocal hooks (seemingly sung light years away), and hypnotic, extended instrumental grooves.
Innerspeaker's greatest triumph is that it transports you. After the record needle scratches the final groove, you ask yourself, "Where the hell have I been for the last hour?" Surely, this is Tame Impala's intent. While the EP is best listened to as a cohesive whole, there are tracks that stand out to me. The opener, It's Not Meant to Be, contains guitar sounds that simulate waves lapping over you as Parker pines for an unrequited love ("She doesn't like the life that I lead/ Doesn't like sand stuck on her feet/ Or sitting around smoking weed"). Right away we can draw a picture of Tame Impala as long-haired, pot-smoking, bonfire-going surfer hippies. I love it.
Yet, I think The Bold Arrow of Time is the most interesting track on the record as it is a bit of a departure from everything else. Sure, it's got the dreamy bits and obligatory jam section, but it also boasts an absolutely Satanic guitar motif that makes you want to break stuff almost.
The Beatles eventually stopped playing live as it became less and less possible (and desirable) to recreate their recordings. I feel Tame Impala will be able to take a worthy stab at their record given all kinds of "trippiness" and "psychedelia" can now be bought in a single foot pedal. If you're in the neighbourhood, I really urge you to check these guys out. And if you do go, be sure to steer clear of the brown acid.
Sunday, May 1, @ the Phoenix Concert Theatre, 410 Sherbourne St., Toronto
Doors open at 8pm, Show at 9pm
Tickets are $27.75
Photo: watchoutfor.com.au