Watching the Terminator franchise has been like watching the trajectory of a half-brick flung with wild abandon by a carefree, callow youth. It began with an explosion of power and from there, the sky was the limit as it soared towards the heavens, unchained and free. But then gravity took hold and the flight towards glory was replaced by a tremendous fall, leading to the half-brick landing in old Mr. Macduff's birdbath and left to be horribly mistreated by neighbourhood crows.
So it is with the Terminator movies. The glory days of the first two films are behind us, now replaced by shame and crow droppings. Terminator Genisys, the fifth film in the franchise, is out in theatres now. I can't say for sure if it's worse than Terminator: Rise of the Machines, the other low-point of the series, but it nevertheless represents another crushing failure of an attempt to bring the franchise back to its former glory – a confused mess with only passable action and a script that desperately wants you not to notice the tanker-truck sized holes at the very centre of the thing.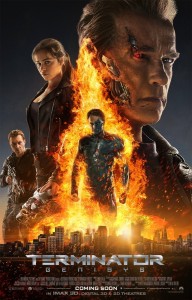 Our story begins with Kyle Reese, now played by the ever-dull Jai Courtney, being sent back in time on his mission from the first film: save Sarah Connor, mother of legendary resistance leader John Connor, who just saved humanity from extinction at the hands of Skynet. Reese goes back in time, only to be immediately attacked by a liquid metal terminator and rescued by Sarah, already in badass T2 mode, and her pet terminator "pops." When Sarah was a child, it seems, her parents were killed by a terminator, and pops rescued and raised her, having been sent back in time by parties unknown.
You'll notice that "parties unknown" part right at the end there. Important detail. One of the many, many problems plaguing Genisys, is that spoiler alert, that big question mark… never gets really addressed or explored, despite it being the inciting incident that set the whole movie off. Who sent back that terminator that killed Sarah's parents, and who sent back Pops, are questions the characters dwell on for all of two lines of dialogue. To say nothing of who sent back the liquid metal terminator played by Byung Hun-Lee that menaces our heroes in the first act.
Now, it's absolutely fine to have the inciting incident of your film be a mystery. Many great films have been built on this premise. But the problem with Genisys is that not only is it not answered in the film itself, it's never addressed or brought up again. The writers give no indication that they have a solution in mind for the mystery and, in fact, sweep it under the rug as quickly as possible in what feels like a desperate attempt to hide the fact that have absolutely no idea what's going on. Maybe that's not true. Maybe the writers of Terminator Genisys know exactly what's happening, and this is an attempt at setting up mysteries for the sequel to explore, if there is one.
And yeah, that's a valid strategy. Guardians of the Galaxy never reveals the identity of Star-Lord's father and why he was taken from Earth in the first place, after all. But the difference is, in the case of Guardians, we're given hints and indications that there's at least some plan for what comes next. It's brought up multiple times, we're given some information about Quill's father to feed speculation, etc. Genisys, on the other hand, seems desperate for you to forget about the whole question, paying it the most token of lip service before dropping it entirely and never mentioning it again. It doesn't feel like a mystery so much as something they never bothered to write.
And Genisys is full of stuff like that, logical gaps that we're expected to ignore, but which bring the whole affair crashing down the second you start fiddling with them. It's like a Jenga tower five minutes into the game.
So does it at least look pretty? I suppose, but… look. I don't like ragging on a film's special effects because a) I think how photo-realistic an effect looks isn't as important as how visually interesting it is, and b) I'm aware that low-quality special effects are a symptom of the fact that the VFX industry is critically broken, but don't you dare try to mention that in public. But I have to say this.
Guys. Hollywood. Digital recreations of younger actors? Doesn't. Work. It didn't work in Tron Legacy and it doesn't work here. I refer of course to one of the film's most touted scenes, where the now aged Arnie squares off against a recreation of his younger self from the first film, accomplished with CGI and a body double. And it looks awful. Seriously, stop trying to do this effect, the technology just isn't there yet.
Besides that, the action is at least competently staged, and there are some interesting visuals, especially once the actual villain of the film is revealed about midway through.
But Terminator Genisys is just the latest in a long line of lazy summer action blockbusters that expects us not to care. To "turn off our brains" and just enjoy the explosions, blithely ignoring the fact that it has half a script at worst, and one full of half-explained or completely unexplained gaps at best. The time travel mechanic that drives the plot is fuelled by nonsensical babble about "nexus points" and alternate timelines that wants you to believe it makes some kind of sense, when really it just feels like the technobabble in a bad Star Trek episode: a bunch of fancy sounding words thrown at a problem until it goes away.
It doesn't respect its audience enough to expect them to ask questions, trying to skirt by with a script as sound as a house cards made of wet saltines. It cynically tries to placate fans with references and call-outs to previous films, hoping to distract us from its awfulness with fan-service. And I didn't even talk about the dull performances, the reduction of Sarah Connor to an eye-rolling, squeaky-voiced bore chafing under Pops' psuedo-parental figure, the stuff they do with John Connor that's guaranteed to have fans frothing, and how utterly wasted JK Simmons is in a bit part that goes nowhere.
We deserve better. Terminator fans deserve better, general audiences deserve better.