I'm Dying Up Here is a Showtime show that explores the trials and tribulations of standup comedians trying to make it in Los Angeles in the 1970s. For one night only, the cast and creator were in town to share their inside experience of working on the show.
Though the event was clearly meant to plug the show, people who attended did so for only one reason: Jim Carrey. Among the crowd of young eager faces there to see the famed Rubberface in the flesh was an Ace Ventura imitator, complete with coiffed hair, Hawaiian shirt, and loose army boots, who charmed people as they filed into the theatre.
People expected funny from this show, but this event was not meant to be funny, not really. It was meant to be the cast and one of the show's creators, Carrey himself, talking about their baby, I'm Dying Up Here.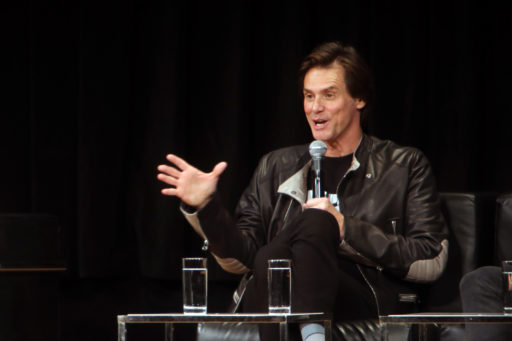 The moderator for the evening was a culture writer for the New York Times, dressed in a suit the cut of which seemed modeled after the styles of the 70s. When people applauded him for his profession, he smiled awkwardly and said it was nice to see people still applauding journalists.
As a moderator he was awkward at best, a man clearly unaccustomed to being on stage and too timid to handle the panel of stars around him.
When the cast members came on stage in response to another actor's name being called, he did nothing to properly establish who was who, so with the exception of Jim Carrey, I had no idea who everyone was and had to look it up later.
The cast consisted of Michael Angarano, RJ Cyler, Ari Graynor – who plays a struggling female comedian on the show, and real-life standup comedians turned dramatic actors Erik Griffin and Andrew Santino.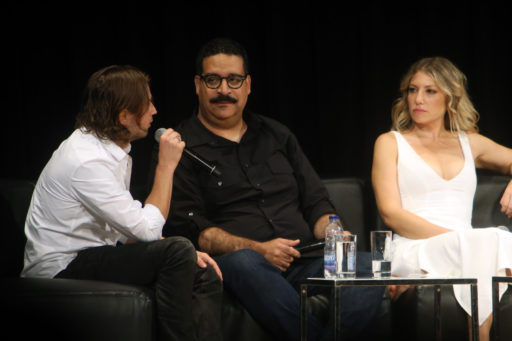 It was Griffin and Santino that kept the event from turning into a full on snoozefest by telling stories of pranks they played on each other, and exuding their natural charm as comedians on stage.
Unfortunately most of the event was a pretentious display of self aggrandizement, technical discussions about dramatic acting, and the trials and tribulations of entertainers trying to be successful.
The show contained lessons about the history and evolution of standup comedy, but the panel made no attempt to tell it cohesively. Ari Graynor's explanation of the struggles of female entertainers was excellent, but she was unfortunately interrupted by Carrey, the moderator, and the comedians, as if so used to dominating the conversation about comedy they couldn't let a woman who was not a comedian have a say.
Jim Carrey seems like a broken man; someone who's struggled to find fame and fortune, found it, and still came up feeling empty. His war stories about smoking a joint with Richard Pryor and hanging out with the dead-too-young comic legend Sam Kinison early on in his career were amazing. Sadly, his stories were peppered with remarks like:
"There is no such thing as the real Jim Carrey."
And
"I love you all but I won't fucking pander to you."
The event was too long and happened too late at night for anyone to take a sincere and active interest in what was being said. People expecting an energetic and funny Jim Carrey faced a damaged celebrity who was almost obnoxiously cerebral and worn out. Audience members around me actually fell asleep during the show while others walked out.
The show was successful in one regard: it made me want to watch I'm Dyring Up Here and read the book it's based on. If it triggered the same interest in the rest of the audience as it did in me, it was worth the ninety minutes of boredom.