Today I met a salsa dancing Peruvian clown. High wire trapeze and juggles. I've always wanted to run away with the circus, do something fun and be free. You really never know who a person is until you talk to them.
Then one of my Dreamlander friends stopped by wearing a bat onesie with big fluffy ears and played a half ass game off chess with me. We talked about a warehouse party we both attended, I was a glam leprechaun, and about having to create a scene versus joining into an established one.
My wanderlust is strong, my need to quench my quest for fun, for fantastical adventures and caravans of freaks. I want to roam, I want to be with someone who understands that life.
The clown I met today said he has had girlfriends but it was hard, like they didn't really understand the circus life. The only thing I can't approve of is being part of a circus that still uses animals, I can't support that ever. It's abuse and it is wrong.
There are plenty of awesome circuses that are animal free, which means all participants gave their consent. Animals cannot consent. I adore fire dancers, sword swallowing, aerial silk dancers, clowns, dirt bike tricks, and other human tricks. I want that ethical circus life.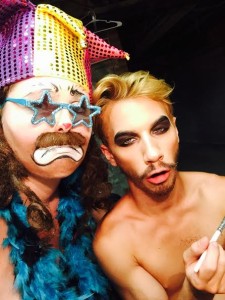 I surround myself with performers. Everyone I live with is incredible and creative. I get home and lay on the couch with my cat , eating my dumpster grapes, surrounded by smoke and candlelight.
The door opens, cold rushing in, enveloping the living room with a bitter chill that cut right through my rainbow sweater, and then in walks in my roommate and her friends: a future male burlesque dancer named Chocolate Fantasy, the most beautiful Asian girl with all of the daddies, and a low key drag queen.
My best friend is a clown, think balloons full of blood. We even did a special performance on her birthday at the Cirque De La Lune where we re-created a scene from the 1920s silent clown movie He Who Gets Slapped. I really called in the clowns for that one. I had to go in to the venue to scrub blood off the walls, it was so worth it. What a magical night.
Juggalos are so easy to make fun of, but why? I bet the Gathering of the Juggalos is a blast. They do what they want and are ridiculous. I love anyone who isn't afraid to wear makeup. If you ever get the chance please for the love of all that is good watch Tom Green at the Gathering of the Juggalos, it's the funniest.
I had a clown hit on me once on OKcupid, he said he liked clown farts, is that a sex act?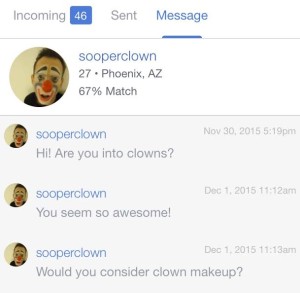 My roommate met a clown on Tinder in New York City, but he didn't come out as a clown at first. He tells his friends he is a party entertainer so they all think he is a stripper. Why so ashamed bro? That's an awesome way to pay the bills.
Lucy and I literally had the same fantasy at the same time, painting faces! So jealous of that life, I would be the happiest clown ever, that's what I am doing after I retire from burlesque.
I love performing so much, I always fall for musicians. I want to be with someone who's voice makes me tingle, wiggle and writhe.
Once a burlesque couple guest performed- a dancer and a musician, so funny he even mimicked her number. I wanted that life so bad, conquer the world out of a giant bus run on vegetable oil that is set up so my three cats can come with us (don't worry I will NEVER exploit them for the show). Maybe this pussy palace on wheels will have some solar panels and a garden on it, too.
I need a fearless artist, performer, comedian, quick witted, willing to make a fool of themselves, basically me. People all say opposites attract- fuck that I will never date a racist Trump voting bigot asshat- I only want like minded fools in my life. I am extreme so my opposite is also extreme.
I love in the movie The Punk Singer. Kathleen Hanna talks about falling for her husband, Ad-Rock from The Beastie Boys. She is a feminist riot grrrl and he is in a bro rap group that objectifies women. They were idealistically opposite with their art, but both still artists, they met in the middle and he even stood up against violence towards women during an award acceptance speech.
It is important to have some differences, because that sparks great communication and conversation. Positive change and mutual inspiration. I need someone to take the lead and lead me to somewhere good and not dark. I know that light needs dark to look brighter, but two bright explosions together is also a spectacular site.
What about a photographer, a dancer, a poet, or even a clown? Sometimes the people you least expect could be incredible, perhaps your next soulmate, future tour parter, love of this moment.
It's all we have, those spontaneous seconds where new ideas form, where people change you so profoundly they could not imagine. I want to collaborate with someone I have never met yet. I know people who run away and follow their dreams instantly without thought or premeditation. Planning is for those who don't truly succeed.
It's interesting to me that letting someone in just a little bit can take life into all kinds of crazy adventures. It feels like things are literally piling up on top of you- work, dishes, piles of clothes, health problems, family stuff, drama llamas, ect. and you need to escape or be trapped. I must spin a globe and go where it lands.