National Geographic has a venture called The Genographic Project which, through genetic data gathering, is able to map out where each individual's genetic background comes from. By participating you are able to see where your ancestors travelled from, and how you might have ended up where you are. What is so profoundly important about obtaining these results, is the fact that not a single human being can claim ownership to any land or country through birthright, simply because down the line their heritage reveals them as migratory elements containing multitude of different races and immigrants.
You, being born in this land, does not make you a native.
The language you speak just like the genes you have inherited come from thousands of years of evolution that was prompted by relocations, wars, invasions, and trades which tremendously influenced your modern tongue, as well as every single linguistic development in the world as it still does today. The French you speak is not pure. The English you speak is not pure. The Farsi you speak is not pure. They are mutants of long forgotten languages that were themselves mutated from other common ancestral languages.
Your mother tongue does not make you a native.
The Genographic Project has proved without any room for speculation that all human beings have migrated out of Africa, because we share a common gene that links us all to a tribe that resided there, and then we proceeded to migrate to all the corners of the world in search of better conditions. The linguistic experts have all agreed that all modern languages have a common ancestor which then branched out to create different dialects and ultimately different forms of languages which then through progress in travel got intertwined.
If you consider political and philosophical matters you will also come to the conclusion that throughout human history certain aspects of our needs and wants in terms of social justice and equality have always been shared. Discrimination has always been punished, and morality has always been rewarded. We tend to be compassionate toward one another's suffering. We want equal opportunities. At every step in our history, no matter where we came from, no matter the colour or race, no matter the religious or political standings, we have managed to find answers and find a way to reduce injustice and tyranny, at times more successful than others; and yes many civilizations were lost due to idiocy and misplaced opportunistic hatred, however what was the root of these idiotic, racist, prejudiced behaviour was, is and always will be division.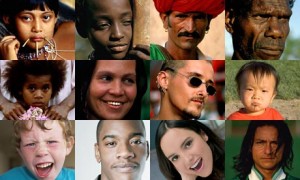 You and I are less different than we think.
Yes, I was born in Iran, and you might have been born in Israel, India, China, Germany, Canada, England, Scotland, France, Japan, Africa and so on, and thus look, sound and write different.  Does that sound like something acutely different, or considering that we share so much genetically and linguistically as well as intellectually and philosophically, all the rest are superficial nonsense?
You see we have started nitpicking and projecting differences between ourselves in order to justify our bigotries. We blame and label nationalities based on stereotypes. We blame religious minorities because we do not want to understand them. We blame headscarves, crosses, turbans, beards, sideburns, skinheads, tattoos. We are doing our best to be different, because we are scared of what might happen if one day we decide that these differences do not matter.
We are scared to count ourselves as part of an all-embracing human race.
We are scared of being fully committed to making everyone's life better, and not just our own. We want somebody to blame. I have a suspicion that we like our indirect democracy for the same reason; otherwise this form of governance is not viable. We want to elect someone to do the dirty job for us, because we do not want to be directly involved, and when things go awry we can blame someone else.
You send others into battle and rather be safe yourself, why? Why can't you see that if someone is injured, humiliated, taken advantage of, or killed every single human being on this planet will be affected? Why can't you see that you are not from this country or that, and are not just responsible for your own land and your own perceived kind, because you do not have a native land and kind of people? Why can't you see that you are responsible to speak out against all the injustices of this world, and not participate in any system that aims to supress people, take away their right, or withhold their basic liberty? Because those people who might look and sound different are not different from you. You are not defined by your colour, nationality, language, religion, political views, job and so on; you are defined by something much more simple and profound: your humanity.
Wouldn't be better to say out loud that you do not agree with prejudice, instead of hoping someone else does? Why would it matter if you alienate you mother, father, brother, sister, wife, family, community, or half of the world, if what you say and do shows that you are standing up to sources of division? Wouldn't be better to lead by example? Because I promise you, things will only get better if people see you stand up and say I want fairness, integrity, honesty, inclusion and unity.