On paper, it must have looked like a really bad political move: an invitation any seasoned political strategist would know to politely decline. Sending your candidate to another continent just days before a crucial and tight primary is ludicrous.
The only Rome a by-the-book strategist would have sent Bernie Sanders to last Friday is Rome, New York. Fortunately, it looks like either the team behind Sanders is as unconventional and risk-taking as their candidate or Sanders was really calling the shots on this one.
Bernie's trip to the Vatican was a political success and it was even before rumblings about a papal meeting started to surface.
International Experience
One of the key accusations Hillary Clinton's supporters have thrown at Sanders over the course of the primaries is that the Senator has no international diplomatic experience whereas Clinton, a former Secretary of State, has tons of it. While she clearly still has more, they can no longer say that Sanders has none.
Sanders was invited to the Vatican to speak at a conference on income inequality, a topic that is a regular part of his stump speech. When he was there, he was photographed chatting with Evo Morales, the President of Bolivia. So now, Bernie Sanders has chatted with world leaders and spoken at a global conference in the Vatican.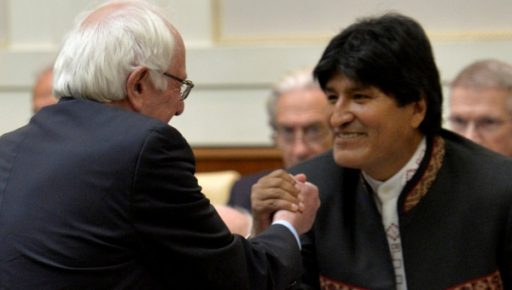 It's what happened outside of the conference, though, that is really telling. Sanders was mobbed by the media to the point that it was hard for him to move through the crowd: the kind of treatment usually reserved for a visiting celebrity or an American President; the kind of reception President Obama got quite frequently when visiting foreign countries early on in his first term.
The imagery is palpable. Sanders is already meeting with world leaders and receiving the rockstar treatment abroad. While he wasn't in New York campaigning, you had better believe voters in New York got to see those images.
Meanwhile in California
Clinton also took time off from campaigning in New York this weekend to have dinner in California with George Clooney and guests paying $33,400 a plate for the privilege of being in the same room as them. A photo with the pair cost $100,000.
Um, this just happened 💥💥💥 pic.twitter.com/w8nwVM6Lae

— Katie Jacobs Stanton (@KatieS) April 16, 2016
So when Sanders was speaking out against income inequality, Clinton did her best to give the unequally wealthy special treatment in a rather over-the-top way. That irony wasn't lost on Sanders supporters, people who make internet memes, several of which were either part of the media or the protesters themselves outside the event.
Even Clooney later told the media that the amount of money in politics was obscene and Sanders was right to criticise the system. He also spoke briefly with the protesters outside before heading in.
That juxtaposition, coupled with the fact that Sanders was now an international phenomenon, was enough to declare Bernie's trip to the Vatican a huge (or rather Yuuugge) political success. But then another international celebrity entered the picture: the Pope.
Yes, Bernie Sanders Met With Pope Francis
On Friday night, the story in the mainstream media had shifted from Bernie wowing them in Rome to people making the point that he didn't meet with the Pope. Even current Vice President Joe Biden weighed in, saying that while he thought Sanders speaking at the Vatican conference was a good thing, the Pope would not necessarily endorse him.
None of it mattered. Sanders had his international story and the fact that people, including the sitting Vice President were mentioning the Vermont Senator and papal endorsement (even to say there wasn't one) in the same breath was an amazing victory for the Sanders camp. It went from "Hillary's only primary threat is Martin O'Malley" a year ago to "Bernie's almost done and should step back gracefully" a month ago to "no, he didn't meet with the Pope and the Pope wouldn't endorse him" on Friday.
That is momentum. That is changing the story. That is a campaign that is far from done and may go all the way to the White House. And that is all I thought I would write until I opened social media Saturday morning.
But then something I wasn't expecting showed up in my newsfeed. Bernie Sanders had, in fact, met with the Pope. It was brief, five minutes approximately. It was at 6 a.m. in the foyer of the guest house where Sanders was staying and Pope Francis kept his residence. But it was arranged in advance.
Bernie Sanders was given an audience with the Pope. Even though Francis made it clear later to reporters on his plane that it was not an endorsement, something a head of state (the Vatican is a state) cannot do in another country's election without causing a diplomatic incident, it was still a meeting.
This was the icing on the cake for a trip that any political operative thinking in "realistic" terms would have tuned down in a heartbeat. It turned out to be a yuuuuge success and well worth the risk.