"I never liked horror movies growing up; I'm really scared of them," Sonny Mallhi laughed, "I don't enjoy the experience. I get really scared and strangely paranoid and  think someone is gonna come kill me in the theatre. But Roy Lee of Vertigo loves horror movies and so, working with him, I learned to appreciate the really good ones."
I had the pleasure of sitting down with soft spoken director Sonny Mallhi, whose film Anguish offered one of the most compelling premises of this year's festival, to discuss his career in the film industry, taking the indie route, and inspirations for the film.
Anguish centres on troubled sixteen-year-old Tess (Ryan Simpkin) who has been manifesting and diagnosed with various psychological disorders. Jessica (Annika Marks) is at wits end trying various treatments and seeking specialist after specialist. Tess' torments are not assuaged by the move, nor the giant pill box she must consume daily, and, soon enough, she becomes overshadowed, leaving her mother desperate enough to consider the impossible. Jessica and Tess' lives collide with that of local grieving mother, Sarah (Karina Logue), who may just have the insight they need.
Offering the point of view of both mother and daughter, Anguish leans somewhat more heavily towards that of Tess, who wanders lonesome in this small town, meandering on her skateboard, as if herself a ghost, exploring her new surroundings and trying to ignore what seems impossible. Although she rarely speaks, Ryan Simpkin is simply phenomenal as Tess and manages to communicate volumes with her eyes. The cinematography captivates the small town perfectly both in its beauty, with hues of oranges, blues, and greens, and potential for dread around every corner. The sound design is thundering, at times almost handing out blows, maximizing the scare factor and echoing the chaos of Tess' experience.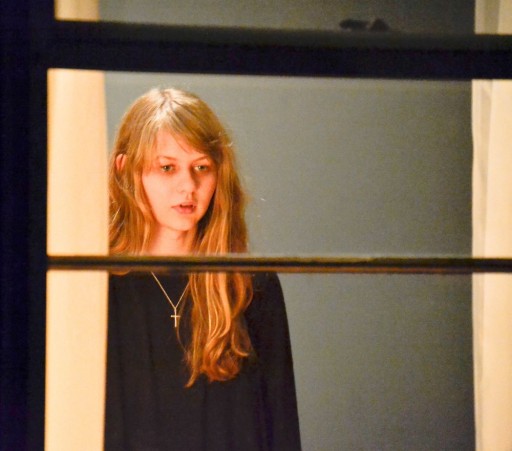 Anguish is Mallhi's directorial debut after working as a writer and producer for many years. For Mallhi, it all began when he moved to L.A. and took on a very generic intern position at a production company, where he fetched much coffee, read many scripts, and did most of this completely unpaid. Eventually, he made his way to Vertigo, which was specializing in remakes of Asian films such as The Ring (2002).
As an executive, Mallhi set up various projects and naturally found himself stepping on set to co-produce one of them: The Lake House (starring Keanu Reeves and Sandra Bullock), originally based on Siworae (2000). One of the most influential experiences for Mallhi was working on developing The Strangers, where he was the executive producer.
As for screenwriting, The Roommate (2011) was Mallhi's first script, which he originally wrote under a pseudonym. Once it was picked up, he revealed himself as the author, which made for a funny story amongst colleagues, and then went on to develop the film. Mallhi has also produced films like House at the End of the Street (2012), and Nicholas McCarthy's At The Devil's Door (2014), which screened at Fantasia in 2014 and also distinguishes itself for featuring three women lead roles.
Despite offers from studios, Mallhi decided to go the indie route with Anguish:
"The daunting part was, again, not selling it to studio; I had to choose everything. I think mostly for better. I think for better," laughed Mallhi. One of these choices was to shoot in his home town where he could benefit from local connections as well as pay homage to his love of the midwest and small town films.
Moving from writer and producer to director, Mallhi found the biggest challenge, and there were more than he had expected, was knowing when to be open to changes and when to stick to his original vision:
"What I found as a producer and as a director," he explained, "is that there is no formula. You just hope that you've been open to things that made the movie better or fought for things that made the movie better. Then you sort of find out at the end of the day."
For the subject matter, Mallhi's inspiration stems from a true story he found on the internet. As for filmic influences, Mallhi cites the strongest influences as what he learned from Bryan Bertino working on The Strangers.For the cinematography and visuals, he also found inspiration in the small town where they shot, which is a picturesque setting for Tess's wanderings and horrifying ordeal.
As for the true story, it offered the possibility to explore several themes, including the dramatic relationship between a mother and daughter. One of the key things that caught Mallhi's eye was that the film did not go the route of a classic (re:tragic) exorcism tale:
"[Exorcism] never works in the movies, and it probably never works in real life," added Mallhi, "if you think about Emily Rose, that is a great example of a real life scenario where priests were torturing this girl to death and the family trusted them, thinking that it was for the best."
Through Tess's eyes, Anguish asks us to question ourselves on the authorities we heed, as parents and patients, when it comes to conditions we may not fully understand or know how to handle. The history of how mental health has been handled and treated is a dark one in Western Society: a horror tale all of its own.
Even today in North America, where these conditions are medicalized there remains much that is unknown and many lacunas in providing relief. Indeed, the way illness and health are conceptualized is culturally specific and very much shifts throughout history. Having researched these different perspectives and drawing from those of people around him, Mallhi explores in Anguish the possibilities of understanding conditions that frighten us in a different light. He does so without attributing a positive or negative value to these other possibilities. When mulling over Anguish, there is horror and terror a-plenty.
At the heart of Anguish, Mallhi is seeking to push viewers and himself outside our comfort zones, to follow the characters as they try to grapple with what they cannot change and are forced to entertain different, at times surreal, otherworldly, possibilities:
"I don't really believe in anything. I have this weird attitude where I want to believe in things but I am just too skeptical. I wish I wasn't. There's that side of me that really wants to believe it. I wish I could just get out of my own way to believe it and I think, for me personally, this movie is a lot about that."