Recently, a headline caught my eye. It said, "Minister of Immigration Chris Alexander tables Zero Tolerance for Barbaric Cultural Practices Act." I had to read the it twice because frankly I thought it was satire. Silly me. I should have gotten used to the Harper regime's xenophobic extravagance by now.
Journalists, commentators, and pundits with some sense of decency have brushed aside the Zero Tolerance for Barbaric Cultural Practices Act, treating it simply as another one of those wacko Conservative acts. This act is just like a fading smoke signal to the Conservative voter base.
"If we had 100% of the power this is what we do, vote for us, and we'll abolish the Supreme Court so we can pass such iniquitous laws," Harper seems to be saying.
This newly tabled act is just the last in a series of xenophobic bills put forward by the Conservative cabinet. Furthermore, it is part of a pan-Canadian trend of racism and xenophobia, which has been on the rise for the past few months. Just think about the Charter of Quebec Values, the Conservative plan to modify the framework of Canadian citizenship for creating a two tiered Canadian citizenship standard, racism against Olivia Chow during the municipal campaign in Toronto, and Islamophobia in the wake of the Ottawa shooting. All of these events have unveiled the ugly truth about Canadian society: It is still far from being exempt of systemic racism.
One of the things that Toronto's mayoral race proved is that racism can still garnish some political ground in Canada, if it is intertwined in an insidious manner with right-wing populism. Maybe what didn't work in Quebec's provincial elections might work for the Neo-Tea Party in Ontario, if Doug Ford becomes the leader of the Ontario Progressive Conservative Party. It most certainly was an essential factor of his mayoralty bid.
What both elections have in common, to a certain extent, is that there exists in Canada an electoral base that might be swayed by some blatant demagogic xenophobia – in the vein of the France's Front National. The Conservative government, through their anti-immigration rhetoric and their metaphor of barbaric cultures has turned to a page right out of the extreme right-wing playbook.
Up until now, the way the Conservatives have been handling the immigration issue has essentially been economic. Their discourse has been one of unbridled exploitation. "Immigrants are only good, if they generate profit for the Canadian economy. On the other hand if they don't, they are useless and we must get rid of them," goes their discourse.
There are other examples to this discourse and its politics: the Bogus Refugee claims, refugee health care, the temporary migrant workers program etc. In this sense, the Conservative party has many similarities with the United Kingdom Independence Party (UKIP) and its leader Nigel Farage, who has used the anti-immigrant rhetoric to undermine the traditional hegemony of the British Conservative Party on the British right wing. Doesn't that ring any bells? Reform Party, anyone?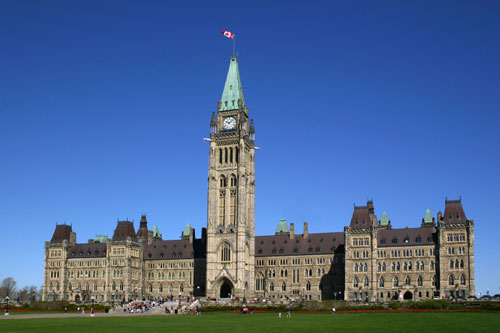 But it seems like the Conservative Party ,with their two last bills, has gone further than UKIP and its politics of "soft extreme-right," which plays on immigration, but not on identity matters. The hard extreme-right, a constellation of all of humanity's demons, has this visceral need to define identity. To them identity is based on the exclusion of those that are not like us, those that are not part of the "nation.''  Such is the political agenda of the Le Front National in France or the extreme-right Dutch Party for Freedom.
The Conservative government is clandestinely, through their debate about "Barbaric Cultural Practices," calling for a debate about the true nature of Canadian identity. Etymologically speaking, barbarian means the other, the person that isn't us, and by extension not part of Canada. And beyond this, the blanket statement "Barbaric Cultures" also refers to some sort of hierarchy of cultures. It perpetuates the idea that some cultures on that ladder are inferior or superior to others.
It seems that the cultural practices that stem from Western or European groups are quite alright, but "other" cultures have to be put under the loop for their barbaric cultural practices. Thus, with this rhetorical ingenuity, the Conservative regime has redefined Canadian identity.
Too long have we comforted ourselves with the idea that Canada, and Canadians aren't racist, and because of this we have this false idea that we haven't let racism creep into the highest spheres of power. The Conservative move to introduce legislation that bans "barbaric cultural practices" is no different than the extreme right-wing proposals on the European continent. Unfortunately in our case, the Conservative party has managed to achieve power, and its threat is very real.
A luta continua.