It seems to me that during this cold weather season, sweaters, cardigans, even snuds are featuring spacious hoods! Yes, hoods! Can you believe it? Up till now, I always thought hoodies were the ugliest fashion statement anyone could make.
I do feel a little bit bad for ripping on hoodies. I know that there are still people out there who appreciate a good zip-up hoodie with side pockets and some garish logo silk-screened across the bust. There are even people who appreciate the ghastly diamante studded hoodie, or the (shudder) velour type that goes with the "Juicy" or "Pink" ass embellished sweatpants.
And let us not forget about men well over 16 years old, who will always wear a trusty hoodie, no matter the season, and will always have to deal with their lovers innocently stealing said hoodies when they are cold or feeling sick.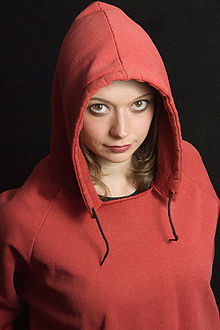 We live in a world where we can wear anything we damn please- hoodies, cardigans, hijabs, yalmukes, burqas, and no one has the right to judge us for doing so. However, I'm usually someone who believes that hoodies should only be worn if you are:
a. Going to the gym and/or working out, going for a run, etc.
b. Running an errand
c. Facing a personal tragedy
d. Convinced that hoodies are actually cool and are wearing one out of your own free will
But after acquainting myself with hooded pieces over the past few weeks, I started to feel a certain appreciation for them. These warm feelings that would surge through my heart, the smile I would automatically get on my face after finding out the pleasant surprise of a beautifully knitted, spacious sweater containing a hood.
Then, the outfit fantasies begin. High-low cut, supple knit fabric with loose sleeves and ribbed cuffs paired with high waisted skinnies and ankle booties- hoods up! A hooded cardi over a little black dress and tights- hoods up! A hooded cardi with boyfriend jeans and docs and coffee and a cigarette – you guessed it, hoods up.
I don't really know how long it will take for hoods to catch on, or maybe they're already over and I missed the boat. After all, I did notice that Vogue was convinced of their comeback in September. But, I am definitely looking forward to welcoming a classy hoodie or two into my closet. I'm thinking shale, pure cashmere, with dolman cut sleeves. That's the stuff.
So let it be known, fellow hood shunners: it's not too late. Welcome a helluva hoodie into your wardrobe this winter. They provide extra warmth, they look weirdly chic, and they can cover up a bad hair day. I'll be scouring retail street for mine this week.
Happy hunting!