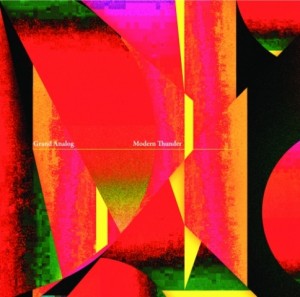 Life can be unpredictable. As much as we try to plan for every possibility, new curve balls are constantly being thrown at us. Perhaps we should simply embrace the uncertainty of it all and clutch every moment we experience. This is precisely what the Toronto/Winnipeg based Grand Analog does on their forthcoming album Modern Thunder, due out August 20.
There was no overarching plan for the album other than to musically capture different moments in time. As a result, we are treated to a glimpse into the lives of frontman Odario Williams and his comrades, all within the context of the band's signature heavy dose of deep grooves, catchy hooks, and flowing, spunky rhymes.
The program is diverse by design. Unlike their previous efforts Calligraffiti (2007) and Metropolis is Burning (2009) which had preconceived lyrical themes before the songs were written, for this project Williams had his crew create assorted instrumental soundscapes and based his lyrics on what he heard.
"I wanted to see the song," he states. "I let the music decide what the song is going to be about."
The record reflects this organic writing process that Williams describes as "effortless."
The fact that Grand Analog is a live hip hop band, and one of Canada's finest at that, plays a large role in the group's identity. The relationships between Williams and his DJ brother Ofield, bass player Warren Bray, keyboardist Alister Johnson aka Catalist, and drummer TJ Garcia are the foundation that drive the group's creativity. Williams relies heavily on the varied influences of his band mates who come from very different musical backgrounds.
"If you put all those ingredients in one pot," he says, "you'll understand why you have Grand Analog."
Modern Thunder opens with the triumphant, afrobeat-infused "Lion Head" which is an apt opening and reintroduction to the band after a four year break from recording. Williams jubilantly raps, "It's been a long time / a toast to a new beginning / I feel good 'bout the skin I'm in." The song features punchy horn and vocal lines à la Fela Kuti on top of unrelenting hip hop drums and percussion.
"Modern Day Fool" reveals the precarious nature of every day life in contrast with the opening track. Williams explains that during the production of the album, "any given day could have been any given thing." On that day, it appears that Williams was feeling a bit more introspective. In the song, he raps, "I'm just a modern day fool, cool, social recluse / just a walkin' contradiction / mother nature on the loose." His rhymes float over a syncopated riff played on the guitar and bass and is broken up by Andrina Turenne's bluesy, soulful hook. Williams' carefully crafted lines throughout the album demonstrate the complexity and emotional depth of life ranging from total self confidence to self reassurance to loneliness.
Upon hearing the music for "The Great Rhyme Dropper," Williams envisioned a superhero rapper.
"There's only one person I had in mind to do that with me," he said.
That person is Canadian rapper Shad, who trades boastful, effortless verses with Williams on the track. The chemistry between the two is palpable as they organically flow over the propulsive, driving funk beat and afrobeat-style horns.
Never to rest on their laurels musically, the band ventures into more somber territory with "Heart The Lonely Hunter" which features a thumping quarter note beat in the bass and drums and a Joni Mitchell-style vocal hook from Amanda Balsys of The Wilderness of Manitoba. Williams describes the song as representing "city life and relationships," and his verses strike a noticeably different tone from the other songs. He raps about the challenges of finding love, saying, "Decisions are rash when you're fearin' attachment / I'm always on the hunt, kinda like an assassin."
In what is perhaps a coincidence, the following song is a bouncy, trance-inducing club jam "Wild Animal Print" that describes weekend hookups with a woman who is "lookin' for adventure." The song is driven by a four-on-the-floor bass drum beat and a relentless syncopated synth bass line. Whether purposely juxtaposed with "Heart The Lonely Hunter" or not, each describe different aspects of love, lust, and relationships.
All the guests on Modern Thunder – and there are many – fit in with ease and contribute to the Grand Analog sound. The guests work so seamlessly because they are all friends of Williams and the band.
"Because they are also friends of mine, I knew what they were capable of and I knew that I can hear having them on this," he explains.
Additional guests on the album include Saukrates, Len Bowen, Maylee Todd, Saidah Baba Talibah, Dennis Passley (Bedouin Soundclash), Bahia Watson, Mike Olsen (Hidden Cameras), Peter Katz, TALWST, and long time collaborators Damon Mitchell and Oliver Johnson.
Although many would put them somewhere under the umbrella of hip hop, Grand Analog has many sounds and cannot be pigeonholed into any one category. Williams urges people to try to let the music speak for itself.
"People should be open to music in the first place and not judge before listening," he says.
Whatever one might call it, the sprawling music on Modern Thunder encapsulates the realities of life. In one of his more clever and representative rhymes on the dub-influenced "Unbearable Lightness," Williams raps, "We get together like memorex and tape decks / we get together like safe sex and latex / we get together, it don't matter what the weather / I get busy in the summer, I get busy on the syntax."
Regardless of its genre label, Modern Thunder deserves to be listened to by anybody who can relate to individualism, introspection, partying, city life, midnight munchies, vinyl on the deck, sex for breakfast, relationships, heartbreak, hookups, and sunshine. Did I leave anyone out?
Modern Thunder will be released in stores and online on August 20, 2013. Grand Analog will be hosting album release parties on August 20 at the Drake Underground in Toronto, and on August 22 at Union Sound Hall in Winnipeg.