The Edgy Women Festival will celebrate it's 20th year of feminist art practices in an arena that isn't the first thing that comes to mind when you think about feminist art. This year the Edgy Women Festival invites you to celebrate feminist art in a boxing ring, on the ice and at the gym.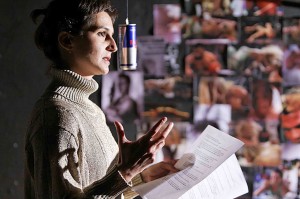 Thursday, March 7th, 2013
OFF SIDE : EDGY COLLOQUE
Thursday morning join in an afternoon of performance, lecture and discussion inside the boxing ring at Blue Cat Boxing Club, 435 Beaubien West, 4th floor, corner of Durocher. FREE!
UNRULY HOCKEY
Thursday evening don some skates and re-write the rues of hockey at the Arena Mont-Royal, 4365 Rue Cartier. The event starts at 10:00 p.m., goes until around 12:30 a.m. and it's also FREE! Just bring a helmet (it's mandatory) and any gear that you have. All ages, all skill levels are welcome to attend. After the match, everyone's invited to get their groove on at the Hockey Derby Disco Party. Fun!
Thursday, March 7th, 2013
GAME ON AU CHAT BLEU
Does the idea of hitting the gym bore you to tears? The Edgy Women Festival has just the thing for you! On Frdiay night this gym will transform into a performance space with interactive performances and installation art work. Tickets are $15-$20 and are available online and at the door.
Sunday, March 10th, 2013
EDGY LUCHA
Sunday all bets are off as local lady fighters take to the ring to wrestle it out. Belgian experimental theater artist Marijs Boulogne organized this feminist Lucha Libre event and was smart enough to know that nothing compliments sweaty women wrestling like a neo-burlesque half-time show! Tickets are $15-$20 and are available online and at the door.