COOTIES 
U.S.A./Jonathan Milott, Cary Murnion/2014

Cooties is a laugh-out-loud, good time – perfect for Fantasia audiences. Comedy-horror is a tricky business which can often fall totally flat or be so over the top that it completely misses the mark. A  promising premise does not always a good movie make and there are so many ways in which the zombie apocalypse can happen. I had expected Cooties to elicit a few chuckles but not much more. Boy was I wrong. Children are scary as hell, straight out of the worst arsenal of nightmares, and horror fans are not uninitiated to tales of possessed, haunted, or sociopathic murderous children. Rabid zombie kids, however, is fairly unexplored terrain. Unlike The Children, a scarier tension filled horror, Cooties opts for the humour in the horror with rewarding gory bits.
Clint takes on a summer school teaching position so that he can pay the bills while working on what he hopes will be his breakthrough novel. He isn't prepared for what a total nightmare his first day teaching would be starting with a hostile welcome from a coworker and then one of his students attacking and biting another child within minutes of his awkward introduction to his classroom. Clint's attention is momentarily pulled away from his novel to one of his former classmates, who also teaches at the school, whom he seems to still have a schoolboy crush on. As a virulent form of cooties ravages the playground,  Clint and his colleagues must survive each other long enough to protect themselves at any cost – even if it means impaling their former students.
From its opening sequence, Cooties doesn't shy from plunging its audiences into an uncomfortable oozing meaty mess. Mass production is already scary enough, including the real world fear that we never know what's in the things we eat. The audience is privy to the fact that something horrible is incoming as the teaching staff quips about whose mug is whose and gets ready for 'just another day at work' where they most tolerate each other. Elijah Wood as Clint plays to his strengths as an unimposing, somewhat obsessive, scrawny protagonist while Rain Wilson, who blew minds in Super, stands out in his role as the egotist P.E. teacher with whom Woods must compete for the affections of the film's love interest, Lucy.
The cast is comedy gold. I especially enjoyed the role of Leigh Whannel (who also co-wrote the film) as the socially awkward science teacher Doug. Some will find the characterization thin and that certain roles are given the short end of the stick: especially that of Tracy (Jack McBrayer). A few of my fellow critics have found the film to be somewhat lazy, but I would disagree. I would argue that Cooties does not purport to be an intellectual comedy nor a drama of any sort but rather takes audiences along for a ridiculous ride where some of the jibs are surprising while others are so overdone that it seems like the film is making fun of itself.
If you can imagine what sort of recipe this cooks up, Cooties is from the minds of writers who have penned Saw, Insidious, Glee, and the upcoming Scream Queens. A Spectrevision production, Elijah Woods' new horror production company, Cooties is satisfying, gross in the best of ways, and oft hilarious.
As an added bonus, the short screened before Cooties turned out to be one of the most enjoyably frightening shorts I have seen at Fantasia since The Pact in 2011. Point of View by Justin Harding was shot in only five hours, this short is heavily inspired by The Weeping Angels episodes of Doctor Who. The premise is simple but the delivery is perfect and the few effects, such as the make-up artistry, are exactly on point – and scary as f***.
EXTINCTION
Spain/Miquel Angel Vivas/2015

Speaking of the zombie apocalypse, whether by a hoard of flesh eating kids or legendary creatures of old, what happens when you manage to survive the massive wave of the destruction of everything as you know it? What then? Based on the graphic novel by Juan de Dios Garduno, Extinction takes audiences to the cold and icy realm of uncertainty and torture of survivors. The film opens after the breakout, when mass exodus from cities is underway. The film follows two friends, who, nine years after escaping the massacre of their exodus attempts, live in fortified home-compounds separated by deep hatred. The heart of the film is Lu, who was born into the world post-zombie apocalypse and has never known anything outside of her home and routine with the man who has raised her. Now that the threat of the undead has died down due to the perpetual winter, Lu tries to convince her father to stop surviving and to let her live. But is the threat really gone or simply pupating awaiting its own gory spring?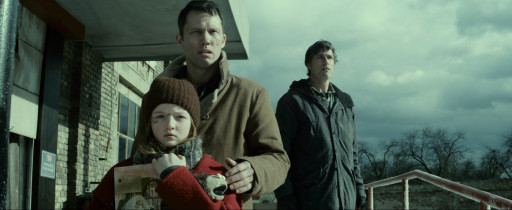 Extinction features strong performances by the title cast especially Matthew Fox, whose character Patrick represents the double edged sword of hardening oneself to survive. The relationships between the characters is the meat of the film. As a testament to its strength, audiences will find themselves angry at characters, like Jack (Jeffrey Donovan) who is overprotective and frankly seems like a dick while rooting for others including Patrick's buddy, the dog. Quinn Caulking who plays Lu does a great job of conveying the paradoxical naiveté and wisdom of youth, with her unbridled curiosity and yearning for connection, which threatens to bridge the divide between the two men. Aside from this, the film offers some instances of remarkable cinematography, creating a world that is real enough to draw audiences in yet, remains fantastic – recalling the aesthetics of video games and graphic novels.
Extinction has some thrilling scares to offer including fearsome zombies, along with detailed aesthetics and strong camera work all the while posing interesting questions about survival and humanity. However,  the plausibility of their initial survival is difficult to buy into and the stupidity of some of the character's choices may be too frustrating for some.