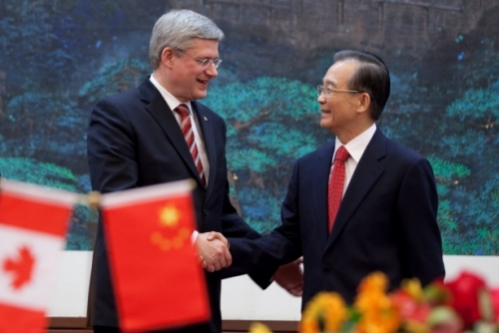 Everyone is getting upset about the China-Canada Foreign Investment Protection Agreement. Activists and critics say it will undermine Canadian democracy, it will subvert our economy, it will destroy our environment and it will sell away all of our energy resources. Leadnow.ca even put together a petition, got over 60 000 signatures and brought it parliament. Everyone is talking about how bad the free trade agreement is for Canadians, as if we are some abstract nationalist entity.
Canada has signed dozens of FIPAs with dozens of countries. From an economic view, they are good. The rich get richer. There is no doubt the elite in Canada and in China will benefit from this. Their capital investments will be protected.
It is the workers we need to be concerned about. And no one is talking about it.
This isn't just a Canadian problem as many lead us to believe. This won't sell the reigns of our economy to China.
There are no drooling, top hat wearing, Chinese capitalists looking east across the Pacific waiting to control our country. If anything, the top hats are on Bay Street. This is to protect global capital against the concerns of worker rights and environmental protection in both countries, not just Canada.
For those that wish to wrap themselves in the flag and use this as a wedge issue, please stop. We must contextualize this as global and we must fight.
Chinese workers deserve the same rights as Canadian workers. The environment in China should be protected with the same rigour as the environment in Canada. By allowing FIPA participants to sue the other country if investments are compromised, we are compromising our rights and values and we are compromising the dignity of people around the world.
FIPAs are an attack on workers and the environment around the world. It puts investments, profits, before everything else. It treats workers, the environment and democracy as an unconsidered externality, an annoyance.
We can fight this and we can win, but not at the expense of breeding irrational contempt for our brothers and sisters in China.
* photo by PMO