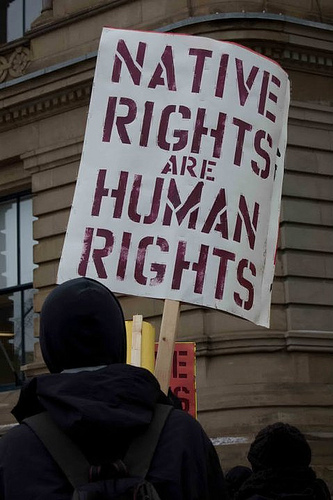 Seemingly seeking to outdo itself with bad PR, the Charest government has granted a Montreal-based forestry company permission to log on Algonquin land in Northern Quebec.
The Algonquin community at Barriere Lake, however, say that they were not consulted and that the new clear-cutting logging project at Poignan Bay violates a trilateral agreement on resource co-management they signed with the province in 1991.
According to the agreement, any logging project should be initiated in consultation with the community and allow them to maintain their traditional way of life. They have also asked for a $1.5 million share of the $100 million expected haul for Resolute Forest Products, according to Barriere Lake Solidarity.
In response community members have camped out near the proposed logging site at Poignan Lake, which they say is on traditional hunting grounds, and have sent two letters to the Charest government stating that without their consent the logging is illegal.
CUTV has a pretty neat minidoc about the conflict, particularly the police presence prompted by the camp out. Montreal police officers have joined the Sûreté du Québec to keep track of the peaceful camp out.
Interestingly, Resolute has a pretty green-friendly corporate website, with a slew of information on its sustainability initiatives and advertising its membership of the World Wildlife Fund's Climate Savers program, and contains a section on "Stakeholder partnership," with the pledge:
"Resolute maintains positive business relationships with numerous First Nations. We are also committed to openly engaging with environmental non-governmental organizations (ENGOs) to find solutions that address our mutual interest in the sustainability of forests."
As Rabble's in-depth coverage of the protest notes, conflict between the Barriere Lake Algonquin community and the Quebec government is nothing new. In 2008 the community constructed two blockades of Highways 117 when the government refused to honour its 1991 agreement.
Photo courtesy of Danielle Lorenz via Flickr