It doesn't take a long listen to Flying Lotus' music to know that he plays by his own rules. The Los Angeles-based musician/producer/composer has always maintained a balance of mind-bending progressive soundscapes and playful eccentricities. His fifth album, You're Dead! is no exception, immediately solidifying itself as perhaps his most concept-driven and sonically expansive record to date. In what was originally planned as a full on jazz album, You're Dead! evolved into an expression of the feelings and instincts surrounding mortality. It is a recurrent topic of artistic exploration but this album provides a perspective on death that could only come from Flying Lotus.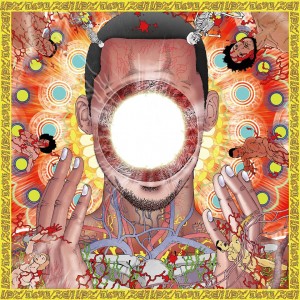 Along with being musically dense and at times intense, especially given the subject matter, Flying Lotus a.k.a. Steven Ellison maintains his signature playfulness throughout You're Dead! Even though there is an undeniable sense of gravitas to the program, we are presented with a refreshingly honest portrayal of the different aspects of mortality, not all of which are morbid. It's as if he is not considering death so much in the literal physical sense, but as a means for personal (and perhaps metaphysical) transition and evolution.
Much like Flying Lotus' previous works, You're Dead! has a seemingly cinematic scope and flowing narrative. Each track says something unique and while the music is often sprawling and eclectic, every note on the album is unified. One of Flying Lotus' areas of mastery is his blending of electronic programming and samples with live instruments, which gives the music an unending human heartbeat and soul through every note. The live band of drummer Deantoni Parks, saxophonist Kamasi Washington, and frequent collaborator and bass master Thundercat embody the Flying Lotus sound and drive the album's momentum. Thundercat's fingerprints in particular are felt all over the record with his quirky and fiery delivery. The guests on You're Dead! which include keyboard legend Herbie Hancock, Snoop Dogg, Kendrick Lamar, Angel Deradoorian, Niki Randa, and even Flying Lotus' rapping alter ego Captain Murphy, provide splashes of variance under the umbrella of the album's artistic vision.
From the opening cosmic drone of "Theme" to the hopeful, resilient vocal chants in "The Protest," Flying Lotus offers stimulating music whether someone is listening with the concept in mind or just taking in the masterful grooves and musicianship. Lamar's feature "Never Catch Me" showcases the rapper's slippery delivery and thoughtful writing over a driving beat defined by a haunting piano riff and drums that seem ready to explode at any moment. The second half of the song takes a spacey turn with Thundercat's prominent bass in a sequence that was apparently originally called "Ramen Wars." Snoop Dogg's slinky delivery feels right at home on the bubbly beat of "Dead Man's Tetris." With its aggressively slow groove, "Siren Song" is one of the more ethereal tracks on the album. The song opens itself up for Deradoorian's airy vocals, which come off as just another ingredient in Flying Lotus' futuristic sound cauldron. Thundercat's peculiar personality and playing style is perhaps featured the most on the aptly titled "Descent into Madness," with its angular and tonally ambiguous melody and eerie production.
As if it wasn't clear from his previous four albums, You're Dead! reconfirms the fact that nobody but Flying Lotus can do what he does. He is a musician who is constantly pushing music forward, all while avoiding simple genre associations. Without an overabundance of lyrics on the album, one can't help but notice a definitive story being told. The music seems to laugh in the face of death and the unknown, reminding us that maybe it's silly to speculate so fearfully about metaphysical mysteries that will never be answered. What is clear from You're Dead! is Flying Lotus' belief that we will always follow our own path and we will never die. In his own words, "Our influence lives on forever. Our love lives on Forever."
Flying Lotus performs Monday, October 20 with Thundercat at the Société des arts technologiques [SAT]. Doors open at 8 p.m., $30.