Many people have told me how much they love my popcorn, so I decided to share my method with all of you. I learned it from watching my mother prepare popcorn for us on our fun movie nights! Miss you, Mommy!
I make my popcorn in a big pot on the stove top. I prefer the flavor of the popcorn when I make them this way, rather than using an air popcorn machine, although this is another option you can try. When using the stove top method, believe it or not, the material that the pot is made of will influence the taste and texture of the popcorn. In my experience, it is best when the pot is steel with porcelain enamel or simply stainless steel.
The first step is to thinly coat the bottom of the pot with your choice of cooking oil. Depending on the size of the pot (I use a standard size pot typically used for cooking pasta), usually about two tablespoons of oil is plenty.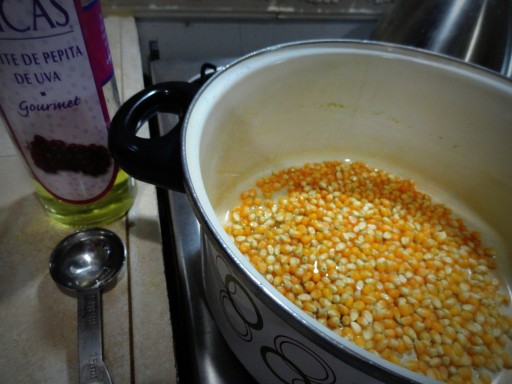 Coconut oil is a good choice since it is an oil which doesn't denature quickly at high temperatures, like olive oil does. That means that coconut oil retains its healthful properties even when we heat it, whereas olive oil does not. Another oil I enjoy cooking with is grapeseed oil, however, its healthfulness when heated is debatable.
I enjoy grapeseed oil because of its light taste and texture. Some people have written that it is stable at high temperatures, while others disagree. For popcorn, I prefer the outcome when I use grapeseed oil. The advantage with using the air popcorn machine is that no oil is necessary at all.
You then add the popcorn kernels, about a handful, to cover the bottom of the pot evenly, but not more than that, because then the popcorn won't have enough room to expand. Cover the pot and turn on the burner to high, but not maximum. Start shaking the pot frequently, either by rubbing it directly on the burner, or lifting the pot slightly and shaking it. This will allow the heat to touch all the kernels evenly and within a couple of minutes you will hear that delicious sound: popcorn popping!
If you have dogs, or birds, and sometimes cats too, beware, they love popcorn as well! Continue shaking the pot often until the constant popping slows down, and before it stops completely, remove the pot from the heat. Lift the lid and there you have all your beautiful popcorn.
Now for the choice of toppings – this will make the popcorn extra yummy, and for me, I choose vegan toppings. I get the most compliments when I sprinkle garlic powder, Himalayan salt (or onion salt for added flavor) and nutritional yeast for a cheesy taste and aroma. With respect to the garlic, you can also mince garlic and add it to the oil and kernels, but the garlic inevitably burns by the time the popcorn is done so sprinkling garlic powder at the end may be preferred. The toppings are yours to experiment with!
Here in Los Cabos, Mexico, I get my organic popcorn kernels, nutritional yeast, and my coconut oil from a lovely little store in San Jose del Cabo called Green Goddess. I was thrilled to discover this place since it carries many of the organic and vegan ingredients I like to use in my recipes. They have a lovely selection of nut milks and butters, and many gluten-free pastas. I also get my quinoa and mung beans in bulk at the Green Goddess. They make phenomenal smoothies and cold-pressed juices!
The Green Goddess is a family-owned and operated business (they are originally from Alberta, Canada). Kristen Erickson, the family's competitive runner, is usually there to greet you with a big smile and has a wealth of knowledge about healthful living to share. The next time you come to Los Cabos, be sure to check them out!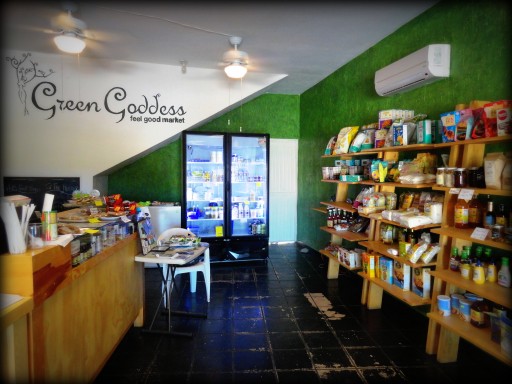 Make your week amazing and let me know how the popcorn works out for you!
Follow my vegan adventures on Facebook, Instagram and Twitter. Get Cooking With Amore and start cooking with love today!
"I believe that imagination is stronger than knowledge. That myth is more potent than history. That dreams are more powerful than facts. That hope always triumphs over experience. That laughter is the only cure for grief. And I believe that love is stronger than death."~Robert Fulghum