Another year, another round of increasing challenges–and opportunities–when it comes to feeding the world. Closer to home, we can see many of our most salient national issues (healthcare, climate change, aboriginal rights) refracted through the eye of a handful of food questions.
Food is just that: a flashpoint around which all else swirls. Here are a few simple food questions to keep tabs on this year. As you'll see, they speak volumes on wider issues we face from sea to sea.
Can school lunches stem an obesity epidemic?
Though five provinces already offer lunch (or breakfast) programs, Canada's one of the last holdouts among industrialized nations when it comes to a fully fleshed-out national program. It's not just a question of quelling hunger. Could a properly-designed school lunch program help stamp out childhood obesity, thus reducing affiliated diseases and quashing healthcare costs?
A coalition of food organizations seems to think so. The proposal for a national program will be a bumpy ride, however: getting all provinces–and politicians–to agree on details, not to mention the parliamentary maneuvering needed to pass something of such magnitude.
However, the longer a potential fight, the more hastily one should get in the ring so as to not avoid eventual burnout… as we learned from our neighbours to the South.
It's up to us. What do we want our elected officials to focus on? Prevention? Exercise? Mental health? Could something like this help the next generation of Canadians enjoy a healthier childhood and a longer life?
Read an interview about it in the Tyee.
Canada: world's biggest tossers?
That's not a character judgement. I'm talking about household waste. We allegedly threw out the most garbage in the world per capita in 2013. We continue to be one of the planet's most egregious food wasters, squandering enough to feed a small country. Or maybe a large one.
There's also that pesky issue of the emissions caused by moving around so much wasted food. Oh, and the $31B we're flushing down the drain. How stupid. And sad. And avoidable.
If we don't begin to turn this around quickly, the economic and environmental impacts may well see us drowning in our own waste. On a more hopeful note, campaigns like UK'S "Love Food, Hate Waste" are coming to our soil this year, and programs like Second Harvest are helping to make a difference. More is needed however.
Beyond handy checklists, we need to lobby lagging local governments (such as Montréal) to adopt compost pickup or to punish supermarkets or large restaurant chains for the added strains they are putting on the system.
Yet, if the real problem is with chains, how can we really stop them wasting so much food? We can't. However, they can only waste food if they have customers to produce it for. Avoiding the big chains in favour of farm boxes, other delivery schemes, growing food in community garden plots, etc. are tiny ways to stem the flow.
Can we solve food insecurity in the North?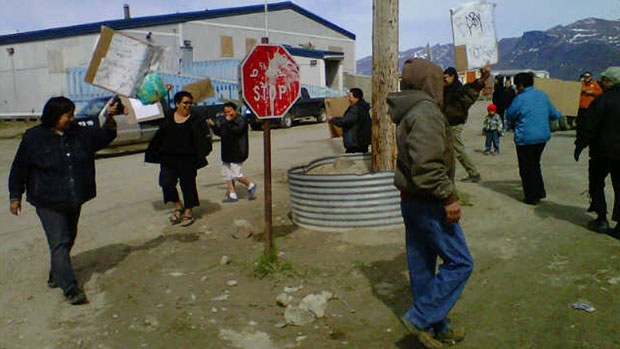 A chronic problem, it's one about to grow in 2015. With the population of places such as Iqaluit growing quickly, an already-difficult situation is being compounded by one of the youngest populations in the country. Less and less people are hunting. Food prices continue to spike and food banks can barely keep up.
Parliament exploded with this issue late in 2014 (after the UN got involved in 2012), yet very little action can be deciphered. Let's hope 2015 sees that happen.
Follow this column for writing on food issues (and hopeful initiatives!) both in Montréal and worldwide.