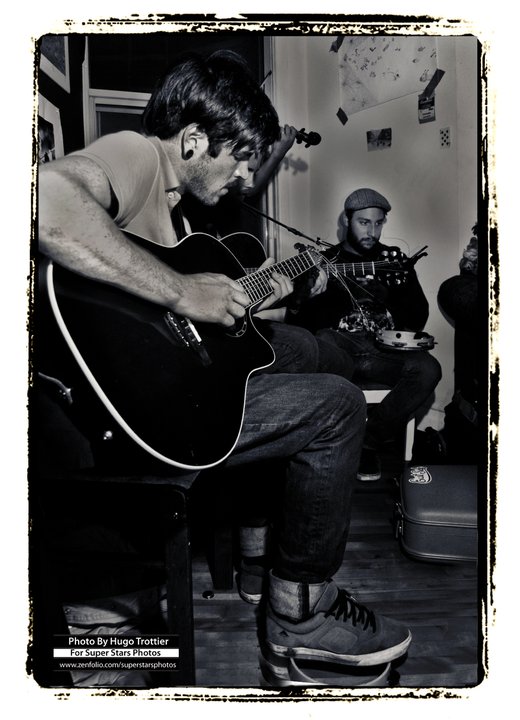 In the east coast, living room shows are something that we're proud of. Whether they're your friends, a band passing through or just someone in town who wants to show what they've got going on we live for these nights.   We live for the moments that pull a band and the audience together through a very intimate and low-key setting, where it's okay if the beer gets knocked over or the band misses a certain cord (which didn't happen at all during the Oh No, Theodore! set..the cord missing part that is). It's about having a good time and appreciating the truth of live music.
Whether you agree or not, I feel that living room shows present a different side of artists. It is a chance for the artist(s) to illuminate a side of their talent that sometimes is pushed under the covers due to the demanding role that can be placed on them via venue owners or music representatives. When I say illuminating their talent, I mean, this option allows bands to showcase their music they way they see fit. The way they truly want our ears to hear it. The way they really see the world and themselves. It's about colouring on the walls with the brightest orange and highlighter-yellow crayons, and not letting anyone tell you, "dude, you can't do that," because in VEGAS, you can (we usually use paint versus crayons, but we're open to new ideas!). In this case, Oh No, Theodore! was the band that helped us colour our walls this weekend.
Oh No, Theodore!, based in Fredericton, New Brunswick, is an seven piece, miniature orchestra that will pull you in with smiles and hugs and slowly place you back on the ground, begging for more love (aka. their music). They've already secured spots opening for various bands at the East Coast Music Awards (ECMA) and in June 2010, their EP, How To Move Without Your Shoes, was named indie album of the week by CHSR-FM. They're seriously on the yellow-brick road and the scarecrow, the lion, tinman and Dorothy are not missing out on this adventure (and neither should you!). Here's the goods…
While in town for POP Montreal, four members from Oh No, Theodore! made a pit-stop at VEGAS to play a live acoustic set. During their set, they had everyone in the room stomping their feet, singing-along and clapping their hands with rhythm. They took us on a musical ride that started out in the living room, went through our blood and ended with an imprint of their songs in our memories (trust me, I'm still singing their song Bloody Hands). Jeremy McLaughlin's vocals will echo throughout your soul, while Kyle Albright (guitar), Alethea Dinkins (violin) and Aaron Bravener (usually drums, but in this case tambourine and shaker) will remind you that it's going to be okay, because music is suppose to be felt, it's suppose to enter into your soul, shake you up and awaken everything inside of you (feelings are nice things). And they made sure we felt every cord that was strung (I'm learning to see the colours with the music!!).
Oh No, Theodore!'s gentle songs are filled with an interesting hidden passion that feels like you're deep-sea fishing throughout an ocean of music. Jeremy's vocals are the oxygen tank that you need to make bottom of the ocean and if you ever decide to resurface, it's only to refill the tank. Their music is pretty and yet, awakening. It transforms from the girl-in-the-sun-dress picking flowers in the field on a nice breezy summer day to the bitter-midnight-walk-home alone and back again. And you love every minute of it.
Be sure to catch Oh No, Thedore! when they come to a city near you and for those who couldn't make it, you can check-in your feelings via the Oh No, Theodore! MySpace and send your love to the band by joining their Facebook group. We're all crossing our fingers that they'll be back in town soon so they can get deep in the hearts of this city named Montreal and beyond. Thanks to all those who did come out and support the band and thank you Oh No, Theodore! for being so wonderful.
AND…in our living room.