I would like to start this post with two simple words: I accuse. "I accuse" as the title of an article is odd, isn't it? But it's not mine to take credit for. Émile Zola had used such words to lecture the ghosts of anti-semitism that were creeping out of every pore of French society during the Dreyfus affair. Unfortunately a little more than 100 years and a decade have passed since that sordid affair, and once again France braces itself for another mediatic circus, where all the demons of France's racist and xenophobic past and present will be unleashed.
It had been merely a matter of minutes since news started arriving that the HQ of the satirical publication Charlie Hebdo was besieged when Marine LePen, in the glaring armour of Jeanne D'Arc she so fondly believes to have inherited, mounted her horse of self-righteous indignation and galloped, sword in hand, to fend off the "Islamic hordes." Merely minutes after two armed gunmen shot and killed two police officers and several caricaturists and employees of Charlie Hebdo.
Marine Le Pen's venom was all over the airwaves of mainstream French media: "We must cleanse France of Islamic extremism," she repeated time after time. "We mustn't be scared anymore," she stated, but we must be upfront with our racism and xenophobia is what she meant.
On the other hand, hundreds of French and non-French political representatives reiterated the fact that this attack was an attack against one of the most fundamental pillars of democracy, the quintessential core of sense of liberty: liberty of expression.
I would agree with that statement only if liberty of expression was defended at all times and places, regardless of by whom, or in the name of what it is silenced! Coincidentally and interestingly enough, the horrid massacre of Charlie Hebdo comes on the heels of another – at least according to mainstream media – trampling of the rights of free speech: the Sony versus North Korea, or The Interview release fiasco.
It's almost tragicomic to think that two weeks ago the whole of the "Free World" was up in arms in defense of the multinational media giant Sony, and now are using exactly the same rhetoric while they mourn the passing of several Charlie Hebdo journalists that fought tooth and nail, all of their lives, against multinational media empires such as Sony. The rhetoric used today, of "defending freedom of expression" is exactly the same that was used two weeks prior during the Sony vs North Korea showdown.
If the The Interview itself wasn't and isn't Oscar-worthy, the drama revolving around it surely was! The fact is that multinational corporations such as Sony commit barbaric attacks against alternative media outlets such as Charlie Hebdo on a daily basis, while the world was parading around calling for "freedom of expression" for Sony. Sony was killing in the egg thousands if not millions of creative media/artistic projects that didn't fit within the framework of their "free-market" worldview.
I accuse here all the shameless and spineless hypocrites, such as Sarkozy and his right-wing minions, that came out today en mass to defend Charlie Hebdo, when during their tenure in government they tried in every way possible to shut it down. I accuse here all the media outlets, all the mainstream media that only use the words "freedom of expression" when it involved some radical lunatic, but are silent when multinational corporations such as Quebecor and other such empires control the majority of media in the world, and thus can censor and filter the news as they wish.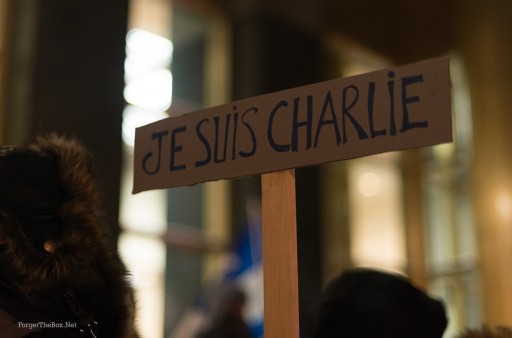 I accuse all the journalists on the 8 o' clock news tonight in France, who will utter the words "liberty and freedom" while the private interests that pay their wages hand them the censored script they're supposed to recite. I accuse the extreme right-wing rhetoric that will blame everything on Islam and recall with crocodile tears in their eyes and with Oscar-worthy voices full of despair, how much Charlie Hebdo's publishing was important for the maintenance of freedom and liberty in French society, but secretly rejoiced in a macabre manner when they first heard that Charlie Hebdo had been attacked. Yes, because if it wasn't a bunch of Islamic Extremists, it very well might have been a bunch of FN-adoring French skinheads!
I accuse those who, up until a few hours ago, were the biggest critics of Charlie Hebdo, those who had a visceral hatred for Charlie Hebdo, who are now all adorned in black and are in sorrow! I accuse those who through the mingling of the market, through points of the stock exchange, silence publications such as Charlie Hebdo in cold blood on a daily basis!
Marine Le Pen and all the French extreme right and their extended family have found their political nirvana in the wake of this attack, because the French mainstream media will focus on the superficial aspect that "Islamic radical militants" perpetrated the attack, without mentioning the fact that several financial institutions, several financial predators had already tried unsuccessfully to kill Charlie Hebdo, several multinational media conglomerates had tried to buy it out, to silence it forever.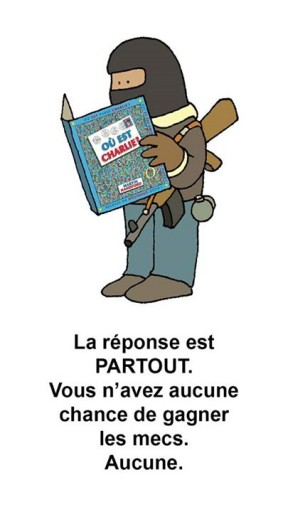 Charlie Hebdo might have fought the fascistic tendencies of "extremist Islam," but it fought every extremism equally. It fought xenophobia and racism, mostly embodied in French society by the FN. And most importantly it fought the muzzling of "freedom of speech" by the "free market!"
Freedom of speech isn't killed most of the time at gunpoint, doesn't succumb due to "physical" bullets. Unfortunately in this day and age, in the system we live in, the system Charlie Hebdo, Cabu, Charb, Wolinski and Tignous fought until the bitter end against. Massacres like the one that happened to Charlie Hebdo occur metaphorically on a daily basis – not through the cold steel of a bullet but in the hot frenzy of the stock exchange.
To honour their memory, we should remember that this isn't about a few individuals – as they promoted during their life's work – This is about a system that kills creativity, that kills freedom of speech. It's that system today that I accuse of murder!
A luta continua!