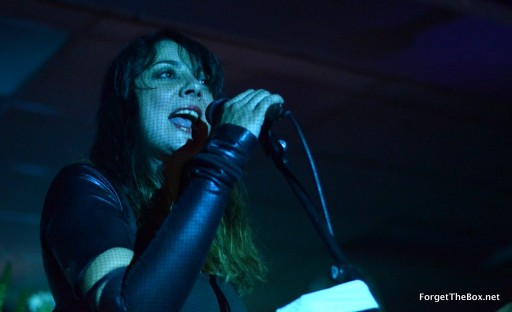 After a few hours of hitting shows on the opening night of POP Montreal, Forget the Box ended up at the Église Pop to see the Manhattan experimental rockers Gang Gang Dance close off the first night of Pop!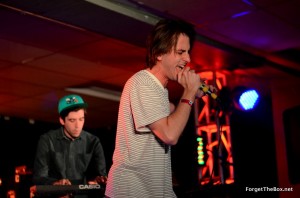 Weird and distorted, Gang Gang sound was well-matched by locals Technical Kidman and Maxime Robin, and the bizarre interlude of stand-up comedy by Title TK.
Though their set was surprisingly short (less than an hour), we were still able to take in Gang Gang's distinctive style, all percussive and synth-heavy. Singer Lizzi Bougatsos battered a set of electric drums while singing and wailing through walls of distortion in an almost Bjork-like fashion. Gang Gang was a six piece that night, if you count the one person—maybe "prop" would be more appropriate– who spent most of the show standing in the middle of the band holding flowers in front of his face. Artsy and a little surreal, Gang Gang's unique, reeling worldbeat rhythms had the hardcore fans in the front dancing and cheering.
However, there have, since the show, been some concerns about the show and the venue itself. Gang Gang's lightshow wasn't perfectly projected, and the short duration of their set was definitely a letdown. The tight pack at the foot of the stage seemed mostly thrilled, though, and that energy was severely lacking at most the other sets I visited that night. In fact, I've never gone to so many shows in one night where so few people were dancing. Maybe it's a question of perspective and priorities (it's always a question of perspective and priorities), but it's a buzzkill for me to be at a show where most people are standing around with their arms crossed. Short set aside, lighting problems aside, I was happy to see the night ending with a crowd that seemed sloppy and excited.
Who knows what accounts for the general lack of enthusiasm I saw on the first night, but I can happily report that day two more than made up for it! Stay tuned for more, and keep Popping out!
Photos by Chris Zacchia
For all our photos check out Forgetthebox on Facebook.