Leonard Nimoy lived long and certainly prospered. I was very sad to hear that on February 27th this legendary man passed away at the age of 83. He was more than just a nerd culture icon as the half Vulcan half human Spock on Star Trek.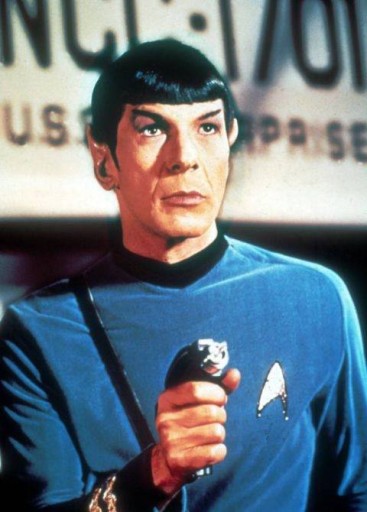 He first appeared on screen in 1951 and began an illustrious career in acting while working for wage equality behind the scenes. He always cared about people. This is evident in a very touching letter in a 1968 teen magazine responding to a girl from biracial parents who identified with Spock, saying "Not everyone will be like me but there will be those who will accept me just for who I am."
Nimoy was a true Renaissance man: actor, poet, writer, musician, director, activist, feminist, photographer, and genuine friend to all. He boldly went where no photographers have gone before. In his controversial 2007 series The Full Body Project, Mr. Nimoy gave an honest depiction of real women and challenged societal standards of beauty.
He photographed The Fat Bottom Review, a buxom burlesque troupe hailing from San Francisco, California. In these images he imitates the poses of Henri Matisse and Marcel Duchamp while capturing pure joy and unabashed confidence, a ferocity that is purely female, and an "I don't give a fuck what you think of me world, I love my body!" attitude.
Leonard Nimoy was disgusted at the sad fact that many women and girls suffer because the body they live in is not the one advertised in fashion magazines. Pop culture is distorted and mean. These women are proud of their skin and look the camera right in the face. They are more than just fat and flesh, they are visions of loveliness, joyously celebrating diversity and the art of sensual movement through dance.
He even spoke of this project on the widely popular Colbert Report. This was huge! He allowed Steven Colbert to geek out about Star Trek only with the condition that he could talk about his photos. Nimoy mentioned in the interview (sadly you can only watch it in the US, ComedyNetwork.ca doesn't have the clip anymore) that the average woman weighs 25% more than what you see in magazines. By opening this door with his photos and words he facilitated an important (yet taboo) conversation about size in the media and how it affects our youth.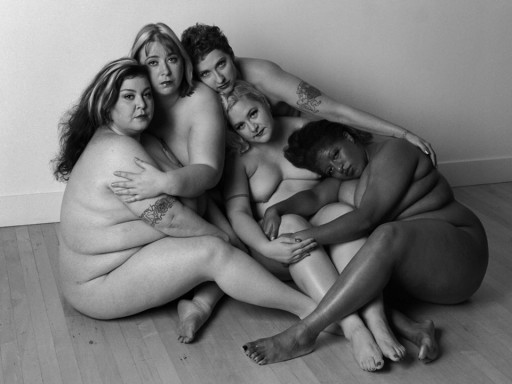 These photos changed my life and paved the way for a new generation of women who are celebrating every curve of their unique beauty. Now we have models like Tess Holliday, size 22, tattooed, and very reminiscent of The Fat Bottom Revue girls.
She has started a sensation with "Eff Your Beauty Standards" and inspires me like crazy. She just recently signed a major contract with MILK Model Management UK and is championing Torrid's no photoshop campaign. Even the Sports Illustrated swimsuit edition is featuring slightly more curvaceous women than before. Mainstream culture is being taken back by real beauty, oh you'll see. Every body is lovely, doesn't matter if you are a size 0 or a size 30 (or all that's in between).
When a large woman is on stage or in an ad it is most definitely a political statement, it is also a reassurance that it's ok to be who you are. Even the burlesque community is not safe from fat shaming. Recently Ruby Rage was fired from Lucky Pierre's in New Orleans for not fitting the correct body type for their show.
This outraged every burlesque dancer who heard the news, especially the world renowned plus size dancer Dirty Martini. Burlesque is about celebrating every shape, size, age, and color of bodies. It is about confidence and exploration, an undeniable fearlessness and freedom, connecting to your audience because you ARE them. Showing off your "flaws" make their "flaws" ok because you are together in being imperfect perfection.
The moment I found out about Nimoy's death my first thought was to share some of these images on my personal Facebook page (with a "friends only" filter just in case) since the images had such an impact on me. Now if you know me you know that I am not scared of nudity, despise censorship.
To my dismay this post was flagged and taken off my wall, I was pissed to say the least! I couldn't believe that someone who calls me a friend would report that. Recent sharing of The Full Body Project photos has caused a stir across the whole internet, some of my friends have also been flagged and there are reports from someone in Toronto having the same problem.
Thinking about this now I am almost happy that someone got that upset, these flagger trolls are just insecure and don't want to see someone they think is abject in the lime light. We got um Len! The conversation is on the table. Kim Kardashian move over, it's time for The Full Body Project to break the Internet.
I started doing burlesque shortly after coming across these stunning images, knowing these women existed and flourished in a world that always told me I was too big was a game changer for me. I knew I could do it too and inspire change in others with this classic art form. After seeing these beautiful, large nude bodies I was confident enough to pose naked for figure drawing classes and then beyond.
I was once so self conscious that I wouldn't even go swimming in gym class out of fear that someone would see my body. I am going to be posing for my own black and white artistic nudes soon, everything goes full circle. I am a stronger person and better artist because of the legacy of Leonard Nimoy's work.
Thank you, friend, rest in peace.