With the release of Avengers: Age of Ultron, summer movie season has officially begun. It's one of my favorite times of the year, because one of the kinds of movies I like best, and feel most comfortable and confident assessing critically, is being catapulted at audiences worldwide like flaming boulders at an invading barbarian army.
With one hand, I shall smite the unworthy like a vengeful God, denouncing their crass, dumb boorishness. With the other, I shall hold aloft the chosen ones, the examples that prove that not all summer blockbusters are crass, dumb and boorish.
Over these offerings shall I sit in judgment, a stern but fair arbiter, sorting the wheat from the chaff, the worthy from the unworthy.
But until then, there's fuck-all for me to watch. Nothing in the theatres, nothing new on Blu-Ray. So this week, I present to you a desperation move: Nightflyers, a frankly godawful 80s sci-fi horror flick that has fallen into such obscurity that even I hadn't heard of it until recently. It has, thankfully, been uploaded to YouTube, in a sign that not even the film's copyright holders could be bothered to give even the smallest fraction of a shit.
So what's the hook, then? What makes this bargain-bin fodder worth digging up?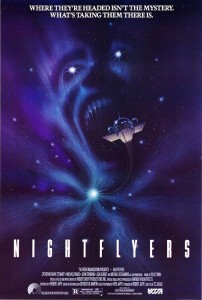 George R.R. Martin. Yes, that's right. Nightflyers is based on a novella by a pre-Game of Thrones Martin. How much it has in common with the source material is something I've yet to find out, but let's take a look and see if Nightflyers is something Game of Thrones fans or general Martin devotees should look into.
Our protagonists are a crew of scientists en route to the supposed site of a mysterious alien entity. To get there, they're aboard the Nightflyer, a cargo ship captained and crewed by one man, Royd, who appears to them via hologram. While Royd and Miranda, who is one of the scientists, are striking up a relationship/potential romance, several mysterious incidents take place as the scientists learn more and more about Royd and the Nightflyer's strange past.
Those watching Nightflyers expecting a work covered in Martin's signature moves and motifs, or what the popularity of Game of Thrones has made him known for at least, will probably be disappointed. There's nary a gratuitous sex scene or naked woman to be seen anywhere, so Last Starfighter fans looking for Catherine Mary Stewart to show some skin are bound for a let-down. None of your favorite characters die, but that's more because the characters are, on a whole, so bland and underdeveloped that picking a favorite would be like picking your favorite shade of off-white paint.
Not that anyone's that bad – the cast is actually all right, with appearances by John Standing, who would play Jon Arryn's corpse years later on Game of Thrones, and The Shredder/Uncle Phil himself, the sadly departed James Avery. But none of them ever registers something as ambitious as a real personality. The closest we get is Miranda, Catherine Mary Stewart's character, who initially gets set up as an Ellen Ripley style badass before becoming a fairly generic and agency-devoid female lead in the second half.
The closest thing to a Martin-ism is when Royd is revealed to be the gender-swapped clone of the Nightflyer's previous captain, intended to be her son/companion/lover. Oh there you are, George! Wasn't sure you were gonna show up, and really the intention of incest (or clone-cest in this case) must be the George R.R. Martin equivalent of a quick Stan Lee cameo in a Marvel movie. Just a quick hello to remind you what you're watching.
As a George R.R. Martin property, Nightflyers only bears the faintest stamp of what Thrones fans would recognize as his thumbprint, so for the most part Nightflyers is forced to survive not as a Martin property but as one of the countless 80s space-horror movies that sprung up in the wake of Ridley Scott's Alien.
And in that regard, boy does it suck. It definitely has that "adapted from a book, or novella in this case" feeling, with hints of a much larger and more developed universe occasionally popping in to tantalize us with the promise of something more interesting than what we've got here, which is mostly a cramped, poorly paced slog. Plot points will come out of nowhere, you'll think you're seeing the climax on at least three occasions, and the whole alien entity thingy that the movie initially seemed to be about quickly gets forgotten for an oh-so-original rogue spaceship AI plot, with a slightly Freudian twist.
Stewart narrates a lot of it in this dry monotone, like she was auditioning for Metroid: Other M a few decades too early, and even if she had put a bit more nuance into the performance, narration is something that rarely works in movies for me. It almost always feels like a cheap way to deliver exposition without having to weave it into dialogue organically. There are exceptions, obviously, but I can't think of many.
If the film has one feather in its cap, it's the set designs and effects, which are rather nice. Though, admittedly, the low-quality Youtube version probably did the film's visuals a lot of favors. The sets have a sort of artsy, surrealistic vibe to them, lots of backlighting and flowing panels and such. There's a tiny bit of makeup and gore action going on, the best effect probably being when the prissy British psychic has his head exploded by a laser.
There's a reason you've never heard of Nightflyers. In the face of other, slightly more interesting Alien ripoffs like Forbidden World, Creature or Christ even Critters fucking 4, it isn't hard to see why this thing never went anywhere. I mean jeez, at least Creature had Klaus Kinski in it for God only know what reasons. It's very likely that in the next few years some company like Shout! Factory will pick up the rights to Nightflyers and re-release it, with "From the Creator of Game of Thrones!" on the cover, but I'd give it a pass unless you're a hardcore Martin devotee or just a fan of really unremarkable 80s sci-fi horror.