GHOST LIGHTS – SALTWATER (November 27, 2013)
Folk /  Indie Rock / West Coast Acoustic
The first time I heard this EP a couple months ago, I couldn't help singing along with it out loud. I then met Noah Cebuliak (guitar, voice) of Ghost Lights when he played a set at a show organized for the debut of my small band. Within seconds, he had the audience in a trance, eyes closed, smiles content and longing hearts. There is something in Ghost Lights' tunes that is hard to pinpoint. Ghost lights is atmospheric, recalling the wilderness that inspires Cebuliak who is from British Columbia. In trying to find artists to compare Ghost Lights to, the closest I could come up with was a little of The Barr Brothers, a bit o' local wonder Joe Grass and a more stripped to the bone version of Patrick Watson's early work. "Babble from a Beehive" and "Fog Chief" are our favourites from Saltwater which is a strong debut EP that showcases strong talent for poetic lyrics and beckoning melodies. Recommended for drinking iced tea on the patio with a loved one.
HEAR THE MUSIC:  ghostlights.bandcamp.com
SEE THEM LIVE: Next Show on June 3rd with WILDERLING & ANNA SCOUTEN at O Patro Vys
CINEMA L'AMOUR – LIMITATIONS (May 31, 2013)
Loop Rock / Alternative Rock / Avant garde 
I've been keeping an eye on Montreal-based Cinema L'Amour since they played their first show and impressed me beyond words. Since then, I've been anticipating the release of their first full-length album with some impatience. Limitations is finally here and it kicks ass. Limitations boldly showcases the band's last four years of composing and touring across the country and was well worth the wait. The two piece usually performs with only one guitar, one drum kit, and an impressive loop pedal board to create an array of textures. On the album, these familiar songs are transformed into something even more complex as Saxophone, Trumpet, Tuba, and Cello (to name a few) are added to the mix. Cinema L'Amour's talent presented in Limitations is unique and incredibly driven: a combination that will bring these guys places. Since Cinema L'Amour plays with textures and rhythms with a fervoursly dynamic kind of song engineering there is not one comparison that can do these guys justice: there's a little bit of Buke and Gase, a speck of early Incubus, some funk elements right alongside some harder rock, at times in the same song. Our favourites are "Dedicated" and "Oh So Much". These guys also throw amazing shows and bonanzas. Recommended at any point: day or night.
HEAR THE MUSIC: cinemalamourtheband.bandcamp.com
SEE THEM LIVE: Album Launch on May 31st with SAXSYNDRUM & LOOSESTRIFE at Brasserie Beaubien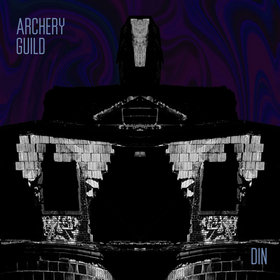 ARCHERY GUILD – DIN (May 28, 2013)
Experimental / Rock / Pop
I've been hearing about this band nonstop for the last year or so. They've been called a powerful "wall of sound" by some of my most trusted musical informants. I've had the opportunity to hear them live once and it was pretty grand and it was then I realized what my friends had meant: this band has nine core members and an additional armory of friends who join them on stage to produce a cacophony of sounds woven together by a melody. There's joy to the energetic chaos that ensues from Archery Guild's music. It's difficult to listen to DIN without getting up and dancing or getting pumped up to do something exciting in the city. It's pretty hard to find what band Archery Guild sounds like (especially since I don't listen to that much experimental rock) but I'd say it's kind of like the misfit child of Sunset Rubdown and Arcade Fire. Our favourites are "Juslyk" and "Swimmin' Out". Recommended for hearing live or dancing to during party times.
HEAR THE MUSIC: archeryguild.bandcamp.com
SEE THEM LIVE: Album Launch on May 28th with CHOSES SAUVAGES at Casa Del Popolo