Why should ladies get to have all the tantalizing toys under the tree? Here are some suggestions to make this a red-hot Christmas for your man!
If he's a nervous newbie:
Lubricant is your best friend when introducing any type of anal play or toys into the mix. Whereas water-based lubricants are the popular ones on the market, they don't hold a candle to the smoothness of silicone-based lubricants.
Since silicone lube is not absorbed by the skin, it lasts much longer than their water-based counterparts. The major downside of silicone lube is that it cannot be used with silicone toys, since it has been known to dissolve the surface layer of the toys and can cause long-term disintegration. Another issue some have with silicone-based lubricants is that they stain the sheets.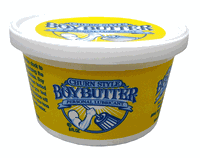 A product that offers the smoothness of silicone without the stains is Boy Butter. The organic coconut oil-based cream lubricant outlasts its water-based and silicone-based competitors, while washing off with ease. Furthermore, it costs about a third as much as the leading brands of silicone lube. Be careful though as it is not compatible with latex condoms.
Boy Butter is available in a variety of formats including churn style, warming, (which, for the record, is electrifyingly hot) and slightly intimidating extreme, a numbing formula for more extreme penetration sessions.
If he's a lad with luxurious tastes:
Long-time readers of my column will know of my fondness for Ina, my delightful vibrator from the Swedish company Lelo. (Here is an articles discussing Vibrator vs. Dildo) Since Lelo is one of the world's leading designers of luxurious "intimate lifestyle products", it shouldn't come as much as a surprise that their men's toys are equally as sleek and sophisticated as their women's toys.
The forerunner is Billy, a "gentleman's G-spot massager" who delivers an electrifying experience with near-silent vibrations. Ergonomically-designed to suit the male form, he features five different modes offering a variety of mild and earth-shaking sensations. Like all their toys, he is made from FDA-approved and phthalate-free silicone, and comes with a USB charger, delivering up to 4 hours of fun on a full 2-hour charge.
If you want to give him the gift the keeps on giving:
I know most of the men out there are thinking, "why can't there be a machine that just does all the work for me?"
Billed as a "compact powerhouse of pleasure", the Venus 2000 attempts to replicate the snapping pussy effect that drives guys wild. Manufactured by the company that brought us the Sybian, the female equivalent of a fucking machine,  the Venus 2000 is a hands-free masturbator with "controllable stroking action". Simply insert your penis into the lubricated, flexible natural gum rubber liner, adjust the stroke length and speed and let Venus 2000 do the rest of the work!
You can watch a NSFW-ish video introduction here: