Twinkle, twinkle little plastic shards, how I wonder how many of you there are?
I have always defended glitter when someone called it herpes! I have always been the person who outshines everyone by bathing in gazillions of tiny little sparkles. I am an asshole, a shiny, shiny turd.
This is not something I am proud of in retrospect. There have been times that I literally wore only glitter, then it seemed glorious, now I feel every speck cutting the throats of children drinking a glass of water, digesting in the bellies of my friends and family, and balling up in the ocean.
I am embarrassed by the amount of glitter pollution I alone have caused, let alone all of the glitter dripping sparkletastic burlesque dancers out there. The aftermath of one of my shows sent millions of microscopic pieces of glimmering plastic down the drain and into the water supply and tainting the food chain for years to come.
This must stop! I challenge all of you, every dancer and party girl, every gay activist that wants to glitter bomb a nazi or fascist politician, every drag queen with eyes on fleek, and everyone with little kids who are about to make holiday crafts: JUST SAY NO TO GLITTER!
The planet cannot suffer for fashion. My shine is NOT more important than the Earth and either is yours. It is so fucked up and sad how much plastic is out there because of vanity.
In every single sip of water we drink there are solar systems worth of micro particles that are too small for any filter. It's horrifying! When I think of that the choice is easy to ban glitter. My hot scientist partner tells me I shine without it, I don't need the synthetic brilliance. She inspires me to do better.
The NY Times recently posted an article about banning glitter. We cannot filter out this problem! Scientists studied the effects of plastic in the great lakes and had a huge part in the ban on plastic microbeads. I can't imagine how much glitter and micro toxins I have ingested while wearing glitter on my lips. Cosmetic glitter is crazy and unnecessarily in a lot of products.
Artist Lara Buckley's current show Alters of Erie is a lifelong collection of found discarded trash and natural materials mixed together harmoniously. It is currently up at the BOX Gallery in Buffalo NY.
Beauty in the decay. It looks like entire decorated Christmas trees and holiday wreaths from a distance and then you look close to see that it is just perfectly arranged garbage, fish heads on baby doll bodies with plastic rhinestone eyes, invasive plants also fill the room, discarded rubbish on a pedestal, hanging all around the gallery, floating and dancing, things that the world forgot now have new life as eye opening art.
Found pieces of man made bullshit that are polluting our world can be free art supplies. It is also incredible to pick up all of the straws, broken toys, streamers, and other broken bits from the ground and water. We can all get together, pick up rubbish, and make our Earth cleaner while making cool art in the process.
As an artist I need to be more sustainable. Every single painting I have ever painted has glitter on it. I was obsessed. But like anything, once you realized something is wrong abort immediately. Once you know about something and continue doing it even though you know it iss wrong, then you are the problem! You can't play ignorant. People can grow and change, we call it evolution.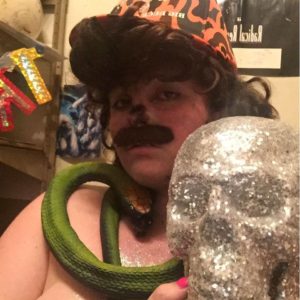 I have so much back stock of glitter I think I want to put it all in resin so it never has the chance to escape into this world. Make one final piece to immortalize the horrific craft herpes that I have loved for so long and now despise.
I never thought glitter would make me cry. It is not a harmless craft supply or fun makeup, it is pure evil in masquerade.
Ending this plastic nightmare is important for the sustainability of this beautiful planet. Plastics do not make it possible! Plastic is toxic and it is not fully known what the last 100 years of exposure have truly done to us.
Humans are killing the Earth at a astounding rate, climate change is real, so many animals are becoming extinct, and yet that little piece of glitter will still be here for the next 100 years no matter what.
I am going to fully make the change to non toxic biodegradable glitter. It is sold on Etsy and other places in the internet like Ecostardust, but I bet it is mad easy to make.
That way I can have my twinkle and be kind to mother earth too! Yay! It's a win win.
All that glitters is not necessarily good. We have to take every step to make things safer and healthier, our health and the future of our world depend on it.
First we ban glitter, then who knows! Let's learn from our mistakes and get better for it! Break the tradition and start new sustainable trends. Let's all become eco friendly sparkle warriors!