The Montreal Climate March is tomorrow. It's part of the student-started global Climate Strike movement, but with so much official support and participation, not to mention cancelled classes, I'm not sure the strike label fits.
Regardless, 300 000 people are expected to show up, making this one of the largest protest since the height of the Maple Spring in 2012. Plus one of the biggest current international stars will be here.
Getting Around Town
If there ever was a day to decide to leave the car at home, walk triumphantly to the metro and then discover you forgot to bring your buspass, it's tomorrow. Public transit will be free all day in Montreal as well as Laval and the South Shore (Metro is recommended as some bus lines will be re-routed), Bixis will be free until 3pm and driving through downtown is, well, not recommended.
You can find a more comprehensive list of road closures as well as school closures and re-routed buses via the CBC and you can find a mini editorial by me right now:
I'm all for making public transit free for a day to help out the planet, but if we really wanted to reduce our carbon footprint, we'd make make travelling by bus or metro more efficient and either free or affordable with free as the goal all the time. Making driving unappealing with traffic laws is one thing, but you've got to have a carrot, not just the stick.
The Deets
The Climate March starts at noon at the Sir George-Étienne Cartier Monument, aka where Tam Tams happens, on du Parc. There will be Bixi "valets" near the sarting point.
It will find its way to Place de la Paix on St-Laurent by 3pm. Organizers say people with mobility issues can join the march there.
The exact route is unclear, though some political operatives clearly think they know its first leg: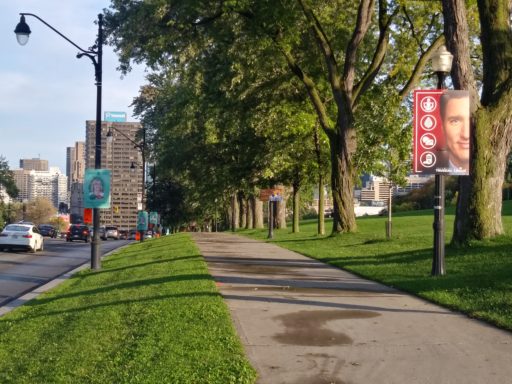 Organizers say that not divulging the exact route is for "logistical and security concerns" though a part of me hopes it is a subtle action in solidarity with previous protesters arrested for not providing a route. Or at least an homage to them, I'll take what I can get.
Greta, the Mayor and the Pipeline Owner
Montreal hosted quite a few celebrities over the summer and is currently hosting a handful with POP Montreal, but the biggest international star in town this week is playing an early show on a Friday. Greta Thunberg, the 16-year-old Swedish climate activist who has no problem slamming the UN and showing her complete contempt for the current US President will be speaking at the end of the march.
Montreal Mayor Valérie Plante will be giving Thunberg keys to the city and meeting with her after the march is over. She won't be the only politician in attendance, though.
Prime Minister Justin Trudeau will also be marching, presumably in costume as one who cares about the planet (he does greenface now too). I wonder if Greta will confront him about the whole, um, you know, buying a pipeline.
Guess we'll find out tomorrow, along with 300 000 people concerned about the future of the planet we all live on.