"Notre français n'est pas très bon, mais notre café l'est…"
So reads the sandwich board outside Café Melbourne. The chalked dictum, speckled white from this winters' endless snowfall, is a cheeky little jab from Down Under—a nod, perhaps, to the complicated history of The Main. All told, it's a punchline that seems to sum up this joint to a tee.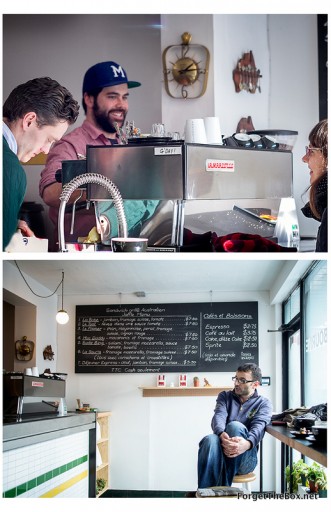 Melbourne, a recent arrival on St-Laurent (4615, just north of Mont-Royal Avenue), is a modest, if not self-effacing, locale opened by Australians Xavier Martinelli and Angus Castran.
Armed with a sparkling La Marzocco machine and a few homemade trays of fruit-packed muffin-cakes, Café Melbourne comes across as bare bones, but it's got more under the hood than meets the eye.
Boasting "third wave" beans thanks to Proud Mary (one of Australia's highly-touted roasters), Martinelli and Castran also make Aussie comfort food that—oddly—feels right at home halfway across the hemisphere.
If you're going to go, you should probably try a jaffle—essentially a sealed sandwich, the final effect of which (considering the fillings) lies somewhere between grilled cheese and calzone. If you think about what the structure implies, you can see the appeal: an increased ability to retain juiciness, (sauce, fat) all while boasting that slight greasy grilled-cheese sear on the exteriour.
It's a hard concept to argue with, really, and chowing down on a Mac Daddy or Bada Bing amidst the owners' razor-sharp wit and no-frills décor can't help but make you want to hang in there a bit.
Seating is scarce, but if you're serious about espresso, the wall-mounted counter vibe is actually a benefit, almost forcing you to stick with espressos—and drink it hot. This because, if you're not standing, you're pretty much staring at the wall by default. So you have no distractions but to focus on the beans in an en passant kind of way, without lingering and letting it die of cold. This is, after all, the proper tradition of espresso, as you'll see in Rome or Paris or basically anywhere else that filter coffee is blasphemous.
I haven't been to the real Melbourne, but if this is the way they do things in Australian cities, maybe they have an edge up on Montreal in some aspects of Europeanness. Don't go telling all our tourists!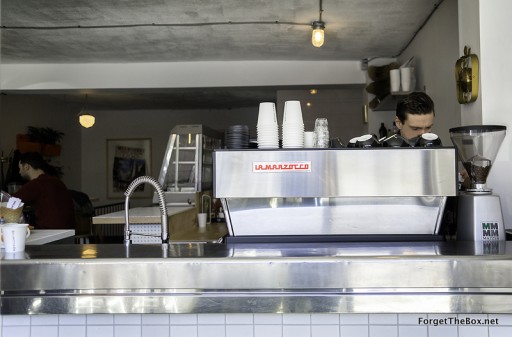 Having tried an espresso, americano and latte, I can say that all were excellent to taste and reasonably priced. Meanwhile the footie pies (more akin to baby tourtières) loomed mysteriously in a cafeteria-style display oven. I'll let you go try those out…and compare them to the Melbourne's older sister down the block, Tourtière Australienne. Report back!
Or just trek up St-Laurent to Melbourne and order a jaffle sandwich in your thickest joual. After all, if we want these addictive goodies to stick around in this Drainvillian world of ours, we need to make sure these guys get fluent in French au plus tôt possible !
* photos by Valeria Bismar