The Forget the Box Person of the Year for 2016 is the Standing Rock Sioux Tribe. In what will hopefully become an annual tradition, we put up a poll briefly asked our readers to vote for the person or group of people who had the biggest and most significant cultural impact.
We also asked that voters treat mainstream corporate media coverage as one factor among many, not the predominant one. When you only look through the mainstream lens, as Time Magazine does every year, you end up being forced to pick people like Donald Trump, as Time did this year.
Despite being almost completely shut out of mainstream press coverage, the Standing Rock Sioux Tribe managed mobilize the largest gathering of Native American tribes in recent memory and bring in allies and supplies by the busload. They also created an infrastructure that was built to last through harsh weather, attacks by private security dogs as well as water cannon and pepper spray assaults by militarized police.
They're not protesters, they are water protectors. That is a very important distinction, and not just because it's true. Yes, it changes the narrative, but it also changes the very concept of what resistance actions are.
It's not just about being against something, in this case the construction of the environmentally hazardous Dakota Access Pipeline over sacred burial grounds and the tribe's only source of clean water. It's also about being for something, in this case, protecting everyone's water.
It's about building an alternative. By all accounts I heard, the camp was akin to a small city, not only in size but in infrastructure. It was a real community with community services.
Independent media like Democracy Now helped spread what was happening and DN's compelling footage of the dog attacks even pierced the mainstream media bubble for a bit. It was, though, social media and word of mouth that really let the public know what was going on in Standing Rock.
The tribe also won…for the moment. After threats of expulsion and a firm deadline from the Governor of North Dakota, the Obama Administration relented.
The US Army Corps of Engineers announced that the Dakota Access Pipeline would not cross the Missouri River at Standing Rock. Permit denied. Again, only for now.
Energy Transfer Partners, the company behind DAPL, has pledged to keep building, pay the fines and wait for the incoming Trump Administration to overturn the Army Corp's decision. Given Trump's love of big business, disdain for the environment and indigenous rights and the President Elect's previous business ties to Energy Transfer Partners, it looks like the fight will pick up again in 2017.
The Standing Rock Sioux Tribe will be ready. They have created an infrastructure that is built to last and have already shown the world a sustainable way to fight for social justice. For that, they deserve to be Person of the Year.
Bernie Sanders
Bernie Sanders placed second in our poll just as he did in the Democratic Primaries. If he had been the candidate and beat Trump in the General Election, he would most definitely have been the political upset story of the year and probably Time's Person of the Year, too.
As things played out, though, he did have a huge, or rather yuuuge, impact on the American political system, proving that someone who proudly claims to be a Democratic Socialist can be a major contender for the Presidency. He also gave people upset with the political establishment's close contact with Wall Street a unified political voice.
When he first entered the Presidential race, he was largely unknown outside of Vermont (and among Montrealers who watched Vermont network affiliates). He ended up winning over 20 states, beating out the largest political machine within the Democratic Party.
Now he is a borderline folkloric household name and someone who may very well shape the Democratic Party's post-Clinton future.
Gord Downie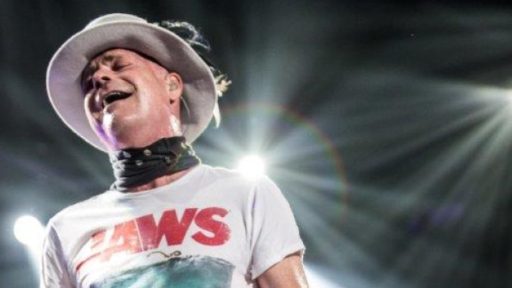 Canadian rock icon Gord Downie placed third in our poll. The Tragically Hip frontman showed everyone in Canada and the world both how to go out rocking and how to use your celebrity privilege the right way.
After being diagnosed with terminal brain cancer, Downie led the band on a month-long farewell tour, culminating in a final concert over three hours long broadcast and streamed live from Hamilton. It was emotional, raw and incredibly powerful. A real thank-you to their fans.
During the show, Downie had a chance to address our Prime Minister Justin Trudeau directly (he was in the crowd, wearing a Hip t-shirt no less). Downie used that opportunity to urge the PM, in front of basically the whole country, to do something about the situation in First Nations communities up north. He did it in the most polite way imaginable, too, by implying that Trudeau was already going to do something.
Since the show, Downie has released The Secret Path, a ten-song album telling the story of Chanie Wenjack, a young boy who escaped from an Indian Residential School and died on the 400 mile journey home. His hope is to shine much needed light on the horrors of the Residential School system.
The man who is considered by many to be as emblematic of Canada as Tim Hortons and hockey said he is doing this project because "Canada is not Canada. We are not the country we think we are" and it will take another hundred years to hopefully fix things.
Downie was honoured by the Assembly of First Nations in December and given the Lakota spirit name Man who walks among the stars.
Honourable Mentions
There were fourteen choices in total in our poll, some of which were added at the suggestion of our readers. In this case, the nominations themselves count as a vote. The public-nominated choices were: Amy Goodman, Nigel Farage and Yoshua Bengio.
The other honourable mentions that got some votes were (in no particular order): Anarchopanda (who finally won, at least partially, his court case against Montreal bylaw P-6), Black Lives Matter (always relevant and extremely important), Donald Trump (yes, even by our criteria, he had an impact) and Barack Obama (one last shot, I guess).
Thanks to everyone who voted. We should do this next year, too!