Halloween is here once again, it is hands down my favorite holiday. Actually no, fuck that, Halloween is everyday! I wear my freak flag proud 365 days a year.
For most "normal" people, Halloween is the one day of the year that it is socially acceptable to dress up like a weirdo and live their freak fantasy. Sadly commercialism and an oversexed media has turned it into a money making skank fest.
There are literally slutty versions of every costume (even in the kids section): slutty nurse, slutty referee, slutty cop, slutty witch, slutty vampire, slutty pirate, slutty prom queen, and the list goes on. These costumes seem to be invented with pedophiles in mind. Men and young boys seem to have it a little easier and can just put a mask on it , become their favorite action hero or movie killer, or slip on a dress and be a bearded lady.
Stop the trend. The only way you can break out of this is by making your own costumes for your children. Halloween costumes you buy are very expensive and poorly made anyways.
More gore and less whore. Being a bloody zombie is an easy and fun way to celebrate this holiday season. Instead of being a slutty version of something be a bloody zombie version instead!
It was funny, the other day I went to a costume party with my friend Erik and he doused himself in blood and called it a day for his costume. The cab driver asked us like ten times if it was real. A person covered in real blood is every person's worst nightmare, so I get it when people freak out over a gory costume. Its all about shock value.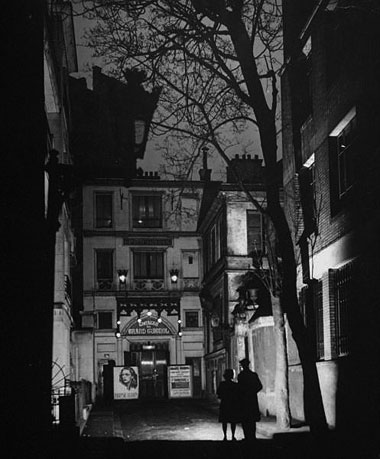 Haunted houses are insane, filled with passionate actors willing and ready to scare the shit out of anyone who walks through the doors. I am a pussy when it comes to stuff like that.
I remember being a pretty young girl and going into a Haunted Catacomb and when the actor wielding a chainsaw came after me I kicked him in the shin and ran. It was fight then flight, I felt like I was going to die. Now it's a little different, as an adult I realize that I am probably not going to actually die. It's all entertainment.
People have always had a certain blood lust when it comes to being entertained. Grand Guignol is a form of theatre that is graphic, amoral, and horrific in nature. The most famous theatre of this kind and a huge target for censorship was the house of horror known as Le Theatre du Grand-Guinol, The Theatre of the Grand Puppett, in Paris France open from 1897-1962.
Everyone from royalty and celebrities in formal apparel to the common man would enjoy blood soaked plays about prostitutes, criminals, insanity, and grotesque mame and murder. People came to the shows to feel something, they wanted to be entertained and disturbed by the natural looking horror shows. The same crowd attends modern day slasher films and gorelesque recitals.
Most audience members became belligerent and boisterous. Others could not hang, often the special effects were so realistic that audience members would vomit or pass out during the performances.
I am part of a Gorelesque troupe called The Zombettes, we give a whole new meaning to Blood Lust. Once after a show I picked up a guy and left bloody handprints on his wall.
Gorelesque is exactly what it sounds like: Burlesque covered in blood. Dark, occult, horror, zombie, and gore added to the classic striptease based performance art. We have done everything from act out the ear cutting Stuck in the Middle With You scene from Resevoir Dogs to the opening scene from Scream or a reenactment of Friday the 13th. 
Once we did a show dubbed "too soon?" where my friend The Creeping Beauty dressed up like Amy Winehouse (literally two days after she passed) and I dressed up like Anna Nicole Smith to welcome her to the afterlife while the song Rehab played. Maybe that was utterly tasteless, but it certainly was memorable.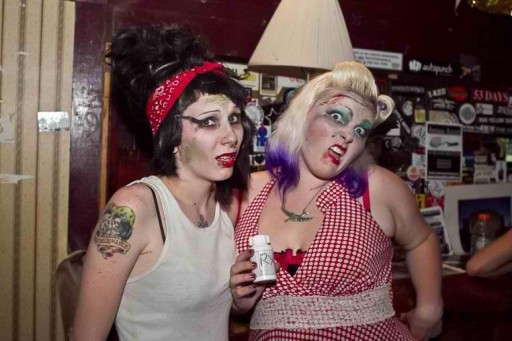 Classic horror/slasher movies are a huge inspiration to my art. Dramatic music and imagination are important in horror flicks. It's what you don't see that can scare you the most. Same with burlesque, it's what you don't see that invokes the most titilation.
Everybody has nightmares and everybody watches the news. We all know that the world we live in can be a scary and evil place. Sometimes people go crazy and slaughter the innocent , war is happening while you read this, limbs being blown off, random acts of torture and violence are rampant, people are being raped, and there are unspeakable horrors happening in every city. Horror movies are just the artistic representations of these very real atrocities.
It's the time of year that I re-watch all of the Halloween, Nightmare on Elm Street, Scream, Hellraiser and other various horror movies on repeat. The scariest of these flicks are the ones that are plausible. A real person can lose their mind and torture me.
It seems that there is a formula for these flicks that involves large breasted women or beautiful young virgin babysitters running around in white t-shirts covered in blood and being victimized by a male psychopathic sadistic monster.
Why are there rarely any sexy men in leading roles of horror movies? When a man dies in a horror flick it is quick. Scream Queens sell tickets. Misogyny rules in this genre. These women must fight to survive.
It reminds me a lot of porn to be honest with you. Young women cowering and screaming just as they do from being pounded by the twenty throbbing mega cocks being rammed down their throats in hardcore porn movies. Yes, I am a feminist who watches both horror movies and gang bang porn. Im more terrified by watching the Republican debate.