Moms Demand Action New York State Chapter Leader Jaime Levy Pessin is a modern and efficacious woman living in Brooklyn, NY with her husband and two children. As I enter her home for the interview I witness a person who makes multi-tasking seem as natural as waking up each morning.
As interview starts, some Moms Demand Action business is taken care of, a call answered, her daughter Cora and son Noah's activities are settled and their dinner is prepared. This all happens over the course of maybe two minutes and Jaime is calm and polite as we get down to some questions.
S- For readers new to Moms Demand Action give us a brief history of the organization.
J- Moms Demand Action for Gun Sense in America was founded the day after the horrific Sandy Hook shooting, which left six educators and 20 six and seven year-olds dead in their elementary school. A mom in Indiana, Shannon Watts, started a Facebook page with the idea that we needed to have a Mothers Against Drunk Driving for the gun violence prevention movement. And her page spread like wildfire.
New York City was one of the first chapters to form. Weeks later we held our first annual march across the Brooklyn Bridge. More than 1,000 people showed up in below-freezing temperatures to march with us.
Since then, we've grown to 3 million members in all 50 states. We've joined forces with Mayors Against Illegal Guns under the umbrella of Everytown for Gun Safety. We are a nonpartisan, grassroots group committed to passing reasonable, evidence-based laws that are proven to reduce gun violence.
Do you know Shannon Watts and in what ways is she still involved in Moms Demand Action today?
I first met Shannon at our first Brooklyn bridge march. She has since turned into a great figurehead of the movement. She is a volunteer and founder.
Shannon travels the country and meets the other volunteers. She does speaking engagements, does press and fundraisers. As she is traveling she makes a point of stopping by and seeing what all the other volunteers are doing. She has really gotten to know all the people across the country who are working as part of this thing that she created.
I think she is still a little bit baffled that she started this movement but Shannon is always very adamant in pointing out how much every person has played a part in it. She doesn't view Moms as her creation, she sees it as if she did this one small action and then everyone else kinda filled it in throughout the country.
This is what is so cool about volunteering with Moms. There is a sense that every single person has something to contribute. Whether you have ten minutes or ten hours there is a place for you. She wants to make sure that message comes through.
Can you tell us what led you to your role as a leader in Moms Demand Action -New York?
In the days after the Sandy Hook shooting, I was devastated. I didn't personally know anyone affected, but a six-year-old boy named Noah was killed. My son is named Noah and was four at the time. I was paralyzed by fear and grief. During that time, Shannon's Facebook page somehow popped into my newsfeed, and I had a realization: If I am not part of the solution, then I'm part of the problem. And that's when I started volunteering.
In the early days, we really were a motley crew of volunteers – "accidental activists" is what we called ourselves, because none of us had ever done anything like this before. My career had been as a journalist for traditional media, so I was never allowed to publicly express a political opinion – forget about planning a rally or meeting with elected officials!
I've been involved in the organization in a bunch of different roles since we got started. I currently run the New York state chapter, which is massive compared to how we began!
But another project that I helped start, which I think is truly special, is our Mother's Dream Quilt Project. It's a series of quilts that incorporates fabric from victims and survivors of gun violence. We hold quilting bees around the country that bring together victims, survivors and everyday Americans who believe we can do a better job of preventing gun violence.
With all the concerns about civil rights coming up around the Trump administration, why do you think gun violence is so important?
After the election, I did a lot of soul-searching around this question. In a way, this seems like such a small piece of the puzzle.
"I'm going to fight like hell to push back the kind of stand your ground laws that allowed Trayvon Martin's killer to suffer no consequences."
But then I realized: I'm worried about voter suppression; the idea of people with guns showing up at the polls to intimidate other citizens is chilling. I'm worried about immigration; what does it mean to have vigilantes with guns patrolling the border?
I'm worried about hate crimes against the LGBTQ community, and I'm worried about violence against women; we know that the presence of a gun in these situations makes them vastly more dangerous. And I'm worried about the unfair treatment of African-Americans in this country, so I'm going to fight like hell to push back the kind of stand your ground laws that allowed Trayvon Martin's killer to suffer no consequences.
Can you tell us both about your personal experience and Moms Demand Action's presence at the Women's March in DC on January 21st?
I thought the Women's March was so inspiring. I met a few fellow volunteers at the Barclay's Center in Brooklyn at 4 a.m., and there was bus after bus after bus loading up for DC.
Moms Demand Action had nearly 1,000 members come in from around the country to join the march. Being in a crowd with so many passionate citizens gave me hope that this administration will not break our spirit.
I think the key takeaway, though, was that it's not enough to march. It feels really good, and it's important, but we have to take it home to our communities and get involved in our local politics.
We need more women running for office, whether for school board or Congress. We can't just pay attention when it's time to elect a president – we need to start developing a bench. So I hope – and I think that it's happening – that the march has compelled people to start working seriously in our own neighborhoods.
What are some of the highlights of Moms Demand Action-New York's current six month plan?
The new administration is in the pocket of the gun lobby; the NRA contributed more than $30 million to Donald Trump's campaign – they were his single largest donor. So we are going to be working very hard to push back against the gun lobby's dangerous agenda of guns everywhere for everyone.
"What's crazy is that more than 90 percent of Americans – and that includes 87 percent of Republicans and 84 percent of gun owners – agree that we should have background checks on all gun sales."
One of the major pieces of legislation we expect to be fighting is something called "concealed carry reciprocity." The gun lobby would like for permits to carry concealed weapons to be treated like driver's licenses, where one state's permit would be recognized across all state lines.
Here's the problem: The standards for getting a concealed carry permit vary wildly from state to state. In New York, you have to undergo a background check, submit character references and show a proven need to carry a concealed weapon in order to get that permit. In Arizona, there are no permitting requirements at all. New Hampshire also just rolled back their already weak permitting program.
With reciprocity, a New Yorker who couldn't pass the rigorous standards here could travel to another state, get a concealed carry permit and legally carry a hidden weapon in Times Square or on the subway.
As a New Yorker, this is a direct threat to my safety. The idea that "guns everywhere" make people safer is patently untrue. New York State has one of the lowest rates of gun violence in the country. We also have one of the lowest rates of gun ownership, and some of the strongest gun laws. There is a direct correlation: stronger gun laws keep us safe from gun violence. Concealed carry reciprocity would make our state a much more dangerous place to live.
Another priority for the New York chapter is going to be relationship-building with our elected officials at the statehouse. We're planning our first-ever Lobby Day this spring, and we're going to be meeting in-district with our representatives as well.
We believe that, much like the same-sex marriage movement, the gun violence prevention movement will win at the state level. We want to continue to develop relationships with our state representatives to make sure that they will keep New York at the forefront of sound gun policy.
Our overarching goal is to ensure background checks on all gun sales in the United States. Many people don't realize that the law as it stands leaves gaping loopholes in the system, making it very easy for a felon or a domestic abuser to purchase a gun without a background check. And background checks are proven to work: suicides, cop killings and domestic violence-related deaths all go down in states that ensure background checks on all gun sales.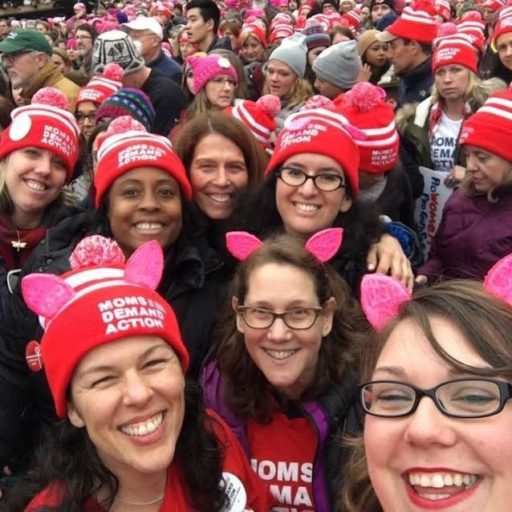 What's crazy is that more than 90 percent of Americans – and that includes 87 percent of Republicans and 84 percent of gun owners – agree that we should have background checks on all gun sales. When you take the question of gun violence directly to the citizens, they will vote in favor of common-sense gun reform.
In 2016, despite the dismal election results nationally, we actually won three out of four ballot initiatives by asking residents of California, Nevada and Washington State to pass stronger gun laws. It was one of the few bright spots in the progressive agenda last year.
We have quickly become the strongest counterweight the gun lobby has ever seen. That's why we're committed to getting this message to our elected officials: The other side is scared of losing their guns. We're scared of losing our children. Who do you think is going to win in the end?
What are some things the modern, busy adult can do to stand against gun violence?
What is great about Moms Demand Action is that we offer so many different entry points for people to get involved. You can spend five minutes a week signing petitions and calling your senators, or you can get more deeply involved and meet with your elected officials or plan events. We need all levels of commitment.
The first thing you should do is text JOIN to 644-33, or visit our website to officially sign up as a member. Soon you'll hear from someone in your local chapter about ways to get involved. Like the national organization on Facebook (or the New York chapter) and follow us on Twitter (@momsdemand) to get national calls to action.
For students, recent grads and parents: Did you know the gun lobby is pushing to allow guns on college campuses and K-12 schools? We defeated 16 guns on campus bills throughout the country in 2016. But the gun lobby is going to keep trying, and we're preparing to fight. Ask any educators you know to join our Educators for Gun Sense campaign by sharing the link.
For people who want to spend an hour or so a week volunteering for a good cause, consider joining the Gun Sense Action Network. We do a lot of phone banking to voters in states that are playing defense against horrible bills.
This makes a huge impact. Last year, for example, the Georgia statehouse passed a sweeping guns-in-schools bill. We were able to drive at least 30,000 calls to the governor's office, and eventually he vetoed the bill – even though he's typically an ally of the gun lobby. People who join our Gun Sense Action Network can make calls from home, on their own time!
(ED's Note: While most joining options are for Americans living in the US, making calls is, of course, open to Americans living abroad and Canadians as well)
How many people in America die from a gun each day?
Moms treat gun violence like a public health epidemic, which it is. What disease kills 93 Americans a day? That's too many people so we should treat it as such. Unfortunately, Congress has barred the CBC from actually studying gun violence. The US government doesn't actually study this even though it is a public health problem.
One thing that many people don't realize is how prevalent gun violence is in our country. About 30,000 people a year are killed by gun violence in the U.S. – 93 a day. Twice that number are injured every day. But I think it's the ripple effect that really makes the point.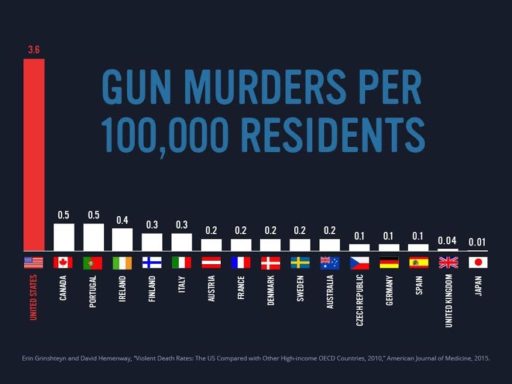 A study came out recently that said the probability of knowing a gun violence victim is 99.85 percent. Think of that: Nearly every single American will know a victim of gun violence in their lifetimes! That's insane.
I've seen it play out personally. When I started volunteering for Moms Demand Action, I didn't know anyone (as far as I knew) who had been a victim of gun violence. But since December 2012, I have had one friend on lockdown with her daughter at the Kansas City JCC while a shooter killed two people in the parking lot. My sister's childhood friend was shot and killed in his car in Miami. One of my husband's relatives lost her granddaughter when the granddaughter's husband shot her in front of their two kids in California. A close friend of mine was at the Fort Lauderdale airport baggage claim with her three kids when a gunman opened fire.
It just gets closer and closer. That's what keeps me up at night, and that's what motivates me to keep going.