I was once told that I did not give adequate blow jobs. This infuriated me, just the fact that I am putting your dirty little pee hole in my mouth at all should be enough right? He then proceeded to show me some porn videos that he liked as tips. I remember studying the technique, how they ran their fingers down the shaft, keeping pressure on the base, not just focusing on one part but all of it. All of these movies have the same ending, a girl covered in mangasm. Gross.
My blow job skills are subjective, another dude I hooked up with told me I was the best he ever had (but maybe he tells that to everyone) and he still fantasizes about me. The best art is getting it over my pretty-little-innocent-porcelin- face. Right? Thats like the goal isn't it? Gross!
People get really turned on by my phone sex operator voice and lush red laquored mouth. Im not always total freak in bed, she exists only lost in a fleeting moment or lost in love. Let go and be crazy. I don't know if I have ever really had an orgasm or been in love. Or if I had then it didn't change my life like a fairytale.
The way people write about and describe orgasms and love I would think that you would know if you had it. I just don't. I have such high expectations for things that sometimes its impossible for all of them to come true.
It's the same with my shows and art, but with those things it is almost easier because it is so on a stage and public. I can have flaws and they are celebrated. People enjoy the fact that I am funny and imperfect, they can relate to me. Fake it till you make it.
I can never complain about lack of sex l, I know I can get it whenever I want, its just a matter of wanting. I yearn for substance, not talking money or stuff, but compatibility in ways that nobody else understands.
My problem with relationships is that I always move too fast, and I am not immediately good at things. I need to practice being with this person, learn what they like, what makes them purr. That can't happen in one night.
It is possible to have instant attraction, electric turn on lust rush. That's what songs are written about, but every time that has happened to me it was fueled by an alcohol/ drug/ vacation induced confidence.
I was the most charming woman ever. They didn't see my flaws yet, they saw what I wanted to show them, they never knew about my dandruff or wonky toenails. I know what to cover up and what to expose to make me seem perfect and sexy.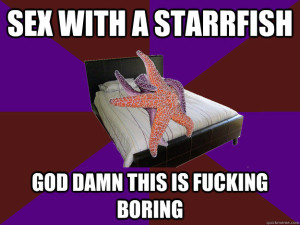 Am I a starfish? Do I just sit there and let them take me? I don't think so… I enjoy switching it up. I wonder when people decide not to become repeat offenders? Now unfuckable?
I wish the end of every relationship or even one night stand could have a proper autopsy. I would like to learn about what went so wrong and know how to get better. Having bad sex is the absolute worst, you should never be sitting there waiting for it to end, that means you are doing it wrong.
I need to feel invited to join in. I was recently in a situation where three people started having sex in the same bed as me. For some reason I did not really participate, I didn't leave either. I just watched, front row seat. Studied the way they touched each other, listened to the noises, basically being a real creep.
For some reason I just didn't feel compelled to join in, they were all incredibly attractive humans doing hot stuff to each other, it was like live action porn, what is wrong with me? I am thrust into opportunities that I need to grab on to. I needed to just lick some nipples, kiss some lips, and caress.
I think about the moments that I let pass by. Moments where I wanted someone but didn't tell them. Fear kept me planted. It rooted me as a bystander in my own reality. I wonder if it's a defense mechanism. I suck at making the move and therefore should not go after people who are just like me.
It doesn't make sense to me when I find someone who is perfect, really gets me and makes me laugh. This person keeps on living, going on just fine without me there, eating, pooping, and creating art with someone else.
Everyone I have thought I loved thus far has been or become unrequited. What does she have that I don't? Is her pussy tighter, skin softer, sounds sexier? Do you tie her up? Does she peg? Do her nipples squirt whiskey? I don't get it.
I am the most amazing woman that nobody wants. I wish I could be more open about getting what I desire in this world. The problem is that I need to explore myself to find out what I like and don't like. Being lousy at sex is due to poor communication and lack of confidence.
Just because I didn't end up being what all my ex lovers want doesn't mean I am at all undesirable to someone I haven't even met yet. Sex is more than just mating or getting off, its emotional, all encompassing. I have been with people who were ravenous for my body. Throw me up against the wall or down on the bed, then to the curb.
I don't ever want to be owned.  Life is beautiful. I am sick of wasting time wanting the unattainable. I want to be able to love someone and be confident in that but still have freedom to access the world's fruit. Who cares if I suck at sex? Practice makes perfect right.