If you don't already know what Hip-Hop Karaoke is then you should check out the feature we did on them a little while ago. Basically Hip-Hop Karaoke invites performers to prove what they've got on stage while the crowd enjoys the party.
Hip-Hop Karaoke has been going strong for 15 months now and to celebrate they are hosting a special contest where you can win WeSC gear courtesy of Tiger Distribution, printed + signed artwork from Overthebreaks and BEST of all, you could win lifetime free entry to HHK MTL! To enter the contest check out their FB album with the last 15 HHK poster designs up and vote for your favorite by "liking" it!
This month we look at the artists behind the Hip-Hop Karaoke posters. The poster design for HHK helps showcase local artists and also helps allowing people to familiarize themselves with Hip Hop Karaoke; inspiring new performers to get involved and show support. Their designs are a perfect visual extension of their fun-loving approach to the event.
Originally the posters were designed by co-founder Patrick O'keefe, who has since moved on to San Francisco and other projects. He created the Portrait series posters in the series. Currently the Hip-Hop Karaoke posters (and logo) have been designed by local artist Nik Brovkin, aka Overthebreaks.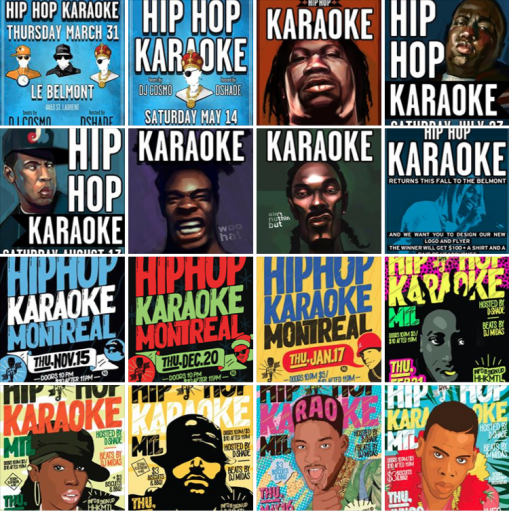 If you wanna get up on stage and show em what you've got spots fill up quick, so pre-register your track at HHKMTL@GMAIL.COM for the next HHK.